Contact: Lauren Theodore at 212-650-4154
New York, NY, March 20, 2017 - Union for Reform Judaism (URJ) President Rabbi Rick Jacobs announced today that Rabbi David Saperstein will return to the URJ senior staff as Senior Advisor for Policy and Strategy. He will assume this new position as of April 1, 2017.
This new position builds on Rabbi Saperstein's unique stature. For the past two years, he served as the U.S. Ambassador-at-Large for International Religious Freedom, the nation's top diplomat on religious freedom issues, working closely with members of Congress on both sides of the aisle and continuing his long-term engagement with remarkably broad interfaith coalitions. Selected by Newsweek magazine in 2009 as the most influential rabbi in the country and described in a Washington Post profile as the "quintessential religious lobbyist on Capitol Hill," Rabbi Saperstein represented the Reform Jewish Movement to Congress and the Administration as the Director of the Religious Action Center of Reform Judaism (RAC) for forty years.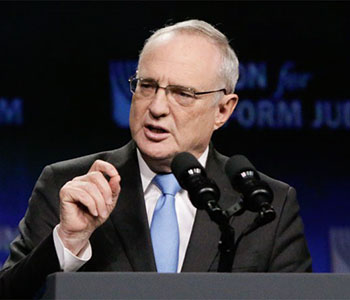 "David Saperstein is truly sui generis," said Rabbi Jacobs in announcing the appointment. "His ability to lead, to inspire, and to build bridges is unparalleled. We are excited to have him back on our team."
Rabbi Saperstein will work on high-level projects directly with Rabbi Jacobs and Religious Action Center Director Rabbi Jonah Dov Pesner to help advance the URJ's core priorities. He will be speaking, writing, and teaching on behalf of the URJ, raising awareness and fundraising for the RAC and URJ's initiatives in North America. 
Rabbi Saperstein will continue to serve in his current role as the Director Emeritus of the RAC. Rabbi Saperstein will have an office at the RAC in Washington, D.C. and will also work out of the URJ offices in New York.
"Rabbi Saperstein is a close friend, beloved mentor, and tireless advocate for justice and religious freedom," said Rabbi Pesner. "As my predecessor as Director of the Religious Action Center, David inspired generations of activists and became a civil rights icon. After his service to our country as an ambassador, we are thrilled to have him back as an advisor to the Reform Movement."
"I relish the opportunity to rededicate my efforts to the entire Reform Jewish Movement and to the RAC," said Rabbi Saperstein. "I believe deeply in Rabbi Jacobs' re-visioning of the URJ in meeting the challenges and opportunities facing our congregations and American Jewry in the 21st century. And I am convinced that America has never needed a powerful expression of Jewish social justice values more than right now. Rabbi Pesner and the RAC, together with our rabbis and congregational leadership, are providing such a voice. I am honored to have the opportunity once again to contribute to ensuring the influence and success of the URJ, CCAR, and RAC in all these endeavors."
###
About the Union for Reform Judaism
The Union for Reform Judaism (URJ) builds community at every level—from the way we collaborate with congregations, organizations, and individuals to how we make connections across North America to advance contemporary and inclusive Jewish life. Providing vision and voice to transform the way people connect to Judaism, we help congregations stay relevant and innovative, motivate more young Jews to embrace Jewish living, agitate for a more progressive society, and foster meaningful connections to Israel.
Founded in 1873, URJ has grown into the largest and most powerful force in North American Jewish life, with nearly 900 member congregations and work that inspires, connects, and educates millions of people. Our legacy, reach, leadership, and vision mean that we can unite thousands of years of tradition with a modern, evolving Judaism to strengthen Jewish communities today and for future generations.
Visit us at www.URJ.org to learn about our social justice initiatives, camps and programs for young Jews, services for congregations and communities, and how you can work with us to create a more just, whole, and compassionate world. Enjoy related content at ReformJudaism.org and connect with URJ on Twitter and Facebook.
About the Religious Action Center of Reform Judaism
The Religious Action Center of Reform Judaism is the Washington office of the Union for Reform Judaism, whose nearly 900 congregations across North America encompass 1.5 million Reform Jews, and the Central Conference of American Rabbis, whose membership includes more than 2,000 Reform rabbis. Visit www.rac.org for more.
The RAC educates and mobilizes the Reform Jewish community around legislative and social concerns, advocating on more than 70 different issues, including civil rights, religious liberty, immigration, economic justice, environment, public health, Israel, and more. The RAC's most timely initiative, The Urgency of Now, provides new resources to help communities and individuals seek out and act on the Reform Movement's most urgent legislative priorities.
Since its inception in 1959, the RAC has been the hub of Jewish social justice and legislative activity in Washington, D.C. Inspired by the words of the prophets in Jewish sacred texts and by Reform Judaism's profound commitment to tikkun olam, the RAC aims to bring a uniquely Jewish voice to the conversations shaping public policy in America