Image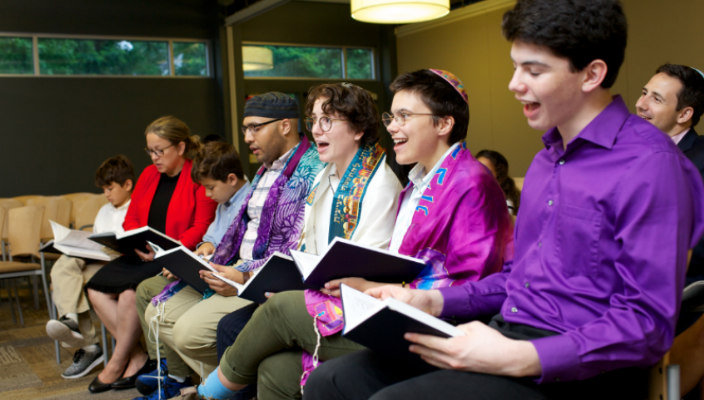 Looking for innovative opportunities to engage your teens around the High Holidays? These 10 ideas come directly from the source – youth professionals across North America.
1. Communicate in their medium. Use text messages, Instagram, and other teen-friendly channels for communicating directly with your teens about teen-specific opportunities. Follow up with parent-friendly emails.
2. Invite teens to be ushers. Start the welcoming at the door by inviting teens to be ushers, where they'll be visible, interact with people of all ages, and have an integral role during our holiest day of the year.
3. Set aside space for them. Let's face it: Sitting through services for an extended period of time is challenging, especially for high-energy, growing adolescents! Setting aside space for teens to retreat, reflect, and recharge helps sustain their energy and make the days enjoyable.
4. Invite them onto the bimah. Invite teens onto the bimah for an aliyah, blessing, or other worship role.
5. Involve teens in creating youth-specific experiences… Involve teens in planning a service for younger children, or crafting a teen service or Torah study.
6. …but don't sequester them! Create opportunities for teens to be together as a community during festive meals, breaks, or other events, but also encourage them to attend congregational services and celebrations to be part of the full community.
7. Set expectations. What's important is not necessarily coming to services. Engage them in reflection about why the holidays are meaningful for them.
8. Engage them in tzedakah. Involve them in planning and implementing a social justice project for the entire congregation to participate in.
9. Location, location, location. Sit near the doors of the sanctuary so you can schmooze with kids, teens and parents as they're entering and exiting services.
10. Network. Do you have a youth group board, or a cadre of teen leaders? Provide them with business cards, flyers and calendars to ensure that every teen gets a personal invitation to the next event.
Many thanks to the following youth professionals, educators, and rabbis for sharing their ideas: Andy Harkavy, Barak Malkin,Barrett Harr, Brett Lubarsky, Carly Cera, Dan Lange, Hope Chernak, Ira Miller, Jessie Downey, and Rabbi PJ Schwartz.
Have something to say about this post? Join the conversation in The Tent, the communications and collaboration platform for congregational leaders of the Reform Movement. You can also tweet us or tell us how you feel on Facebook.
Related Posts
Image
In 2021, many of the URJ's 15 camps engaged in the creation of a URJ-structured Racial Equity, Diversity, Inclusion (REDI) Working Group & Camp Assessment process. One of those camps was Camp George in Ontario, Canada.
Image
After several synagogue shootings, American Jews are grappling with the need to keep our communities safe and to remain open and welcoming to seekers of all backgrounds.
Image
The LAs are at the heart of every aspect of our social justice work, but to date, the fellowship has not fully reflected the diversity of the Movement it represents – and we're committed to changing that.