Image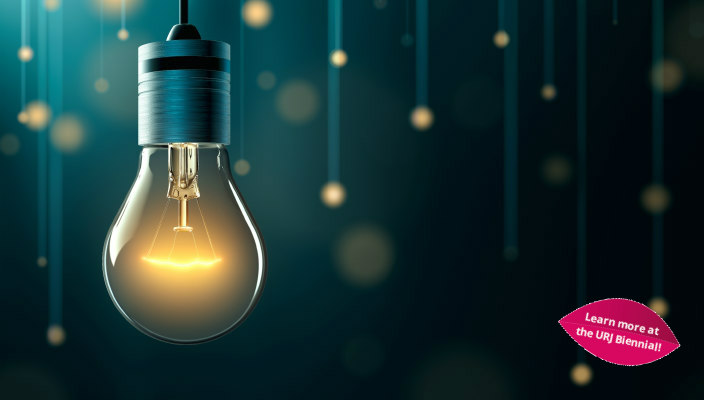 Engaging congregants is an ever-evolving venture – and while building relationships that lead to meaningful lives has always been at the core of congregational engagement, the approaches leaders will need to take in 5780 differ greatly from those of generations past.
At the upcoming URJ Biennial, we'll explore three specific areas of engagement important to 21st-century congregations: building a culture of philanthropy, engaging members through small groups, and looking beyond the congregational walls. Here, we share six innovative congregational initiatives – two in each of these three areas – to inspire you in the new Jewish year.
1. Building a Culture of Philanthropy
For decades, leaders engaged in fundraising to finance their congregations, but times are changing. Congregations now understand they need to move from transactional efforts that focus on the organization to philanthropy, which is relational and puts members at the center.
Temple Sholom in Vancouver, BC, has embarked on a three-year effort in which leaders have one-on-one conversations ("Temple Talks") with every dues-paying member to better understand their motivations, interests, and the ways their philanthropic values align with the synagogue's mission. The goal of these conversations is to deepen leaders' relationship with members – not simply to solicit. As a result, leaders are able to understand members' aspirations and help them make meaningful charitable choices.
At Congregation B'nai Israel in Bridgeport, CT, upon determining that young adults in their community want to have a say about where their money goes, leadership developed a new, two-part financial model called Impact Giving. In a recent article for eJewish Philanthropy, Rabbi Evan Schultz explained that a monthly "sustaining contribution" of $36 per month goes toward the synagogue's operating budget: "This is the money that helps 'keep the lights on,'" he says.
"The second piece is the opportunity to annually direct a sum of money towards a specific, existing area within synagogue life (we suggest $500 per year)." These areas include adult education, the preschool program, social justice work, and even synagogue security costs.
"Our model enables each person to direct their money to an area of the synagogue they care about," Rabbi Schultz says. "It also gives the individual a more intimate understanding of our synagogue finances."
2. Engaging Members through Small Groups
In the past few years, synagogues have begun to embrace the successful practice of convening members in small groups centered around shared interests, life stages, professions, geography, Jewish experiences, and more. These lay-led groups provide regular gathering opportunities, enrich relationships among congregants, and help them connect with others who have common experiences, needs, or interests.
Mount Zion Temple in Saint Paul, MN, for example, has a robust small groups initiative called MZ Small Groups, which offers something for everyone. Groups have three to 30 members, convene regularly on dates selected by group members, and self-select meeting locations within the greater Twin Cities.
MZ Small Groups has groups for grandparents/grandkids, bicyclists, pickleball players, cancer survivors, high school students preparing for college, and even a group called "Random Men Noshing." Within just a few months, this initiative has connected more than 130 members who report building meaningful relationships and feeling more connected to the synagogue.
As part of its HBTogether initiative, Holy Blossom Temple in Toronto, ON, offers numerous small groups focused on learning, worship, Jewish culture, life stages, and more. The congregation helps group leaders find participants, connects groups with educators as needed, and identifies opportunities for group participation in congregational life.
For example, Holy Blossom Temple offers a limited-time "Beyond the Chuppah" group to help engaged couples and newlyweds meet other couples and learn about topics that can strengthen their marriage. Another group, geared toward older members who aren't able to make it to the synagogue as frequently, meets at a local shopping center closer to their homes to offer opportunities to mingle, learn, and nosh.
3. Looking Beyond the Congregational Walls
In order to engage more people in the community, congregations are "meeting people where they are" by offering programming outside the walls of the synagogue itself – in members' homes, in public spaces, and/or in collaboration with other institutions.
The membership of Congregation Schaarai Zedek in Tampa, FL, is geographically spread out so, to effectively engage members, leadership decided to convene a variety of gatherings in members' neighborhoods. These included "Yogurt with Clergy" in four neighborhoods, "Havdallah on Ice" at a suburban rink, and "Challah in the 'Chood," a series of congregational Shabbat dinners hosted in community centers, restaurants, and congregants' homes. Rabbi Joel Simon says the congregation reached more than 100 families through "Challah in the 'Chood" alone, and members truly appreciated having Shabbat brought to them.
Temple Sholom in Cincinnati, OH, partnered with other local faith-based organizations and advocacy groups with shared values to establish JustLOVE, a multi-faith initiative that engages spiritual seekers in tikkun olam (repair of the world). JustLOVE's Facebook page says that "through inclusive, collaborative multi-faith actions, we are building a new culture of belonging in our city that promotes sustained moral activism."
To date, JustLOVE events have focused on social justice education, including immigration, supporting the LGBTQ+ community, visiting immigration centers at the U.S. border and prisons, attending movie screenings and concerts, collaborating to create artwork, and more. They are held throughout the city, from Temple Sholom and local churches to community centers, jazz clubs, coffee shops, recording studios, theaters, and even a car dealership.
As all of these examples show, engagement is truly about putting people – not institutions – at the center of what we do by actively listening to them and meeting them where they are. We hope these innovative ideas and others will inspire your congregation in 5780.
To learn more building a culture of philanthropy, using small groups as a tool of engagement, and looking beyond the congregational walls, join us at the URJ Biennial, held Dec. 11-15, 2019 in Chicago, IL. We'll explore these ideas and many others in the learning intensive titled "Engagement: Building Meaningful Communities." Register now. 
Related Posts
Image
New webmasters Lisa Goldstein, RJE, Co-President Karen Freedman, and Treasurer Michelle Foels share what their motivations for choosing RJ Web Builder 3.0 were, what their experiences were like, and what features they most enjoy.
Image
The URJ Pulse Survey and the newly expanded URJ Pulse+ Survey showed that participating congregations were experiencing similar trends. Having the ability to compare your data with that of other URJ congregations will paint a picture that will help you assess where you are and share a more detailed story with your congregants and donors.
Image
Email and other technologies are a huge factor in why employees feel like they're always on the clock. This "always-on" culture accelerated while synagogues began facing declining membership before the pandemic and has only intensified since. Even if clergy or staff are cut, the work demands don't decrease. As a result, remaining clergy or staff or volunteers are even more overwhelmed and are burning out at alarming rates.