The Forward recently shared "Jewish Camp Trend-Spotting: 10 Ways a Summer Ritual Is Changing," detailing how the world of Jewish camping is evolving – and the Reform Jewish Movement's 15 summer camps are leading the way! Here are a few ways URJ Camps are on the cutting edge:
Specialized Programs: Specialty camps allow us to expand our geographic and programmatic reach to cohorts of young people who otherwise would be unlikely to enroll in Jewish camp.
Ours is the only Jewish camping system that received funding in both rounds of the Specialty Camps Incubator program. An initiative of the Foundation for Jewish Camp, the Jim Joseph Foundation, and the AVI CHAI Foundation, these grants support the creation of new specialty camps to engage more children in the Jewish camp experience.
At URJ 6 Points Sports Academy (NC), Jewish athletes participate in top-level sports training in a Reform Jewish camp setting. This year's registration was the highest in the camp's five-year history. 
At URJ 6 Points Sci-Tech Academy(MA), newly opened this year, campers explore robotics, video game design, environmental science, and digital media – all through a Jewish lens. Registration for the inaugural summer exceeded expectations, bolstered by a partnership with Women of Reform Judaism to award scholarships to female campers.
For the 49th summer, URJ Kutz Camp (NY) has offered offers teens a customized program to enhance their skills in arts, music, leadership, and advocacy skills as part of the NFTY leadership experience.
Day Camps: This summer, URJ Camp Harlam (PA) launched URJ Harlam Day Camp, the Reform Movement's inaugural community day camp – a strategic initiative to complement Reform Judaism's youth engagement focus. The camp will create new outreach opportunities to young Jewish families and provide a gateway into Jewish camp for hundreds of children.
Year-Round Programming: Recognizing the steady decrease in post-b'nai mitzvah involvement, the URJ is developing programs to engage youth year-round.
URJ Camp Newman (CA) and URJ Greene Family Camp (TX) are expanding to become year-round centers for living Judaism. The expansion includes three core components: a year-round retreat center, a summer camp, and creative, community-driven programming in areas such as social justice, arts, adventure, and Jewish studies.
URJ Camps Service Corps , an innovative partnership between Reform camps and local congregations, will integrate Service Corps Fellows into congregations during the year and into camps during the summer. In 2014-2015, the program's 40 Fellows will blend experiential, camp-style education with camp recruitment at the congregational level.
Shorter Sessions: Camps are adjusting their summer calendars and shortening the length of some sessions to better synch with school schedules. At URJ Camp Kalsman (WA), interest in shorter sessions led to 20% more registrants, the camp's largest enrollment, confirming the efficacy of the strategy.
Broader Definition of Camp: New programs blur boundaries among camp, teen travel, and service programs. Mitzvah Corps offers community-based service learning opportunities for Jewish teens, pairing them with grassroots organizations that provide hands-on social action experiences.
This summer, Mitzvah Corps experienced a 100% growth in registration and added program locations in Portland, OR, and Washington, D.C. (a partnership with the Religious Action Center).
With the addition of a Mitzvah Corps program in Israel, teens can choose from this new travel and service-learning program, NFTY in Israel travel program, and NFTY-EIE High School in Israel academic program.
Inclusion: URJ Camps are committed to providing a Reform Jewish summer experience to all children, including those with disabilities. Professional inclusion coordinators at each camp work with parents, caregivers, and others to ensure fulfilling camp experiences for all children. Several programs for young people with disabilities also are offered:
The URJ Campaign for Youth Engagement strives to provide youth from 8 to 26 with expanded and immersive Jewish experiences. With more than 12,400 participants in 2014, for the sixth consecutive year, we will reach, inspire, connect, and engage more young people than ever before. This work will benefit more than 15,000 individuals in our community -- kids, parents, staff, lay leaders, alumni, and congregational professionals – building and strengthening Jewish identity, pride, community, and commitment.
Related Posts
Image
When adults find out about my job as director of URJ 6 Points Creative Arts Academy, many of them say the same thing: "I wish that had existed when I was a kid!" I know how they feel.
Image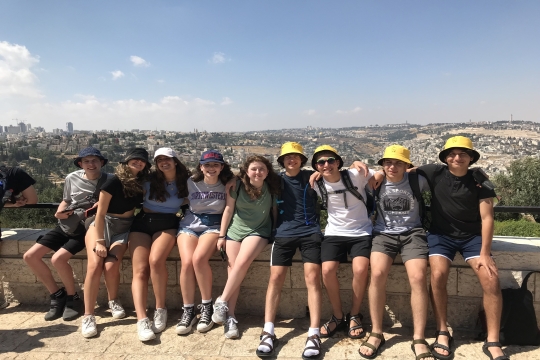 We are excited to announce that, thanks to a generous commitment from RootOne LLC (seeded by The Marcus Foundation and powered by The Jewish Education Project), the certificate will now be worth $3,250!* We hope that this increased amount allows all Reform Jewish teens to travel to Israel as a rite of passage.
Image
Summer 2022 was full of opportunities and growth. We celebrated the joy and beauty of camp and Israel experiences, infused intention and meaning in our planning and programming, and enabled campers, summer immersive participants, and staff to create communities of respect and belonging.