Image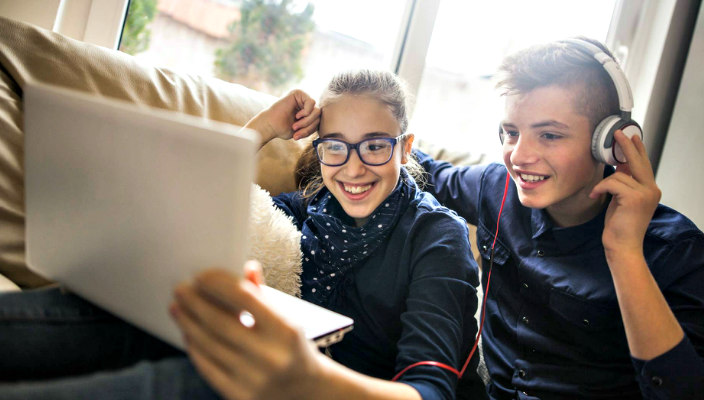 Just because we can't physically be together doesn't mean we can't come together as a community. In fact, these are the most important times for us to support one another and maintain some sense of normalcy.
I've been inspired by the Reform Jewish professionals and leaders, as well as those within the greater Jewish community, who are creating spaces for people to gather and have fun during these troubling times.
Here are a few easy-to-implement examples to try in your community – and while the language here is geared toward teen engagement, these ideas can be adapted for engaging with members of any age.
1. Watch a movie together.
A variety of platforms allow you to play a movie in tandem with a chat function where people can share their comments as they watch together, even when they're apart.
The URJ and many Reform congregations use Zoom for virtual gatherings, and it can be used for watching movies, too. Just share your screen and make sure you click "optimize sound and video." URJ member synagogues are eligible for 15 percent off a Zoom license; just use discount code "urj-zoom."
Looking for other options? Check out these other platforms that allow groups to watch videos together.
2. Play online games.
Kahoot and other online games are a great way to interact and have fun, allowing participants to play games together from their own computer and engage in some friendly competition.
Right now, Kahoot is offering free pro accounts for educational institutions, though the free version is enough for most teen programs.
3. Host an interactive cooking class.
Enlist the help of a cooking enthusiast from your congregation and choose a recipe that calls for ingredients people are likely to own already. (Needs ideas? Check out "21 Jewish Recipes That Use Ingredients You Have at Home.") Then, set a time for a video conference and, in advance of the date, send participants a list of all the ingredients they'll need to create the dish.
When you gather online, guide everyone through making the dish, step by step, via video conference. Teens will not only be able to follow the chef but will also be able to see each other's work – and enjoy their treats together!
4. Get crafty.
Host a "low-tech" group crafting session: Choose an activity or DIY that uses things most people have in their houses (like markers and paper), and give instructions by video. Even with basic materials, teens can learn new skills like origami, cartoon drawing, and more.
Are there teens in your congregation who could teach some of these skills? Everyone loves sharing a skill with their friends, so invite them to take turns leading.
If you're ready for something a little more involved, create and share an Amazon Wishlist of the list of items the teens will need to do the project, and allow time for their art materials to be delivered. You could have them order clay for making tzedakah boxes, fabric markers for challah covers, or supplies for candle-making. Get inspired!
5. Have a good conversation.
Use your favorite video conferencing platform to host a drop-in conversation about politics, the state of the world, or any other topic of your choice.
You could listen to excerpts from a podcast together (may we suggest Wholly Jewish?) or watch a video snippet, like a TED Talk, as a conversation-starter.
6. Tell a bedtime story.
Head to Stories We Tell, the URJ's weekly Jewish storytelling podcast, and choose from 140+ stories for your group. Need help narrowing it down? Here the top five most popular episodes.
You can play the podcast from your computer, or even on the phone, and everyone else can listen with you. Then close out the evening with some bedtime Sh'ma, camp-style.
7. Just hang out.
Sometimes it's nice to just be together, with purpose or agenda other than to see the people you care about. Open up a Zoom room or a Google Hangout, let your teens know the time, and just… hang out.
Welcome teens to do other things while they chat, just like they would if they were all sitting in a physical room, hanging out in person. Make it a lunch break, or tell everyone to bring their favorite coffee, tea, or juice to kick off their day.
What are you doing to stay connected? Let us know in The Tent!
For additional resources for congregations, see "How Reform Congregations are Coping with COVID-19 (and Tools to Help)."
Related Posts
Image
There has been a lot happening in the teen and youth space over these past weeks, and many more opportunities are coming down the pipeline.
Image
A few weeks ago, I had the joy of being at the "NFTY-GER Ball," one of the many NFTY events being run by Reform teen leaders across North America. A room full of teens gathered at Temple Sholom in Scotch Plains, NJ to dance, laugh, get to know one another, and celebrate Jewish life.
Image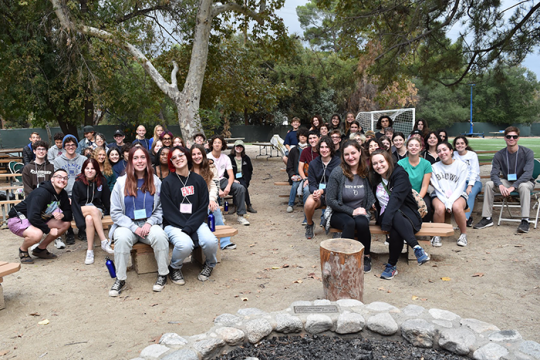 During the COVID pandemic in southern California, we saw our Jewish communities weaken. From our camp spaces disappearing to our teen youth groups (TYG) struggling, many of us stopped programming and decreased in membership, while a few of us thrived the best way we knew how - by joining forces. For us, as youth directors, advisors, and educators, we knew this was the way to keep teens inspired and engaged with one another.