Image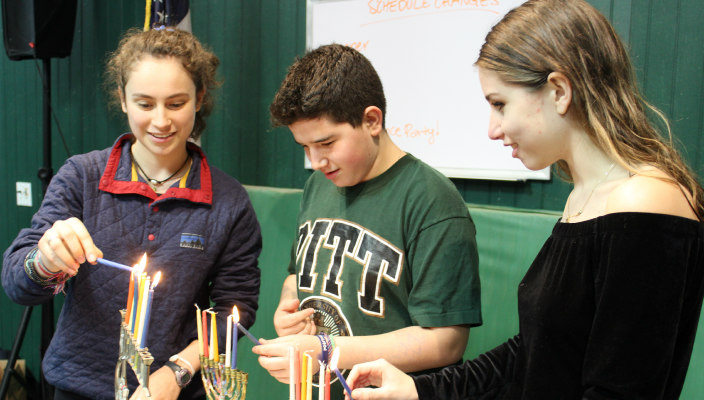 One of my very favorite Hanukkah traditions is the practice of placing our lit menorahs in windows to share the miracle and joy of this holiday with our communities. In my role as vice president of URJ camps, NFTY, and immersive experiences, I have the honor to witness the magic of our camps, NFTY, Israel journeys, and other year-round immersive experiences. I also get a front-row seat to the many ways we partner with congregations to show children, teens, young adults, and families how to use their Judaism as a springboard for creating a more joyful, just, inclusive, and compassionate world. 
Just like those shining hannukiyot, I have seen firsthand how your work with our youth is, child by child, creating light in our world. There are infinite ways our community is bringing light to the world, and in the spirit of Hanukkah's eight nights and eight candles, I'm excited to share eight ways we brought light into the world this year:
You brought teens from your congregations to the 2019 URJ Biennial to get inspired, learn new skills, songlead, present, and empower our community in partnership with congregational leaders. One highlight was when NFTY-SW Programming Vice President Josh Rosenblum and NFTY-NW Programming Vice President Evan Lorant spoke about climate change during Shabbat morning services – to a crowd of 5,000. 
You invited your high school students to march, lobby and organize with the RAC to advocate for gun violence prevention.
You sent more than 100 teens abroad for life-transforming experiences in Israel and Poland with URJ Heller High, where they discovered and grew their Jewish identity as they explored the land, culture, and history of our people.
You supported the 10,000 campers who attended our 17 camps through your leadership, help with scholarships, and partnership. These campers had experiences that impact their lives for years to come – like Jason Halpern, a Parkland shooting survivor and URJ 6 Points Sports Academy North Carolina alum. Jason credits the values he learned at camp with inspiring him to get involved in Stop the Bleed, a public health campaign to train, equip, and empower bystanders to help in bleeding emergencies before professional help arrives.
You dispatched your teens to URJ Mitzvah Corps to work alongside incredible organizations and community leaders to make a real difference in the lives of individuals and the local community – inspiring teens like Lucy Beckett of Congregation B'nai Israel in Sacramento, CA, to return home and start an award-winning congregational summer camp for refugee children.
Together, we deepened teen engagement and impact by innovating and experimenting through local gatherings, fellowships,  large group celebrations, and immersive experiences.
You infused the joy and culture of URJ summer camps into your congregation, radically transforming the Jewish experience to captivate more youth – like the way that Congregation Beth Emeth in Wilmington, DE, empowered its youngest members to lead services on Shabbat. 
At the URJ Biennial, you declared "I'm in!" and made commitments within your individual congregations and communities to expand participation of the next generation, be a part of the Reform Movement's 2020 Civic Engagement campaign, be an agent of change in your congregation, vote Reform in the World Zionist Congress elections, and address equity, inclusion, and anti-racism in 2020. (Psst: Haven't yet made your commitment? Do so now.)
With your passion for empowering, teaching, and mentoring Jewish youth combined with our URJ camps, teen programs, and immersive experiences, there's no telling how many more children and teens we can inspire to bring their light into the world all year long. 
Have something to say about this post? Join the conversation in The Tent, the communications and collaboration platform for congregational leaders of the Reform Movement. You can also tweet us or tell us how you feel on Facebook.
Related Posts
Image
There has been a lot happening in the teen and youth space over these past weeks, and many more opportunities are coming down the pipeline.
Image
A few weeks ago, I had the joy of being at the "NFTY-GER Ball," one of the many NFTY events being run by Reform teen leaders across North America. A room full of teens gathered at Temple Sholom in Scotch Plains, NJ to dance, laugh, get to know one another, and celebrate Jewish life.
Image
Almost exactly six years ago, I ran for NFTY-TOR regional president. I lost. And yet when I look back at my election materials in a bout of nostalgia, I stand by absolutely everything I said, now having seen how much the ideas I mentioned still influence me and the way I think about leadership, both personally and as an organizer working with NFTY and Reform Jewish teen leadership.