Image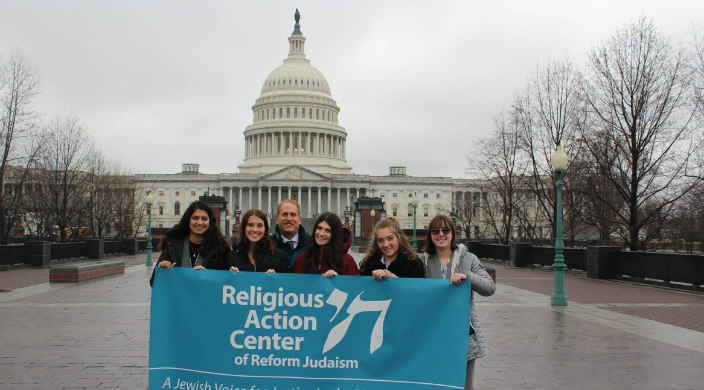 Last weekend, more than  400 Reform Jewish high school students from across the country journeyed to Washington, D.C. for the Religious Action Center's Bernard and Audre Rapoport L'Taken Social Justice Seminar. After two days spent learning about various social justice topics – climate change, reproductive rights, LGBTQ civil rights, church/state separation, gun violence prevention, among others – as well as celebrating Shabbat, making Havdalah at the Jefferson Memorial, and visiting some of the city's museums and memorials, students spent Monday on Capitol Hill, speaking Torah to power by sharing their views on these topics with some of the country's decision-makers.
Just days before the first anniversary of the shooting at Marjory Stoneman Douglas High School – our high school – in Parkland, FL, we lobbied in support of HR 8 – the Bipartisan Background Checks Act of 2019, which will close the private sale loophole that allows people who otherwise wouldn't be able to purchase guns to buy them online or at gun shows. HR 8 currently is moving through the House Judiciary Committee.
Zoey: We have been lucky enough to have had opportunities such as this one over the course of this past year, which have allowed us to make our voices heard in a time with such a tense sociopolitical climate. More and more students have been speaking out over the course of these past several months, and it has been an inspiring trend to see. We believe that this is largely because we, as youth, are beginning to see how many of the issues that affect Americans each day have a direct impact on us as well. One of these issues is gun violence.
Casey: The rate of gun violence in the United States is more than 20 times higher than in any other high-income country. [According to Everytown for Gun Safety], [o]ver 36,000 people are killed by guns each year and over 100,000 new people become survivors of gun violence each year. These numbers are way too high, and are preventable. This issue does not limit itself to one race, gender, ethnicity, or religion. Its impact is felt increasingly each year on people of all demographics and shows no sign of slowing down. Two-thousand seventeen was the deadliest year on record for mass shootings. There were four times as many people shot in mass shootings in that year alone than the average of the eight years prior. We, as a country, will no longer stand idly by while our brothers, sisters, neighbors, and friends face the repercussions of a sociopolitical negligence towards senseless gun violence. As Jews, we are taught in the Talmud that "He who takes one life, it is though he has destroyed the universe, and he who saves one life, it is though he has saved the universe."
Zoey: Pastor Martin Niemoller, in response to the Nazi regime's rise to power and large-scale genocide, wrote:
First they came for the Jews,
But I did nothing
Because I'm not a Jew.
Then they came for the socialists,
But I did nothing
Because I'm not a socialist.
Then they came for the Catholics,
But I did nothing
Because I'm not a Catholic.
Finally, they came for me,
But by then there was no one left to speak for me.
We have a moral responsibility to speak out against such injustice before it is too late. Unfortunately for some of our friends, it is.
Casey: We are both students at Marjory Stoneman Douglas high school in Parkland, Florida, and lived through the tragedy last February.
Zoey: I was in my chemistry class.
Casey: I was in my Spanish class.
Zoey: The fire alarm went off.
Casey: I went outside.
Zoey: I heard shots.
Casey: Kids ran into the auditorium. Confused, I followed.
Zoey: Kids ran into the media center. Scared, I ran too.
Casey: I ducked between the rows, my friend cried in my lap.
Zoey: I hid in a closet, crouched behind supplies.
Casey: One hour passed.
Zoey: Two hours passed.
Casey: The kid next to me on his phone called out, "6 dead. Now 7."
Zoey: We heard two shooters. No, 3.
Casey: Not knowing if I would live.
Zoey: Not knowing made it worse.
Zoey: A week after the shooting, I went to my state capitol to lobby with congressmen to pass common sense gun safety laws. We aimed to make our representatives listen, and not let them forget our cause. I spoke at a student-run school walkout in Boulder, Colorado, as well as a pre-event for March for Our Lives here in D.C. Seeing the outpour of support gave me the hope and drive to continue the fight against gun violence for everyone.
Casey: After the shooting, I took on the role of lead student coordinator for the March for Our Lives Parkland. I created an event for over 30,000 people, to demand we be heard by America's government and society. To show that we are here, we are hurting, and we are not going away. Following the march I co-founded a nonpartisan organization called Empower the People, to create opportunities for youth across the political spectrum to stand up and speak out about issues they care about.
Zoey: We have made great strides and have created such momentum behind common sense gun safety legislation. Yet, mass shootings continue to plague our society, and we have seen no decrease in deaths due to gun violence. Something more needs to be done. We have cultivated a society in which people are ready for change.
Casey: Ready for gun reform that includes universal background checks on all gun sales, not just those from licensed dealers.
Zoey: It's time to close the private sale loophole.
To get involved, contact your elected officials about the Bipartisan Background Checks Act of 2019 and visit nfty.org/gvp to learn about the Reform Movement's Gun Violence Prevention Campaign.
Casey Sherman and Zoey Fox-Snider are students at Marjory Stoneman Douglas High School and members of Congregation Kol Tikvah, both in Parkland, FL.
Have something to say about this post? Join the conversation in The Tent, the social network for congregational leaders of the Reform Movement. You can also tweet us or tell us how you feel on Facebook.
Related Posts
Image
2023 marks the 150th anniversary of the founding of the Union for American Hebrew Congregations - now called the Union for Reform Judaism. What should this milestone mean?
Image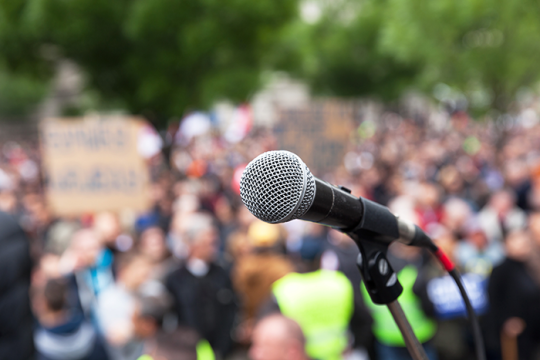 The rise in antisemitism and hate speech on Twitter in recent months has been deeply concerning to us as Jews. Though social media platforms in general must do more to combat hate, Twitter has a particular responsibility to act in this moment.
Image
Here is a list of 11 URJ resources your congregation should take advantage of in the new year.