Image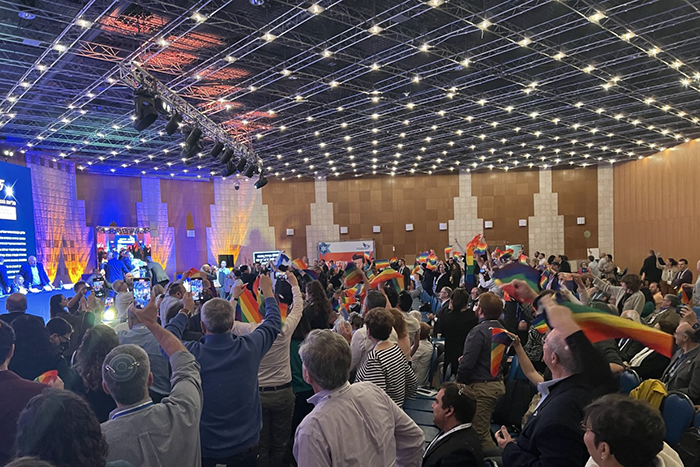 Only Israeli citizens get a vote in the Knesset, but Jews around the world can vote in the elections for the World Zionist Congress (WZC). The WZC, founded in 1897 by Theodor Herzl, was designed to be the parliament of the Jewish people. The WZC elections take place every five years to determine the leadership, budgets, and policies of the World Zionist Organization, KKL-JNF (the Israeli Jewish National Fund), and the Jewish Agency for Israel.
At the recent 38th Congress in April 2023, the Reform Zionist movement brought 40 delegates under the umbrella ARZENU. Delegates came from around the world to gather in Israel.
Some of the most contentious issues the Congress faced this year included the highly controversial judicial reforms and the threat to Israel's democracy, adjustments to the Law of Return, and the stripping of the LGBTQ+ community's rights.
We spoke with ARZA delegates about their experience and takeaways.
Zachary Schaffer (he/him), the co-founder of Project Shema, shared: "I came here to see Zionism in action in the 21st century. For me, Jewish sovereignty has always been a means to an end, not an end in itself. The question Zionism asks is about what it means to embody Jewish values on a national and global scale. With democracy and civil rights under threat in Israel, this is a moment of crisis for global Jewry, but it's also a moment for solidarity grounded in our shared values. Israelis are asking American Jews to speak up, which is what we are doing here."
Rabbi Deborah Waxman (she/her), who is the Reconstructing Judaism president and CEO, shared: "Even though there are many ways Reconstructionist and Reform Jews are distinct, there are more ways we are alike. We both value the vision of Israel as a Jewish and democratic state and the WZC is a place for diaspora Jews (Jews who live outside Israel) to advance that vision. It's very gratifying to be here."
Waxman continued, "What's happened in these proceedings and what happens after the Congress matters most. What's happening in Israel is so different than what I expected. The images of the protests are powerful, but we [also] saw that life goes on. I was reminded of the privilege I have as a Jew going to Israel. I am grateful that the Congress gave me the pretext to come right now."
Rabbi Marla Hornsten (she/her) of Temple Israel of West Bloomfield, Michigan emphasized that, "right now, it's so important to lean in. Equality, equity, justice, and Reform Jewish values are at stake. It is important to show up, speak up, advocate for the values that are important to us, and then share how important [this work] is with our home communities."
She explained, "As I sat in the committee on strengthening the State of Israel via the judicial system, it became obvious that only one perspective benefits everyone: democracy. At one point, the ultra-Orthodox and Reform Movement reps sat down and made compromises. We spent 90 minutes talking and passed a joint amendment. If people are willing to sit down and talk in a productive manner, you never know what you can do."
Tiffany Harris (she/her), the chief programming officer of Moishe House, shared: "the State of Israel is the nation state of the Jewish people. We're in a precarious moment where the current government is moving to transform the country, and I have a lot of fears about these changes: the government's desire to narrow the eligibility for aliyah, restrict access to sacred sites, and overhaul the judiciary. There's a growing rift between the State of Israel and the Diaspora. It's important to lean into my Zionism at this moment and press for resolutions to bring the Diaspora and Israel together. It's also important that we support the Reform Movement in Israel. I hope that we can promote transparency, fairness, equity, and justice within the WZO. I had the opportunity to connect with other passionate individuals who love Israel as we worked together toward securing an Israel that fulfills the promise of its founding document [the Declaration of Independence]."
She added, "This experience gave me a renewed sense of purpose to help build a vibrant, thriving Jewish State that reflects an inclusive, democratic, and just vision of Zionism."
Rabbi Emily Aronson (she/her) serves as a rabbi at NYU Hillel. She said, "My biggest takeaway was how important it is to show up. There were a lot of questions about 'who is a Jew', and our big tent and inclusive definition is not universal. That said, to be able to push to keep the tent open as much as possible is critically important. The committee I was on discussed the Law of Return and whether having a Jewish grandparent [is] 'enough.'"
Rabbi Aronson continued, "I would rather fight for an Israel where I see myself represented than walk away from an Israel of which I could never be a part. Perhaps it's easier to walk away, but that is harmful to the broader Jewish community. The Jewish community is connected all over the world and Israel is important to maintaining that connection."
By the end of the Congress, the ARZENU delegates felt a strong sense of accomplishment and were energized to share their experiences with their communities.
Stay tuned as we begin our campaign for the next World Zionist Congress elections in early 2025. Every vote will count, and we will need our URJ and Reform Movement leaders to galvanize our congregations, schools, camps, and communities as we get out the vote to ensure that Israel is a secure, Jewish, and democratic state.
To keep up to date on how you and your congregation can get involved, sign up for ARZA's mailing list.
Related Posts
Image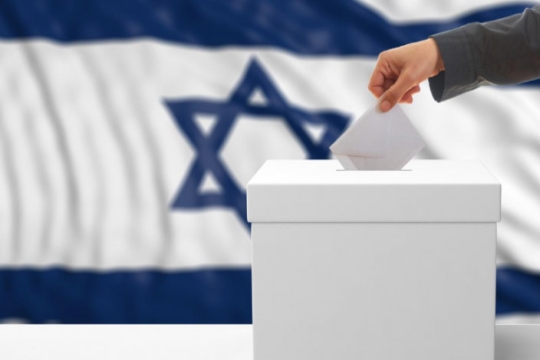 The World Zionist Congress elections are coming soon, and your congregation's participation is critical to maintaining a large Reform presence in Israel and here at home.