Image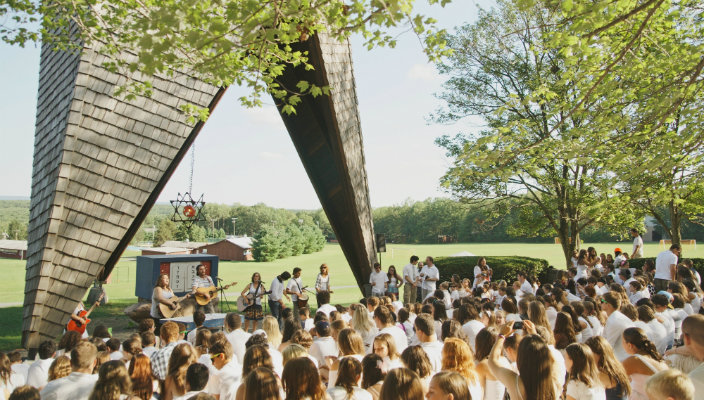 Over the summer, I had the good fortune to serve on the faculty of Kfar Noar, URJ Camp Harlam's unit of rising ninth graders. One of my responsibilities was to join the campers on their trip to New York City, where we attended Fiddler on the Roof on Broadway. 
Fiddler, based on a collection of short stories by Yiddish writer Sholem Aleichem, first debuted as a Broadway production in 1964 and has since been reproduced in countless theaters and made into a movie in 1971. Fiddler quickly became a part of the American cultural lexicon. 
Set in the Russian Pale of Settlement in the early twentieth century, Fiddler tells the story of Tevye, a Jewish dairy farmer with five daughters, and his trouble in finding suitable husbands for them. Tevye copes with the poverty and hardship of his life through a simple philosophy that can be summarized in one word: "Tradition!" But the world around him is changing and his daughters have minds of their own; modern ideas are creeping into the village of Anatevka, and he must adjust. The character of the fiddler appears standing on a roof whenever the plot presents a circumstance that challenges Tevye's beloved traditions. 
As the play unfolded, I was struck by the rich culture celebrated on stage. When they sang "L'chayim," I saw a Judaism filled with strength and exuberance. I looked at the teens from camp and saw them smiling, laughing, and even moving to the rhythms of Jerry Bock and Shelden Harnick's amazing lyrics and music.
What were they thinking? Surely they could not feel the way audiences did in 1964. Did my campers recognize the Yiddish motherland? Did they see their grandparents or even great-great-grandparents walking the streets of Anatevka, wishing for a good match from the matchmaker? Did their counselors recognize the Judaism in that performance? Did the Israeli counselors, especially, see anything resembling the ideas of the Jewish State?
I worried that for our young people, the culture of Fiddler might as well be just another colorful Broadway historical production (think Hamilton, but with an accordion) – not a representation of a Jewish family.
Perhaps the most poignant moment in the production is the song "Sabbath Prayer," with the words "May the Lord bless and protect you." Prior generations of Jews felt the heavy hands of fathers upon their shoulders as they gave them a blessing. That ritual, which for centuries helped bond parents and children every week, no longer exists for our campers. Something has been lost.
But that same song has a meaning at Camp Harlam. "Sabbath Prayer" is part of our weekly Shabbat song session after dinner in the dining hall. As the meal ends, we say Birkat HaMazon and push tables together so bunks or entire units of campers can join in song and dance. The campers are just as joyful as the men dancing in the bar in Anatevka, but the most amazing sight – one absent from Fiddler – is what the counselors do during that song session.
Our counselors – Jewish and non-Jewish, American and Israeli, from all over the world – put their arms around the campers. They look out for the kids who are overwhelmed by the noise and make sure everyone is included. They dance to help the kids loosen up, teach hand gestures they just invented or ones passed down year after year, and sing until their voices go hoarse with celebration. Campers and counselors engage in elaborate dramatization of the music, alternating in responsive singing while rhythmically pounding their fists on the tables and waving their hands in the air.
These camp customs demonstrate the way Reform Jewish camps are shaping Judaism. They are inclusive, stereotype-rejecting, joyful, loving, energetic, and creative. Camp is creating a radically new Judaism from centuries-old Jewish prayers, 50-year-old American Jewish pop culture, and brand new dance moves.
If you want to see young people letting loose and bringing Judaism to life, visit Camp Harlam on a Friday night in the summer – and be sure to bring your earplugs and an open mind. You'll see our dedicated counselors mentoring the next generation of Jews and helping them break free of social stereotypes and restrictive gender norms. You'll see them demonstrating humility, compassion, exuberance, and patience.
If you want to watch the Judaism of the future, come here. It's not Anatevka. It's an entirely new Jewish culture, with new jokes, common language, a set of rituals and a source of meaning for our young people. When the kids gets home, they beg to come back to camp – not only because camp is fun, but also because the Jewish community of camp gives them the same grounding that Fiddler gave Jews 52 years ago.
Like Tevye, we should welcome the Fiddler and his music to our circle, walk away from the Old World, and watch meaningful, new Judaism being born.
Rabbi Michael G. Holzman is the senior rabbi of Northern Virginia Hebrew Congregation. An inspirational and compassionate spiritual leader, Rabbi Holzman has a strong commitment to lifelong Jewish education, youth programming and social action and is known for his highly innovative, energetic and successful approaches to making Judaism accessible and exciting to all. Rabbi Holzman served from 2004 to 2010 as Associate Rabbi of Congregation Rodeph Shalom in Philadelphia, Pennsylvania.  Prior to that, he served for one year as the Rabbi of B'nei Israel Congregation in San Jose, Costa Rica.  Rabbi Holzman was ordained in 2003 by Hebrew Union College-Jewish Institute of Religion in New York and Jerusalem, and is a 1995 graduate of Washington University in St. Louis, Missouri.  Before rabbinic school, he worked for three years as a paralegal specialist with the Environmental Crimes Section of the U.S. Department of Justice in Washington, DC.  Rabbi Holzman and his wife, Nicole Saffell Holzman, reside in Reston with their two children.
Have something to say about this post? Join the conversation in 

The Tent

, the social network for congregational leaders of the Reform Movement. You can also 

tweet us

 or tell us how you feel on 

Facebook

.
Related Posts
Image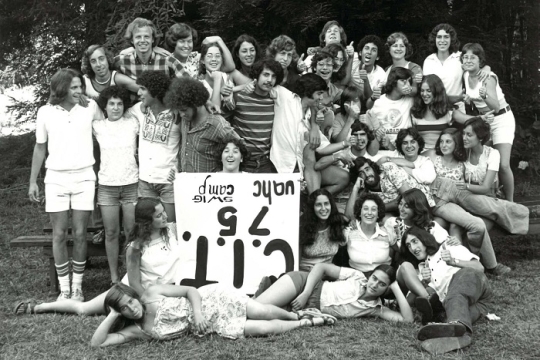 A San Quentin inmate with a swastika tattooed on his hand greeted us as we stepped off the bus. The year was 1975, and we were a group of 30 counselors in training from Camp Swig (now Camp Newman).
Image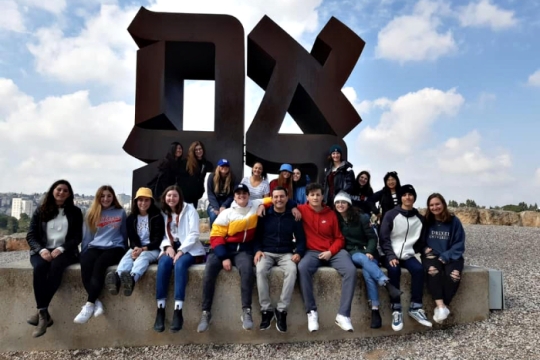 Through the DREAM ISRAEL program, students can access various levels of grant funding toward their semester at URJ Heller High while learning about the act of tzedakah by fundraising for approved philanthropic causes in Israel.
Image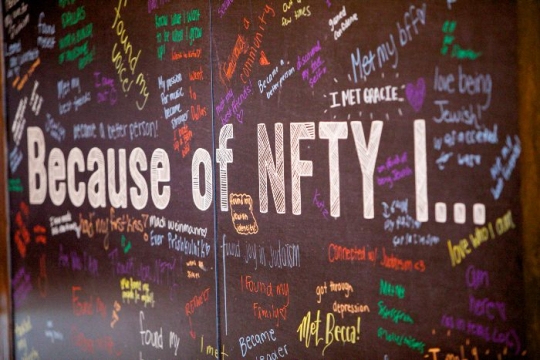 On March 7, the NFTY General Board met to participate in our annual mid-term Asefah to elect our next NFTY North American Board and celebrate all of our successes in a year full of unprecedented challenges.