Image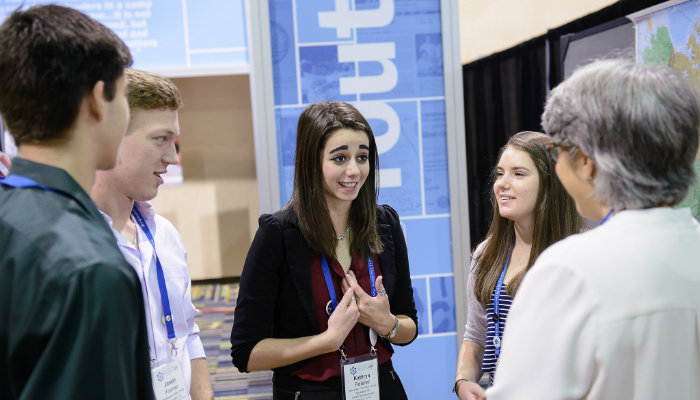 What happens when 5,000 people begin a day together in one building? Well, one thing you could expect is the Starbucks line to be long. But, at the URJ Biennial, magic happened even while waiting in line.
NFTY Texas Oklahoma board member Logan Kramer explains it best in a blog post she wrote while at the Biennial: "I struck up a conversation with the woman behind me [in the Starbucks line] and she didn't realize I was a high school attendee until about five minutes into our conversation," says Logan. "Here, I'm not the 'token teen' or pushed aside as the youngest in the room. I'm having conversations with rabbis, cantors, educators, temple presidents, and URJ staff. These people want to hear my voice…not just because we are teens, but because we are integral members of the Reform Jewish movement."   
One of the best aspects of the URJ Biennial this year was seeing the presence of youth in what one would assume was an adult leadership conference. We didn't have a parallel youth track, and we scratched "teen program" out of our lexicon. It was one event for every leader, regardless of age.
Teens participated alongside adults in matters of mutual importance. College students played a crucial role as organizers and staff members. We gathered to speak about Israel, education, fair labor practices, building strong communities, and more. We attended sessions, passed resolutions, and cheered together as U.S. Vice President Joe Biden stood on the stage in our final plenary session, and called out NFTY's capacity to change the world. "I got to meet the NFTY President," he said, "and I hope he remembers my name when he is President of the United States."
But it's not just about their future. We have brilliant young people in our midst now. We often talk about meeting youth "where they are", but sometimes forget to articulate why it is so important to do so. The URJ has the unparalleled ability to pair adults and teens and examine "who we have become, and who we might yet be," as Rabbi Larry Hoffman states in his recent blog entry. Throughout our five days in Orlando, and especially at the Youth Spotlight during a major plenary session, we saw this idea reinforced. I'd like to share a few of many highlights in and out of URJ Biennial and shine a light on the incredible things that happen for teens, the community, and the world when adults and young people work in real, authentic partnership.
As Hanukkah approaches, share your torches of light and join in both leadership and celebration with your teens. They are ready and capable of giving to their community. Through the passion and sense of purpose we witness in our youth when giving them opportunities to shine, I believe, more than ever, that in order to move our future forward, we must open the doors wide to every generation in the room.
Check out our Flickr album to see more of what professionals, lay leaders and teens experienced from URJ Youth at the 2015 URJ Biennial.
Have something to say about this post? Join the conversation in The Tent, the social network for congregational leaders of the Reform Movement. You can also tweet us or tell us how you feel on Facebook.
Related Posts
Image
There has been a lot happening in the teen and youth space over these past weeks, and many more opportunities are coming down the pipeline.
Image
A few weeks ago, I had the joy of being at the "NFTY-GER Ball," one of the many NFTY events being run by Reform teen leaders across North America. A room full of teens gathered at Temple Sholom in Scotch Plains, NJ to dance, laugh, get to know one another, and celebrate Jewish life.
Image
Almost exactly six years ago, I ran for NFTY-TOR regional president. I lost. And yet when I look back at my election materials in a bout of nostalgia, I stand by absolutely everything I said, now having seen how much the ideas I mentioned still influence me and the way I think about leadership, both personally and as an organizer working with NFTY and Reform Jewish teen leadership.