Image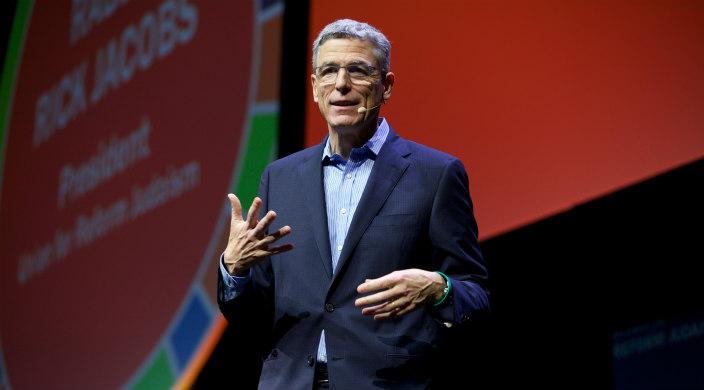 The Union for Reform Judaism (URJ) and the Anti-Defamation League (ADL) recently entered into a formal partnership in response to the question posed by URJ president Rabbi Rick Jacobs: "How are we going to respond to the uptick in acts of antisemitism and hate in a thoughtful, intentional, and effective way?"
On July 27, 2021, the two organizations co-hosted a webinar moderated by Barbara Weinstein (Director of the Commission on Social Action and Associate Director of the Religious Action Center), featuring Rabbi Rick Jacobs, Yolanda Savage-Narva (Director for Racial Equity, Diversity, Inclusion, URJ), Jonathan Greenblatt (CEO & National Director, ADL), and Carly Pildis (Associate Director of Community Engagement, ADL). You can watch the video of the webinar below and learn more about the URJ's partnership with ADL.
While most Jewish Americans were still sleeping on October 27th, 2018, I was at Kibbutz Tzuba in the Judean Hills leading Shabbat services with a wonderful group of Reform Jewish teens. During our Torah study session, one of the 16-year-olds, who was spending a semester studying at the URJ Heller High, asked me if I had experienced antisemitism recently. I couldn't have imagined an American teen asking me this question 25 years ago. I answered his question and then turned it around by asking the group of 75, "How many of you have personally experienced antisemitism in the past year?" I was shocked to see two-thirds of them with hands raised.
That Shabbat discussion took place seven hours before the deadly attack on the Tree of Life Synagogue in Pittsburgh. On my way to Ben Gurion airport for my return to the US, I spoke with the ADL's CEO Jonathan Greenblatt. Like all Jews, we were shaken by this violent antisemitic attack. We discussed the need for a deeper alliance between our two organizations to strengthen the Jewish communal response to the rising tide of acts of antisemitism in the US.
The URJ and ADL have since established a formal partnership and already have in place a digital incident report mechanism that allows those impacted by antisemitic incidents or acts of hate to document their experiences. The incident reports are then evaluated by ADL and URJ to determine the best and most appropriate way to assist. The reports also will be evaluated for inclusion in ADL's annual audit of antisemitic incidents.
In addition, we have just launched a substantial online and print resource that provides congregations and individuals with the tools needed to effectively respond to acts of antisemitism. On the youth front, we are planning in mid-fall to launch a new level of partnership between ADL and URJ to educate our teens on the best ways to stand up to antisemitism and hate in their communities, especially online. In the areas of activism and advocacy, we are in conversation about enhancing cooperation and coordination between our Religious Action Center (RAC) and ADL's Government Affairs Committee.
Identifying Antisemitism
Some cases are just so unbelievably clear that everyone agrees, like people carrying tiki torches in Charlottesville and chanting, "The Jews will not replace us." You can't miss the message of someone wearing their "Camp Auschwitz" t-shirt to a rally. Sometimes it comes out in the form of demonizing the State of Israel, which is entirely different from criticizing a policy or action by the Jewish State.
There is a huge and ancient reservoir of anti-Jewish hate that our enemies can tap into. Just think of the theological antisemitism built on the false notion that Jews are responsible for deicide, or of the pseudo-scientific racial definitions used to dehumanize us.
The Importance of Having a Working Definition of Antisemitism
Because it is critical that we agree on a working definition of antisemitism, we have adopted the one of the International Holocaust Remembrance Alliance:
"Antisemitism is a certain perception of Jews, which may be expressed as hatred toward Jews. Rhetorical and physical manifestations of antisemitism are directed toward Jewish or non-Jewish individuals and/or their property, toward Jewish community institutions and religious facilities."
We see this definition as an educational, monitoring, and training tool to help us identify, track, and respond to incidents of antisemitism.
How to Discern When Anti-Zionism Crosses the Line into Antisemitism
Thoughtful criticism of any government is an essential American, Canadian, Jewish tradition. It is how we improve and raise up that which is not yet whole. And while criticism of Israel is not in of itself antisemitic, it occasionally crosses the line into antisemitism, especially when Israel is unfairly demonized. Natan Sharansky, the former Soviet dissident, human rights activist, and former chairman of the Jewish Agency, has worked out a helpful way to test for antisemitism in anti-Israel rhetoric. He calls it the three Ds:
Delegitimizing or denying the Jewish people our right to self-determination crosses the line.
Demonizing Jews by portraying us as evil or blowing Israel's actions out of sensible proportion crosses the line.
Subjecting Israel to Double Standards crosses the line.
Holding all Jews accountable for everything that Israel does is blatantly antisemitic. We saw that last May on the streets of Los Angeles and New York, when, during the latest conflagration between Israel and Hamas, people who were visibly identifiable as Jewish were violently assaulted.
Hamas doesn't simply disagree with Israel's nation state law or its occupation of the West Bank. Its charter calls for the elimination of Israel altogether. That's not a criticism, that's a delegitimization of Israel's very right to exist. According to such a view, Israel, doesn't only unjustly occupy the West Bank, but Tel Aviv/Jaffa as well. So, these are some fundamental tools you can use to discern when that line is crossed.
Some progressive campus groups dismiss Jewish students, as "Zionist baby killers." Speakers at college rallies regularly list Zionists in the same category as white supremacists and Nazis. Progressive leaders circulate lists of acceptable Jewish organizations, limiting them to those that either do not address Israel or that define themselves as Palestinian solidarity groups.
If the left continues to ignore this trend, most of the Jewish community will be pushed out of progressive spaces. And so many of our young people are in those progressive spaces, proud of their Jewishness and connected to Israel in very real and important ways. Here again, the key to navigating hostile political environments is having the tools to help us discern when anti-Israel becomes antisemitism.
Calling People Out & In
In places where antisemitism is most extreme, all we can do is call it out. But there are times when we can call people in. And with those who are part of our neck of the political or the religious woods, we can have some very frank, hard conversations with people. In some cases, those conversations can help shift something, help someone to see something differently. I'm not suggesting that we can have a meaningful conversation with someone who shows up to your congregation carrying a submachine gun. I'm suggesting that we need to be able to figure out, when possible, if we have the kind of relationship that would allow us to help that person see what they may not see and to change what could be changed. Such opportunities are possible when we make sure that we don't just have windows - that we also have mirrors.
Read further remarks by Carly Pildis, Yolanda Savage-Narva, and Jonathan Greenblatt, and watch the full video below.
Related Posts
Image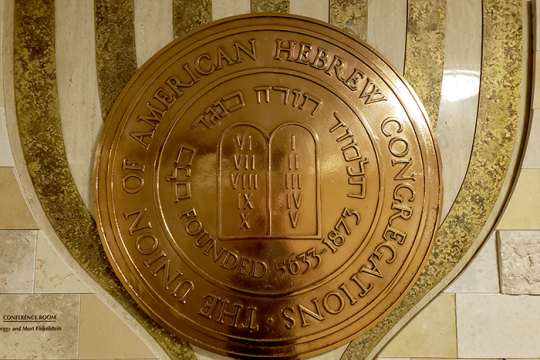 Twenty-eight congregational leaders met in Cincinnati in the summer of 1873 to establish the Union of American Hebrew Congregations (UAHC), which we now call the Union for Reform Judaism. And so, 150 years ago, the Reform Movement in North America was born.
Image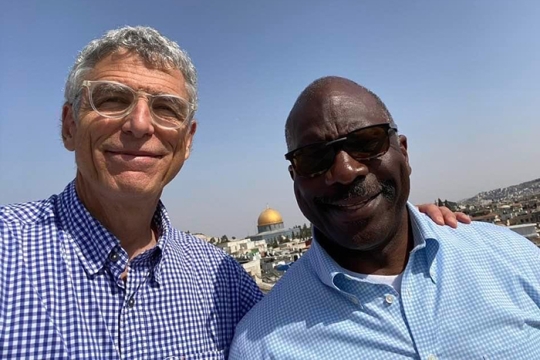 Last week, we traveled together to Israel and the Palestinian territories with a remarkable group of Black civil rights leaders and Reform Jewish leaders, including those who sit at the intersection of being Black and Jewish. We imagined that there would likely be bumps along the way, and there were. However, our group knew one another from our ongoing social justice and racial equity work in the United States, so there was a reservoir of goodwill and commonality that served us well.
Image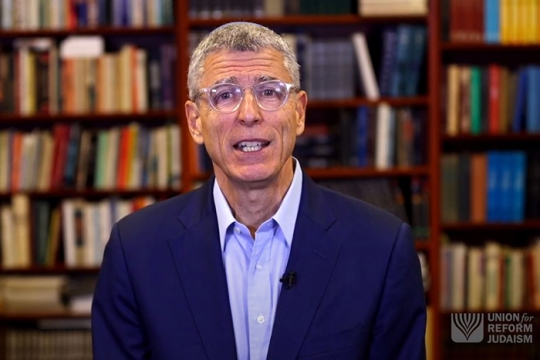 I pray that our observance of Yom Kippur will be probing and transformative, helping us become the best people and the most inspiring Movement that we are meant to be.