Image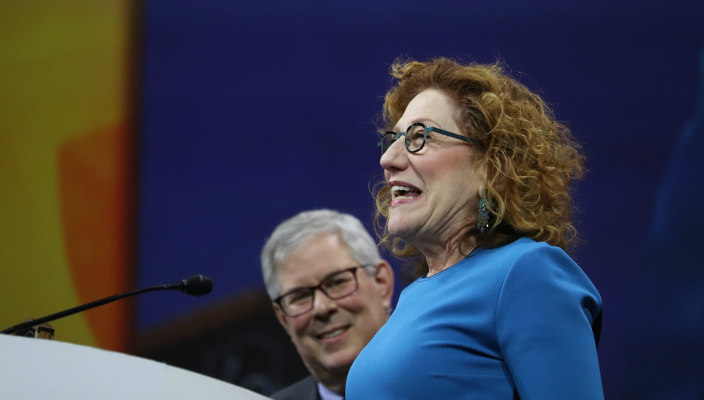 Editor's note: The text that follows was presented before a live audience at the 2019 URJ Biennial on Wednesday, Dec. 11 as Cantor Barbara Ostfeld, the first woman to be ordained as a cantor, was presented with the 2019 Debbie Friedman Award for Contributions to Jewish Music. 
---
Cantor Claire Franco
President, American Conference of Cantors
Etz Chayim Hi l'machazikim ba. It is my distinct honor to offer congratulations to Barbara Ostfeld, as the president of the American Conference of Cantors, as her colleague and as her friend. Barbara truly is the human embodiment of an Etz Chayim. 
Decades ago, Barbara planted her roots in the soil of a calling that was not open to women. Her passion, her bravery and yes, her chutzpah allowed the women that followed, like me, to carve our initials in the trunk of our profession.  And like the branches, fruit and leaves of a tree, her place in our history will continue to enrich the Judaism that we all celebrate this evening.  
Barbara's voice gave a place to ours and quite literally changed the way that our people heard our sacred music. We are forever grateful. 
Rabbi Daniel Freelander
Immediate Past President, World Union for Progressive Judaism
When Debbie Friedman began writing and performing new Jewish songs in the 1970s, Jewish music was virtually an all-male field. At the very same time, Barbara Ostfeld integrated the male-only Hebrew Union College-Jewish Institute of Religion School of Sacred Music, bringing her strong presence and determination to the faculty, student body of the SSM, challenging the notion that only male voices could inspire Jewish worship.
Her perseverance and commitment changed the American cantorate. Today 60 percent of Reform cantors are women, and the cantorate has grown as well, almost doubling in size within the Reform Movement.  The presence of women cantors has given voice to thousands of congregants who finally saw – and heard – a prayer leader who sang in their key. 
Barbara furthered this impact by working with hundreds of cantors and congregations as director of the Reform Movement's Joint Commission on Cantorial Placement, making dozens of shidduchim (matches) and convincing skeptical search committees that, yes, women could be as effective as cantors as men were.
Barbara, you are the Nachson, the Miriam, the Devorah of the American cantorate. As the recipient of the 2015 Debbie Friedman Award, it gives me great pleasure to present the 2019 Debbie Friedman Award for Contributions to Jewish Music to Cantor Barbara Ostfeld. 
Cantor Barbara Ostfeld
Recipient, 2019 Debbie Friedman Award for Contributions to Jewish Music
Right now, it's hard to concentrate, but if I try, I can hear Debbie's Friedman's voice - unaffected, direct, and strong. 
She wrote lyrics that decoded the flowery, creaky English and translated the unfamiliar Hebrew. She made the texts live and shout!
Today's Hebrew Union College – Jewish Institute of Religion Debbie Friedman School of Sacred Music amplifies today's cantorial voices - male and female and non-binary. 
Can you imagine the patience of the Eternal One, blessed be She, who waited thousands of years to hear women to sing on a bimah? 
In temple, during my childhood, I heard only men's voices from the bimah, but I loved their words. I heard what I thought of as "civil rights words" from my rabbi, and I felt the liquid gold of my cantor's voice.
The rabbi's words and the cantor's songs helped me forget my nearly constant anxiety.
When I listened to civil rights words in temple, I knew I wanted to SAY them, myself.
Don't you?
When I heard the cantor singing, I wanted to sing, myself. 
Don't you?
And I wanted my singing to be golden and beautiful - because I thought I was neither. 
So when I grew up and became a cantor, I figured that, given the thousands of years of divine anticipation, and given my own shortfalls, my sounds, at least, had to be perfect.
But what I've learned after 44 years as a cantor is that the sound of prayer doesn't have to be beautiful. It just has to be intentional. Prayer needs to be our own real voices singing our true words. 
I was always afraid that my voice would break - that I'd crack on a high note - so I never sang too loudly or with too much passion. 
But now I know what Debbie Friedman always knew: that sound sometimes breaks because that's what real sounds do. 
I think that we all have a true voice and that we recognize it when we hear ourselves speaking or singing in it.
So I'm going to thank psychiatrists and psychotherapists. They helped me get a true sound out and it was broken, but good.
Rabbi RIck Jacobs, I cried when I read your letter asking me to accept this award, and then I said yes and wrote the first of many thank-yous. 
Hebrew Union College – Jewish Institute of Religion, thank you.
Here come more.
Female rabbis: Way to change the face of Jewish leadership! Way to carry on what Regina Jonas started and what Rabbi Sally Preisand shaped.
Female cantors: My sisters, Debbie Friedman's sisters, Miriam's sisters! Worship will never again idle in bass clef. Not that there's anything wrong with bass clef; it's just that there's a whole world of human voice above it.
Right now, look around you for the cantors. You'll see them, and you'll recognize them as the ones who sing out nothing less than Torah herself.
Look around you for your friends. They're next to all of us, right? The Reform Movement is our home. I first entered her tent on Simchat Torah of 571, not far from here in Oak Park, IL.
And now, indulge me, please, in a few personal thank-yous.
Todd is my עזר כנגדה. Joe and Mike, in you, I have sons. Jordana and Aleza, no mom could be prouder. And I'm a proud OSRUI alumna and a proud Reform Jew.
So from now until Sunday, from inside this wide-open tent, keep it loud! It's 5780, and we need every single voice.
Thank you.
Looking for more addresses from the URJ Biennial? Check out this roundup.
Related Posts
Image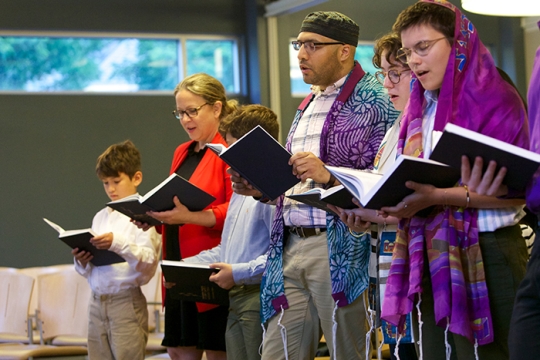 Whether you are looking for ways to innovate worship and music in your community or just love Jewish singing, join us for Hava Nashira 2021, the official Jewish worship and music conference of the Reform Movement.
Image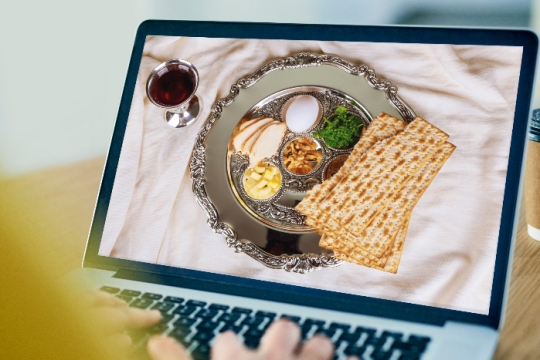 You already know how to host a beautiful, profound, and Jewishly meaningful seder. What you may not yet know, though, is how to re-imagine your usual traditions to incorporate digital content that will enliven this year's virtual rendition of your seder.
Image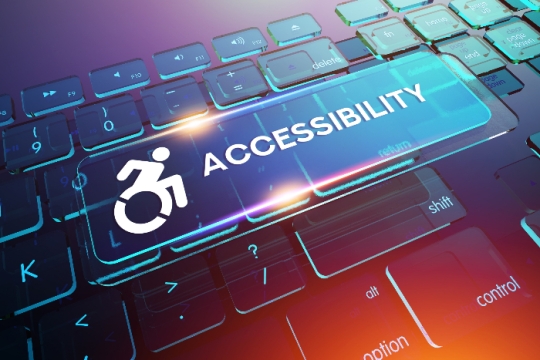 This year, as I write about Jewish Disability Awareness, Acceptance, and Inclusion Month (JDAIM), I do so with a heightened sensitivity to issues that I had not previously contemplated.