Image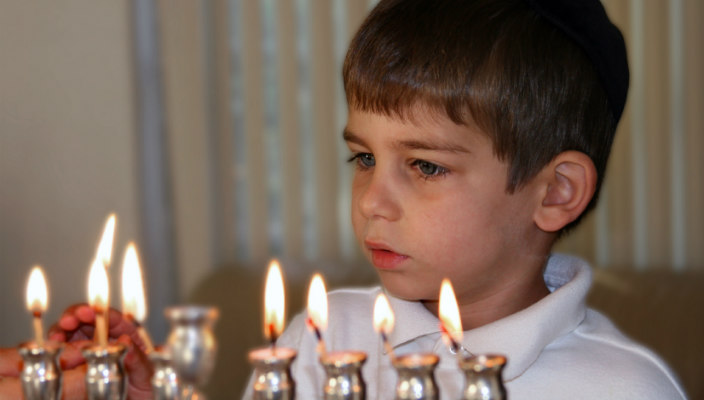 This year, from the evening of Sunday, December 6th, until the evening of Monday, December 14th, Jews worldwide gather together around the Hanukkah lights, spin the dreidel, eat latkes and jelly donuts, and celebrate the festival of Hanukkah.
Historically, Hanukkah, like so many Jewish holidays, is the story of a small Jewish army defeating a larger oppressing one. Around 167 B.C.E., Antiochus IV prohibited the practice of Judaism. The Temple was desecrated and many Jews were killed. Two groups rose up against Antiochus IV, and joined forces to defeat him. As the victors sought to rededicate the Temple, it became hard to find pure oil for the ner tamid, everlasting light. Only enough oil was found for one day, but it miraculously burned for the eight days that it took to purify a fresh supply; a festival was declared that would last for the eight days in celebration.
Hanukkah takes its name of "dedication" from the Maccabees' rededication of the Temple after their battle against King Antiochus. By returning to and reclaiming the Temple, the Maccabees recommitted themselves to a Jewish way of life, to all that they held dear. Thus, Hanukkah asks us to rededicate ourselves not only to our Judaism, but to the values we place at the center of our faith.
In particular, Hanukkah can be a time when we rededicate ourselves to the work of tikkun olam, repair of the world. As the Maccabees had the courage to stand up for their beliefs, Hanukkah encourages us to speak out about our values. The rabbis teach us to not only kindle the holiday lights in the privacy of our homes, but also to make known the miracles of Hanukkah by placing our hanukkiyot in the window. In turn, not only do we rekindle our personal commitments to social justice, but we also teach others, take action and advocate for the repair of the world.
There are many ways that you and your congregation can make Hanukkah a time to emphasize social justice. Here are a couple ideas:
Whether you are purchasing gifts for family or friends, or your congregation/sisterhood does a Hanukkah gift exchange, give the gift of social justice. Women of Reform Judaism has partnered with Jewish Women International to bring the gift of comfort, learning, and literacy to children who need it most. This holiday season, more than 15,000 children will be spending time in a domestic violence shelter. Celebrate your loved ones by making an $18 donation in their honor through the WRJ/JWI Hanukkah Project. WRJ/JWI will mail them a Hanukkah card letting them know that they have inspired a gift that's helping children in need by restocking the shelves of libraries in domestic violence shelters across the country. For more social justice gift ideas, check out ReformJudaism.org's Hanukkah gift guide.
 
"Rededicate" your temple by installing a solar-powered ner tamid. Follow in the tradition of Hanukkah and rededication and rededicate your sanctuary by installing a solar-powered ner tamid that can demonstrate your synagogue's commitment to energy conservation. For more environment-themed ideas, read the Religious Action Center's Hanukkah and the Environment programming guide.
For more Hanukkah ideas or to share your own, check out conversations happening in The Tent.
Have something to say about this post? Join the conversation in The Tent, the social network for congregational leaders of the Reform Movement. You can also tweet us or tell us how you feel on Facebook.
Related Posts
Image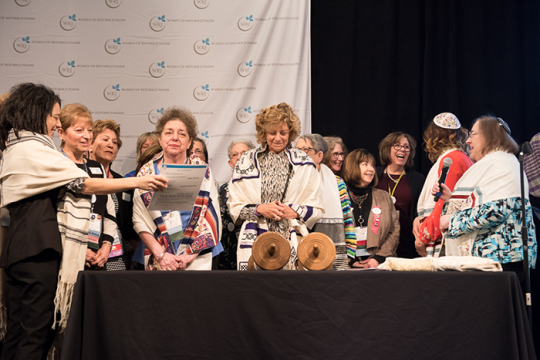 During college, I lived on a kibbutz in the Arava desert in southern Israel. At dawn and twilight, I hiked while admiring the striking red mountains just over the eastern border with Jordan and the subtle peaks of the Negev Highlands to the west. I was in the Jordan Rift Valley, a basin formed by...
Image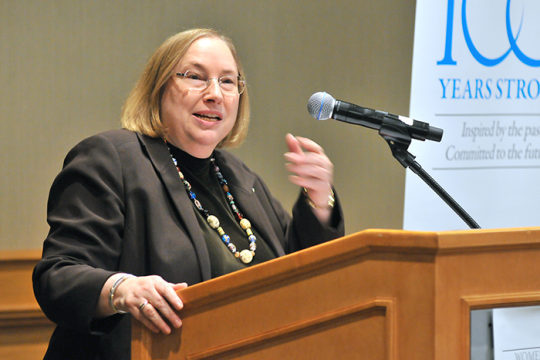 As I prepare to retire from my position as executive director of Women of Reform Judaism (WRJ), I have been reflecting on my professional journey. While there have been many friends and colleagues along the way, my most constant companions have been Reform Jewish women from our vibrant sisterhoods close to home and around the world.
Image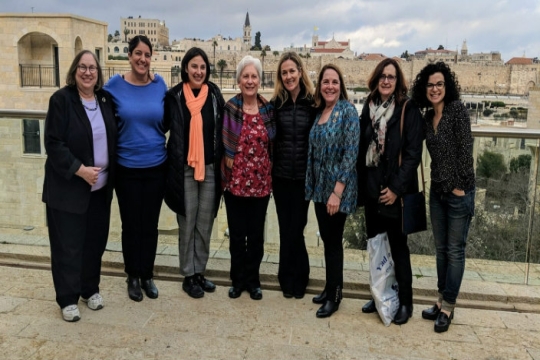 Earlier this month a group of Women of Reform Judaism leaders traveled to Israel, enjoying overwhelmingly positive experiences at sites throughout the country.