Image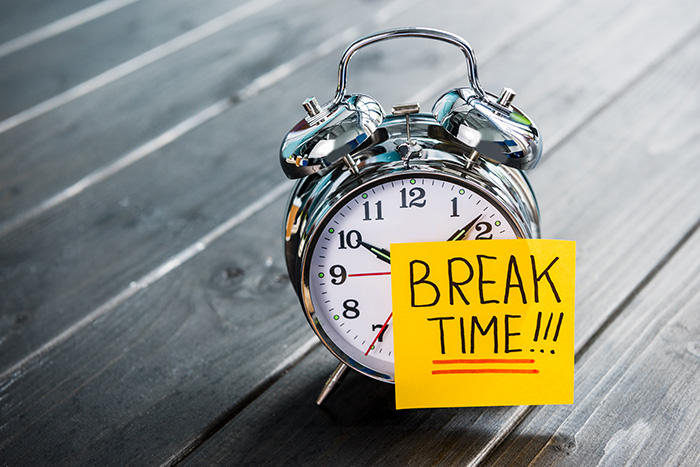 The High Holidays are always a super busy time for synagogue staff, and the last year and a half have added an extra layer of stress. Our congregation's clergy and staff—rabbis, cantors, educators, administrators, administrative assistants, bookkeepers, and facilities personnel—work hard all the time to sustain and inspire Jewish life, sacrificing free time, sleep, and many more hours a week than required.
In 2020, I noticed that our clergy and staff did not take their customary time off during the summer. That was understandable. They were constantly reinventing how to best serve the congregation. Nor did they take all that much time off during the year. There wasn't anywhere to go during much of the pandemic, and their constant energy and attention seemed necessary, as much needed to be done in ways that were new to all of us.
The spring of 2021 offered hope of greater normalcy, but with the Delta variant and the low vaccination rate here in Arkansas, we had to pivot once again. Though some vacation time was taken, it still wasn't as much as usual and always taken with concern about the congregation's well-being. The summer was consumed with work. Lay leadership, clergy, and staff partnered to establish new COVID-19 policies and to plan High Holiday services anew—different from the previous year and certainly from every preceding year. And all that was exacerbated by having the High Holidays come so "early" this year.
My rabbi has explained that, after the Jewish month of Tishrei—which includes Rosh Hashanah, Yom Kippur, Sukkot, and Sh'mini Atzeret-Simchat Torah—we have the month of Cheshvan, with no holiday other than Shabbat. Rabbi Block and I find great wisdom in this reality: We need a time of rest, symbolized by Shabbat, this Cheshvan, which significantly overlaps with October.
Knowing the importance for our clergy and staff to have time for rest and renewal, and knowing that the High Holidays are not a restful and reflective time for them as they are for the rest of us, we have chosen to close our temple office from October 25-31. The staff will have this time off without using any of their annual leave. We hope our amazing staff will take advantage of this time to engage in whatever makes them happy, refreshed, and fulfilled outside of work. As a result, we will miss one day of religious school. Also, our November Chronicle, our monthly publication, may arrive a few days later than usual. Never fear: We will keep our congregation amply informed of upcoming events. Services will still occur that Shabbat as well, with a guest officiant.
As the new year begins, I am very hopeful about the future of our congregation and that it will find new and exciting ways to gather as we move forward through this pandemic. I am thankful that we have been able to provide many different connections, whether members choose to worship in person, follow our streaming services, attend outdoor events, or adult learning and religious school online.
I treasure my sacred partnership with my clergy and our temple staff, significantly including our director of Administration, Education, and Youth Engagement. I look forward to sharing in their renewed creativity after a sorely needed break.
Related Posts
Image
Email and other technologies are a huge factor in why employees feel like they're always on the clock. This "always-on" culture accelerated while synagogues began facing declining membership before the pandemic and has only intensified since. Even if clergy or staff are cut, the work demands don't decrease. As a result, remaining clergy or staff or volunteers are even more overwhelmed and are burning out at alarming rates.
Image
On the Jewish calendar, the start of the month of Elul signifies the beginning of the High Holiday season. As individuals, it is during this time that we begin the process of cheshbon hanefesh (accounting of the soul), reflecting on the past year. So too, it is important for your leadership and community to reflect on the past year and consider how to do better moving forward.
Image
It is hard to believe that we are entering the third High Holiday season with the words "new normal" ringing in the back of our minds. This year, our leaders - clergy, professionals, and volunteers alike - are leaning into the possibilities and making plans for the new Jewish year of 5783.