Image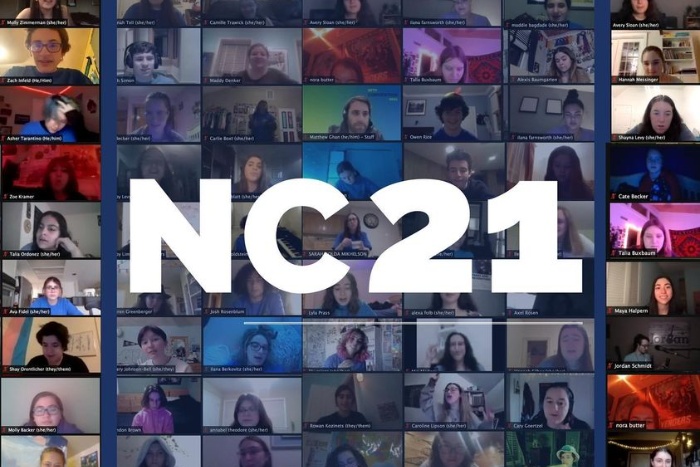 When we first started talking to teens about what they wanted from a virtual NFTY Convention, the one word we heard over and over was "connection." In this world of isolation – of not being able to have in-person events, hang out with friends, or meet new people – it became clear that fostering connections between teens would be the single most important thing we could offer with a virtual NFTY Convention.
Every decision we made about NFTY Convention 2021 moving forward was about helping teens feel the sense of connection they so desperately crave. The results? Nearly 350 teens joined us for a weekend full of joy, Judaism, learning, social justice, and more. The feedback has been beyond what we could have hoped for.
"I forgot how being really happy felt. Thank you, NFTY!"
Here's how we did it:
1. We found a new virtual platform.
Teens have been on Zoom for almost a whole year. They use it for school, Shabbat services, and almost all of their social interactions. They are tired of it, and they have started to associate Zoom with school and meetings.

We found a fun, new-to-use platform called Gatherly that allowed teens and staff alike to move around between "floors" and "rooms" and choose who they wanted to talk to, much like they would do if they were in person. There was even a virtual elevator!
2. We used Zoom when it was the better choice.
Our alternative platform was fantastic for small groups of 2-15, but not so much for our services and big communal moments. For those moments, we used Zoom because we wanted to see everyone's faces and for teens to chat and share their excitement. It gave us the sense of being in a plenary session, separate from workshops.

Even though the Dan Nichols concert happened on Zoom instead of Gatherly, it was still one of the most highly rated parts of the experience. We also made the tough decision to keep interested adults who were not presenting out of the teen space and streamed certain "big moments" to a private YouTube channel so adults could still share the excitement of Convention.
"Even with everything being virtual, I still felt like I was in a large convention center with all of my NFTY friends."
3. We sent everyone a package of fun stuff.
When we asked teens what they were willing to pay for, they answered "merch." There was no question that we had to at least send out T-shirts, but then we thought about what else we could add to help people feel connected.

We sent everyone a small snack, as well as a glowstick and cinnamon tea bag to use during Havdalah. As we lit the Havdalah candle, everyone turned out their lights and cracked their glowsticks. The Zoom grid lit up with a beautiful glow.
4. We built in opportunities to connect.
We assigned every teen to a "family group" that met twice during Convention. This gave teens a structured opportunity to meet new people through activities led by their peers. We provided times for participants to meet with their NFTY region and URJ summer camps. We also designated times on the schedule to just hang out, including a pre-Shabbat onegOneg Shabbatעֹנֶג שַׁבָּתThe "joy" of Shabbat—refers to refreshments after Shabbat services. , a Saturday morning BYOBagel brunch, lightly structured "connection times," and open time each evening when programming was over.

We left our virtual space open during breaks so teens could continue to be with their friends, much like it would have been in person. When teens innovated in our virtual space and started playing "tag," we created a tag floor with a maze for them to run in and bleachers where people could sit and watch.
"This wasn't a great virtual event… It was a great event."
5. We offered high-level learning and service opportunities.
With the incredible support of URJ staff, NFTY alumni, and partner organizations, we were able to provide high-level programs that brought teens together to learn and discuss a variety of topics from racial justice to "adulting 101." Learning and social justice continue to be an important part of what makes us NFTY, and the participants were hungry for it. It was amazing to watch our virtual lobby clear out when it was time for sessions.
"I really enjoyed being able to talk to other teens around my age about these topics and how important they are not just locally, statewide, or nationally, but globally! These topics are so very important to me, and I just really appreciated being able to share my opinions and my views on these issues! Thank you so much for an incredibly fun weekend! I had so much fun, and I will definitely be coming to many more national and regional events!"
6. We used best practices to make sure everyone felt included.
We were as diligent as possible about providing appropriate learning and audial accommodations for teens who needed them. We recruited teen leaders to serve as "greeters" to welcome new people into our space. We kept NFTY traditions while being cognizant that there were people in our space who were not diehard NFTYites, and even some who were new to NFTY. We created a help desk so people always had a place to ask for assistance, as well as a dedicated email inbox where people could ask questions or ask for help privately. 
7. We kept teen partners part of the process every step of the way.
From day one, we ensured teen leaders were an integral part of the decision-making process and were full partners on our team. They helped with decisions regarding budget, messaging, schedule, merchandise, advertising, and so much more. They helped choose, create, and lead our learning and service workshops.
The weekend was extraordinary. In our survey, teens shared that it was the best virtual experience they had this year, and that it felt as close as it could get to an in-person experience. Many teens said that they felt a new connection to NFTY, even though they missed it more than ever. We're ready to close the books on NC21, and we're so excited to see what comes next.
"My TYG president attended NFTY Convention over the weekend and when she called me today for our weekly check-in, spoke nonstop with an energy I have not encountered much this last year (from a human of any age) about how impressed she was and how much fun she had there. I have not heard her ever share about anything with such gusto. She said it felt communal and fun. She said it was professional and smooth. She said the breaks were well-timed. She said she only originally planned to go to a session or two but ended up spending the whole weekend with you. She said she missed NFTY in person more than she ever has and was so glad she went."
Have something to say about this post? Join the conversation in The Tent, the communications and collaboration platform for congregational leaders of the Reform Movement. You can also tweet us or tell us how you feel on Facebook
Related Posts
Image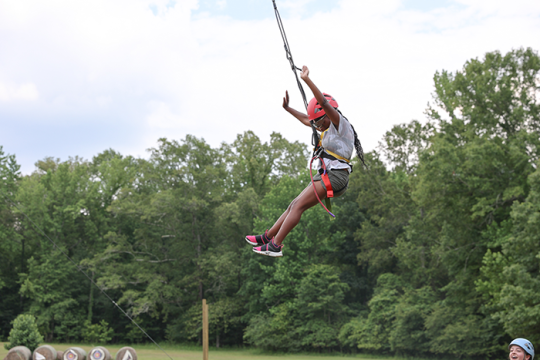 NFTY founded Dream Street in 1975 with the belief that all kids should have the chance to have fun, make friends, try new experiences, and bring all of their identities to summer camp. Each summer, Dream Street accepts about 60 campers who have disabilities and/or mobility impairments like cerebral palsy, spina bifida, limb differences, and spinal cord injuries.
Image
When adults find out about my job as director of URJ 6 Points Creative Arts Academy, many of them say the same thing: "I wish that had existed when I was a kid!" I know how they feel.
Image
There has been a lot happening in the teen and youth space over these past weeks, and many more opportunities are coming down the pipeline.