Image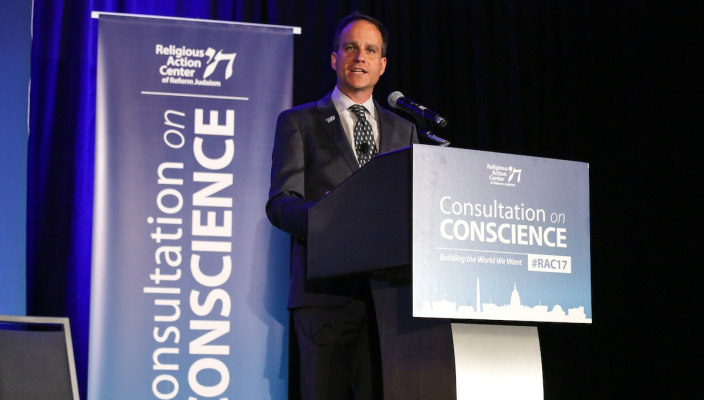 A pivotal moment in my social justice journey happened last May on my first trip to Israel with the Women of Reform Judaism. Celebrating Rosh Chodesh with Women of the Wall, I experienced first-hand the shocking level of intolerance aimed against Reform Jewish women like me for simply wanting to sing and chant Torah. When I returned to California, I felt compelled to speak out against this injustice as well as other injustices at home.
Fast forward a year. I'm headed to Washington, D.C, for my first meeting as a WRJ representative on the Commission on Social Action of Reform Judaism. With me is friend and fellow WRJ board member Judy Wexler. Judy and I are co-chairing next year's WRJ Social Justice Conference, which will be held May 18-19, 2019 in Washington, D.C. We are honored, excited, and a little nervous as we arrive. We're immediately embraced and warmly welcomed by Rabbi Jonah Pesner, director of the Religious Action Center, CSA Director Barbara Weinstein, and CSA Chair Liz Dunst. The next three days are a whirlwind of social justice energy, filled with text study, storytelling, deep dives into policy issues, reflections on existing initiatives, and strategies for the future.
The CSA is a joint body of the Union for Reform Judaism, its affiliates, and the Central Conference of American Rabbis. It is a policy-development and leadership body, governing the RAC and bringing the vision of Reform Judaism to issues of social justice. As an affiliate partner, WRJ has four designated seats on the CSA. WRJ and the RAC share a strong partnership, and each year, WRJ sponsors an Eisendrath Legislative Assistant at the RAC. The Eisendrath Legislative Assistant Program is a year-long fellowship for recent college graduates who participate in policy research, coalition building, programming for youth seminars, and more. Our WRJ LA works on issues of high priority to WRJ and keeps us informed about the activities of the RAC.
On my way to D.C., I visited another WRJ friend and fellow board member in Indiana. How fitting that she happened to invite me, along with a group from her congregation, to attend a local production of Ragtime: The Musical - a thought-provoking look at racial justice, immigrant rights, and gender issues in early 20th century America.
Over 100 years later, these issues are still of critical concern in our country. One of the first things we addressed at the CSA meeting was the Urgency of Now Initiative launched by the RAC in 2017, with campaigns in three focus areas:
Immigrant justice, encouraging congregations to protect and defend undocumented immigrants facing deportation;
Transgender rights, engaging Reform leaders to team with local activists and stakeholders to promote the passage and implementation of policies in school districts to protect our young people and ensure their identities are respected and affirmed; and
Criminal justice, working to end mass incarceration and racial disparities in our criminal justice system. Each of these campaigns reflects the RAC's theory that lasting change requires the full strength of the whole Reform movement, that strong lay leadership, working alongside clergy, is imperative to effective mobilization.
Many congregations have committed to work on Urgency of Now Campaigns, and this work continues to gain momentum. More than 175 Reform congregations have signed the RAC's Brit Olam, committing to put social justice at the center of their work.
In June, the RAC will launch its 2018 Civic Engagement Campaign. Civic engagement in this midterm election year provides key opportunities for Reform congregations to protect and elevate a cornerstone of our democracy: the right to vote. CSA members discussed strategies for civic engagement in our communities – educating congregants about proposed bills and ballot initiatives; engaging in civic discourse tied to our Jewish values and text; hosting candidate forums and holding representatives accountable; and helping to make our congregations 100% voting congregations. WRJ plans to partner with the RAC to bring this campaign to our women around North America.
CSA members also began planning for the RAC's next Consultation on Conscience, which will take place May 19-21, 2019, immediately following the WRJ 2019 Social Justice Conference. This included strategies for energizing and mobilizing congregations pre- and post-Consultation. As Rabbi Pesner explained, the Consultation is not an event or moment in time; it is an action – part of the rhythm of building our power as a Reform Movement to create a more just and compassionate world.
One of the most powerful parts of the CSA meeting was its focus on storytelling. We shared personal stories and learned how to tell the "story of us" - to harness the collective power of storytelling as a catalyst for action and model the inclusive community we strive to create.
We heard updates about March for Our Lives and NFTY's continuing gun violence prevention efforts. We also heard from past NFTY presidents about college engagement within the Reform movement. It was exciting to learn that so many young people want to do social justice work and do so Jewishly. We learned how we can take action with the Poor People's Campaign: A National Call for Moral Revival, which will unite tens of thousands of people across the country to challenge the evils of systemic racism and poverty. This 40-day campaign will consist of moral non-violent direct action on Capitol Hill and in 39 state capitals every Monday during May and June.
A highlight was our visit to the Holocaust Memorial Museum for a special tour of the new exhibit "Americans and the Holocaust," which examines various motives, pressures, and fears which shaped Americans' responses to Nazism, war, and the persecution and murder of Jews in Europe during the 1930s and 1940s. One of the curators joined us for a post-tour discussion, as we reflected on our own roles and responsibilities in society today.
Overall, I could not have imagined a more energizing and inspirational meeting. I'm excited to build on the connections I made with other CSA members and share what I've learned with other WRJ members and members of my own congregation. Stronger together, we all can find ways to further the work of the RAC, striving toward a world of compassion, justice, and wholeness.
Karen Goldberg is a Women of Reform Judaism board member and a member of Women of Isaiah sisterhood at Temple Isaiah in Walnut Creek, CA. Karen is also the co-chair of the inaugural WRJ Social Justice Conference in May 2019 in Washington D.C.
Related Posts
Image
2023 marks the 150th anniversary of the founding of the Union for American Hebrew Congregations - now called the Union for Reform Judaism. What should this milestone mean?
Image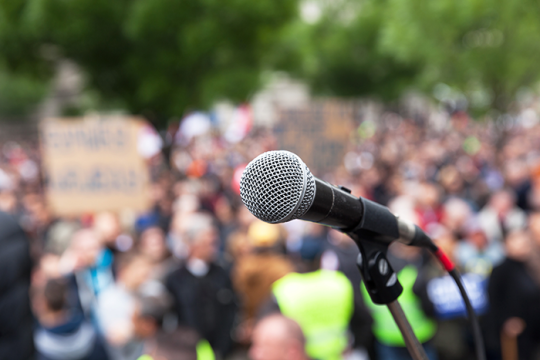 The rise in antisemitism and hate speech on Twitter in recent months has been deeply concerning to us as Jews. Though social media platforms in general must do more to combat hate, Twitter has a particular responsibility to act in this moment.
Image
Here is a list of 11 URJ resources your congregation should take advantage of in the new year.