Image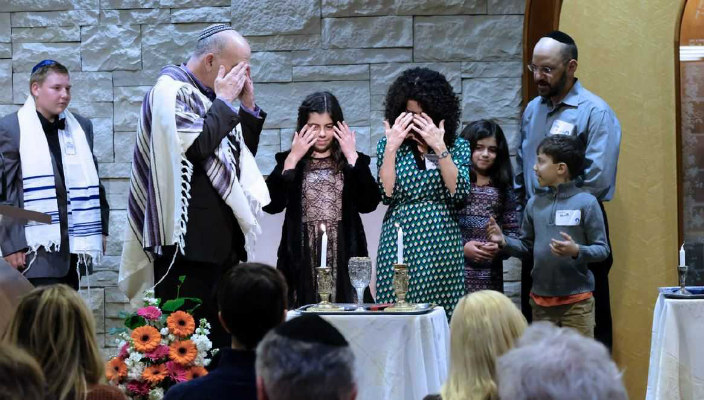 When it comes to the rhythm of the Jewish calendar year, Shabbat holds an esteemed position as a testing ground for experimentation in our synagogues. Thus, when it comes to trying out new programs geared toward inclusion and integration of the broad sweep of Jewish identity, centering them around Shabbat has distinct advantages.
It's repeatable: As our weeks spin, Shabbat comes again and again. A program need not be a one-time event. As Shabbat returns, the useful possibility of fine-tuning and improving the reach of an initiative through repetition exists.
It has consistent structures to work within: Most synagogues have Shabbat services, and perhaps a reception, or oneg. Some have dinners. Some have aspects geared toward small children, religious school, or youth group. Familiarity can breed an openness to explore tangential expansions of our community.
The "gateway effect": What better way to lead people down the road to greater Jewish involvement than through participation in arguably the essence of Jewish life – our weekly break from the day-to-day mundane?
The URJ's Belin Awards are designed to encourage and honor congregations of all sizes that have developed uniquely innovative and effective audacious hospitality programs. Among our 2017 Belin Awards winners, two communities took different approaches to using our most frequent Jewish tradition as part of their projects.
Congregation Or Ami in Calabasas, CA, uses the familiar structure of their Shabbat experience to make clear their community's ongoing commitment to inclusion, welcome and lifting up of a diverse array of Jewish identity through an annual Inclusion Shabbat. This past year, through speakers and creative prayer, Or Ami sought in particular to honor Jews of Color and Jews with disabilities.
Meanwhile, at Touro Synagogue in New Orleans, LA, an ongoing, weekly Shabbat dinner involving the full breadth of Jewish identity and experience in the Big Easy is presented not as a program or a project, but as part of their ongoing communal fabric.
How do these programs make the most of the repeatable nature of Shabbat observance?
For Congregation Or Ami, while the Inclusion Shabbat itself is annual, the values reflected in the service clarify ongoing intentions present at every Shabbat and during the High Holidays. Effects can be been seen throughout the synagogue, from web pages specifically geared toward LGBTQ members, multiracial/multiethnic families, and those in interfaith relationships or with disabilities, to the Inclusion Committee's focus on identifying and overcoming inclusion challenges elsewhere in the community. Inclusion Shabbat has been both a launch pad and a beacon of the community's values.
Touro Synagogue's Shabbat dinners began as a simple Shabbat oneg (literally "joy," reception following services). Over time, those onegs morphed into 100-person weekly dinners attended by a cross-section of the New Orleans Jewish community. Families, millennials, and older members, as well as LGBTQ, interfaith, and interracial couples, mingle every week. For them, these dinners aren't one-off programs but intentional displays of Touro's community commitment to the URJ's concept of audacious hospitality in action.
How do these programs take advantage of the components of Shabbat?
Touro's dinners fit seamlessly into the practiced rituals of Friday evenings in New Orleans. Some people come for services, while others come only for the dinner. A group of children participate in a special Shabbat Fun experience, while adults attend services. The dinner does not stand out from Shabbat; it simply is their Shabbat. It has now become a weekly heartbeat, cherished and expected by the community.
Or Ami's Inclusion Shabbat leverages the structure of its Shabbat schedule to put forth inclusionary values in a number of ways. In the service itself, individuals from previously marginalized groups were invited to deliver prayerful words and make personal statements about their sense of inclusion in the temple. This past year, a dinner beforehand and the service itself featured talks from a multiracial Jewish speaker from Be'chol Lashon, and a teen talking about growing up with autism. Even the music and texts reflected the values of acceptance, including the use of Billy Joel's "Just The Way You Are," Julie Silver and Cantor Kyle Cotler's "Faces of God," and a special prayer about inclusion.
How do these programs take advantage of the "gateway effect" of Shabbat?
More than anything else, Or Ami's Inclusion Shabbat was catered to demonstrate to a wide array of people both within the congregation, and in the community at large, that the arms of the synagogue are open to them. And while the gateway of Shabbat participation was in this case, an annual event, the echoes of inclusion and welcome continue throughout the year.
As for Touro, the Shabbat dinners serve as a platform upon which participation, engagement, and connection to the community can grow. Because these dinners are an end unto themselves, the gateway is also the destination – a respite of joy, togetherness, and good food at the end of a long week.
Have something to say about this post? Join the conversation in The Tent, the social network for congregational leaders of the Reform Movement. You can also tweet us or tell us how you feel on Facebook.
Related Posts
Image
In 2021, many of the URJ's 15 camps engaged in the creation of a URJ-structured Racial Equity, Diversity, Inclusion (REDI) Working Group & Camp Assessment process. One of those camps was Camp George in Ontario, Canada.
Image
After several synagogue shootings, American Jews are grappling with the need to keep our communities safe and to remain open and welcoming to seekers of all backgrounds.
Image
The LAs are at the heart of every aspect of our social justice work, but to date, the fellowship has not fully reflected the diversity of the Movement it represents – and we're committed to changing that.