Image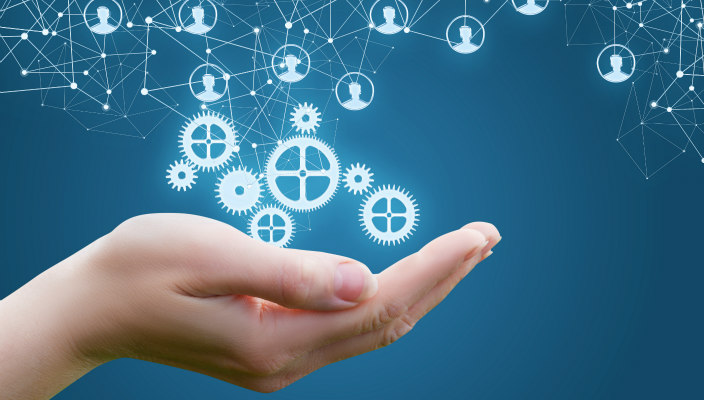 As Passover approaches, I'm reminded of the many types of diversity we find in the Haggadah and at our seder tables – the four children and their range of intellectual capacities; the bitter maror compared to the sweet charoset; the dry matzah, a symbol of our escape in sharp contrast to the salty wetness of our tears in bondage. It is in this diversity that we find strength and creativity and it is just such strength and creativity that have brought our young people together to show us the way in their extraordinary leadership endeavors around gun violence prevention.
Following last month's school shooting in Parkland, Florida, and building on NFTY: The Reform Jewish Youth Movement's longstanding commitment to gun violence prevention, NFTY and Reform Jewish young adult leaders around the country have stepped up, issuing an inspiring call to action for their peers and others to participate in an array of grassroots student-led efforts that are passionate, strategic, and rooted in core Jewish values and teachings.
This Shabbat, thousands will participate in March for Our Lives events in Washington, D.C., and in other cities and locales nationwide – and I could not be more proud of our young people who are inspired to lead the way. (Check out the ways you can support these efforts.) As Zachary Herrmann, president of NFTY, noted after this most recent shooting:
Students across the country are standing up, using our voice and our power to say we will no longer accept the current level of gun violence in America. We are mobilizing in a wide variety of ways, both locally and nationally, for sensible gun laws…. We will not let the deaths of our friends in Parkland be in vain.
As leaders, it is incumbent upon us to harness that same strength and creativity to focus and guide our diverse congregations – and our sederim, whose participants, especially in today's world, may hold a diversity of opinions on countless matters. As I do each year at this season, I am inspired to recall the group of rabbis who – some 2,000 years ago – sat together for a seder in Bnai Brak, now an ultra-Orthodox suburb of Tel Aviv. Despite (and perhaps because of) their fundamentally differing views, these rabbis engaged in machloket l'shem shamayim (arguments for the sake of heaven), a Jewish tradition that demands deep respect for other people, even those whose viewpoints are profoundly unlike our own.
Among the Bnai Brak rabbis were these wise men: Rabbi Eliezer, a brilliant elder who once dissented from the majority over the ritual fitness of the "Oven of Achnai," a dispute that led to his excommunication; Rabbi Joshua, a man of little means, who had an invaluable understanding of life outside the Jewish community, and thus reflected a broader worldview; and Rabbi Eleazar Ben Azaria, a young sage with considerable wealth who challenged all the elitism of the ancient academies. Others in the group included Rabbi Akiva, the late-blooming scholar who called for the rebellion against Rome, the Bar Kochba revolt and Rabbi Tarphon, Rabbi Akiva's friendly sparring partner.
Although these leaders held profoundly disparate notions of religion and civic duty, they also possessed a deep underpinning of respect that enabled them to sit together, to pray together, and to argue in a way that ensured that generations to come – including our own – would continue to learn from their debates.
In Pirkei Avot (Teachings of Our Ancestors), Ben Zoma says, "Who is the wise one? He who learns from all people, as it says, 'I have acquired understanding from all my teachers'" (Psalms 119:99). As leaders, may we take Ben Zoma's lesson to heart, learning from our movement's young people, from the rabbis of Bnai Brak, and, indeed, from every one of the diverse people with whom we come in contact.
Both personally and on behalf of the Union for Reform Judaism and its leadership team, I wish you and your loved ones a sweet, fulfilling, and wonderful Passover. Chag Pesach sameach.
Have something to say about this post? Join the conversation in The Tent, the social network for congregational leaders of the Reform Movement. You can also tweet us or tell us how you feel on Facebook.
Related Posts
Image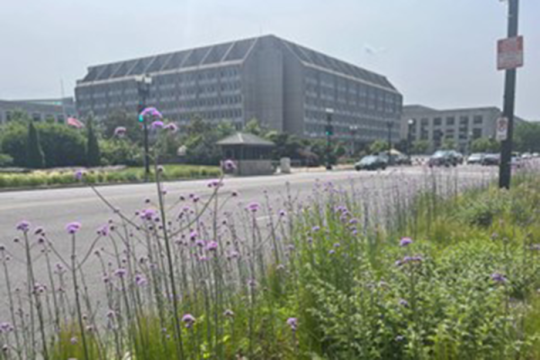 After a day of climate action lobbying with the Religious Action Center (RAC) on Capitol Hill, I found myself staring at a small patch of purple flowers planted between the sidewalk and the street. It was an adrenaline-fueled day, and the jarring contrast of these tall, weedy pops of color against the street traffic and brutalist architecture compelled me to pause, then cry.
Image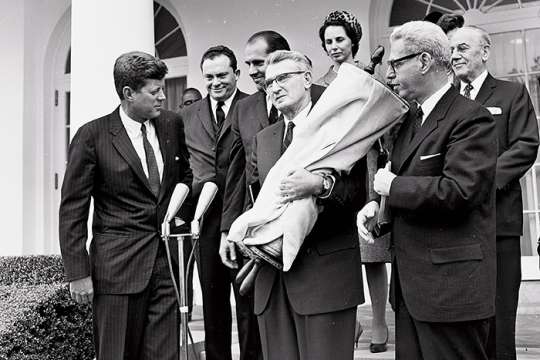 Sixty-two years ago, the founders of the Religious Action Center of Reform Judaism (the RAC) stood in the White House Garden and presented President John F. Kennedy with a historic Torah from the Isaac Mayer Wise Temple in Cincinnati, Ohio. This auspicious anniversary allows us to look back on milestones like this one with pride as we renew our inspiration.
Image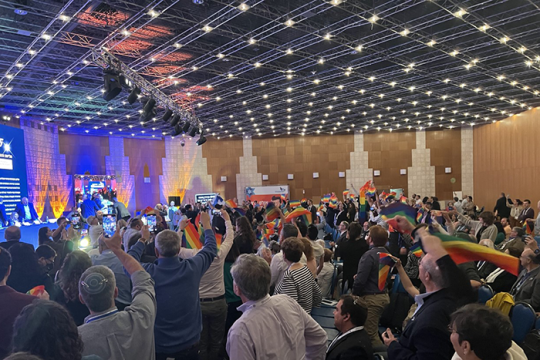 At the recent 38th Congress in April 2023, the Reform Zionist movement brought 40 delegates under the umbrella ARZENU. Delegates came from around the world to Israel.