Image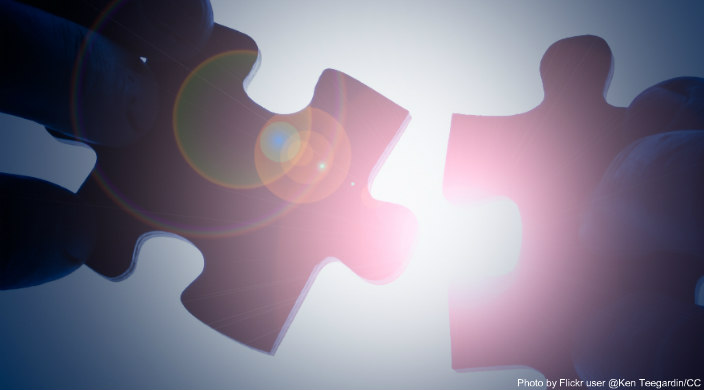 Whenever we undergo a major life change – getting married, having a child, moving, or starting a new job, for example – we can feel overwhelmed with all there is to learn, adapt, and incorporate into our lives.
A few months ago, I experienced three such changes all at once: having a baby, moving to a new community, and starting a new rabbinical position at Congregation Beth Shalom Rodfe Zedek (CBSRZ), a century-old, 230-member community in Chester, CT. Together, my husband and I have embarked on the sacred journey of parenthood and creating a Jewish home. Similarly, several trusted leaders in our new congregation have welcomed us and helped us to feel at home. In each transition, the support of a trusted partner has made all the difference.
Jewish professionals and lay leaders are responsible for so much of what makes the synagogue community important and special. From representing millennia of our faith tradition and teaching it to many generations to celebrating and comforting each other through the ups and downs of life, our work can feel overwhelming, especially if we think we are in it alone. But, as with other life scenarios, the work is much sweeter when we recognize we have true partners by our side.
Early on, CBSRZ's leaders told me that Maxine Klein, the congregation's new president, and I would attend the URJ Shallat Rabbinic Transition Program and Retreat in December. This program convenes pairs of presidents and new senior/solo rabbis during their first winter together, to strengthen their developing partnership. I was thrilled that the congregation values learning and growth enough to send us to the conference – and I had a few questions. Why was a seminar about transition scheduled a full six months into the transition itself? And, how would the program affect my evolving relationship with the president?
From the onset, Maxine and I arranged to meet weekly. This schedule helped us get to know one another and to strive to be on the same page. I quickly found myself quite comfortable with her, and developed a clear sense of trust. Our partnership was beginning. Knowing we would attend the Shallat Program together in December gave us time to lay the groundwork for our relationship, and, thus, to reach a new level of communication and understanding during the extended retreat.
The Shallat Program focused on two areas: rabbinic transition and sacred partnership. We learned that the job change reflected one moment in time, but the rabbinic transition embodies an ongoing process for the entire community. Part of what helps the community along the path of transition in its own time is a solid, sacred partnership between the rabbi and the president.
Until the retreat, I hadn't thoughtfully considered the implications of the term "sacred partnership," and quickly realized it would be unlike any other professional relationship because our joint effort would include a covenant based on Jewish values. The covenantal facet of the relationship illuminates what an ideal partnership between the rabbi and the president could encompass, and explicitly names how collaborative and cooperative it could be. Sacred partnership fittingly describes the relationship Maxine and I would seek to achieve in our work together.
Our facilitators highlighted seven areas upon which sacred partnerships are built:
Mutual respect
Trust
Honesty
Communication
Transparency
Confidentiality
Reflection.
Trust seems to be the most fundamental of these values. Indeed, if we professional and lay leaders can trust each other, and trust we always have the best interests of the community in mind, everything else will fall into place easily.
Using the language of sacred partnership has brought holiness, enjoyment, and shared purpose into our work – as well as lots of fun, a result of the bonding we did during our time away together. God, too, dwells in the sacred partnership between Maxine and me, and we enjoy bringing this language and approach to our board and committees. Doing so helps us raise the level of discourse and distinguish the work of the synagogue from other mundane tasks. I look forward to creating and nurturing other sacred partnerships as I continue my rabbinic journey.
Have something to say about this post? Join the conversation in The Tent, the social network for congregational leaders of the Reform Movement. You can also tweet us or tell us how you feel on Facebook.
Related Posts
Image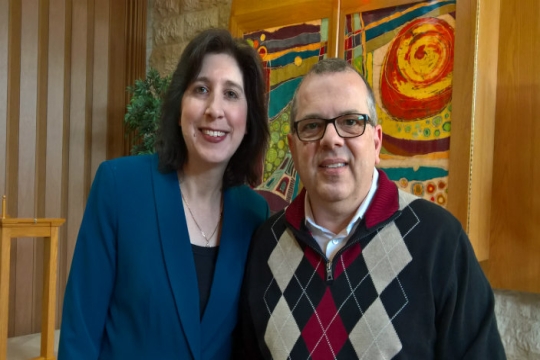 Though I felt our rabbinic transition was going well, I knew it was too important to the future of the congregation to pass up the opportunity to learn whatever I could about making the transition as successful as possible.
Image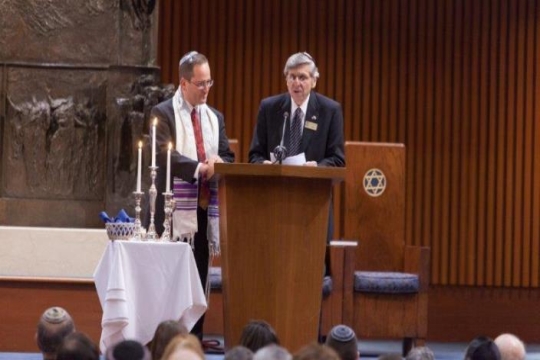 It was great timing that we were able to attend the URJ's Shallat Rabbinic Transition Program and Retreat in January. Designed specifically for congregations that have completed a transition to a new rabbi, the weekend provided outstanding opportunities for Lou and me to learn, network, and bond with each other.