Image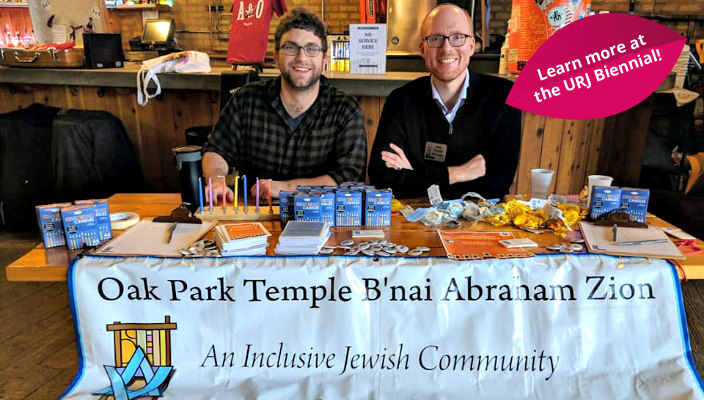 How do you lead a congregation and create cohesive community when your synagogue exists between two distinct communities? That was one of the challenges facing Oak Park Temple, which sits between the west Chicago suburbs and the northwest part of Chicago in the suburb of Oak Park, where more young families are increasingly relocating.
Noticing that many Jewish residents of northwest Chicago were disconnected from downtown Jewish events, Rabbi Daniel Kirzane created an initiative specifically to serve this geographic community and make them feel welcome at Oak Park Temple. His program, Blue Line Jews, earned this congregation a 2019 URJ Belin Award.
Tapping into a Disconnected Demographic
Named after the Chicago "L" train that connects the city to both Oak Park and O'Hare International Airport, the project was motivated by Oak Park's proximity to the city and access via public transportation, making it perfect for young families living in northwest Chicago or moving to the nearby suburbs who seek an authentic Jewish experience and want a synagogue connection.
After many northwestern Chicagoans expressed interest in local Jewish social opportunities, Kirzane decided to make them happen, creating Blue Line Jews to cater to and enrich the lives of singles and couples without children (or with very young children) who are physically and potentially spiritually disconnected from Jewish life as a result of their geography.
"Our goal is to serve as connectors and guides for these Jews and Jewish families," Rabbi Kirzane says. "We seek to make introductions, to convene holiday/Shabbat gatherings, and to strengthen affinity for the Jewish community by bolstering individuals' Jewish identities.
"We also offer ourselves as a nearby synagogue community for those who may be seeking more formal affiliation now or in the near future, often because young children are reaching preschool or religious school age."
Programming Opportunities that Create Connection
Since the creation of Blue Line Jews, Oak Park Temple has convened Shabbat dinners for various demographics of northwest Chicagoans – families with young children, professionals in their 20s, and professionals in their 30s – and hosted a table at the Logan Square Farmer's Market, all of which have enabled members of the community to connect with one another and with the congregation.
"We want to do things for young families and with a real openness to people of different generations. That has been a really enriching part of the work that we do," Rabbi Kirzane says. "I see empty nesters and young professionals having conversations together; that doesn't often happen. There aren't very many social areas for that kind of encounter can take place."
Jewish Holidays as an Entry Point for Engagement
Rabbi Kirzane has also leveraged Jewish holidays as an opportunity to connect with these cohorts, holding a DIY matzah-making demonstration and Passover giveaway at Chicago's only co-op grocery store and a Hanukkah bash that drew around 50 attendees. For the latter event, Oak Park Temple provided latkes, gelt, and sufganiyot (jelly donuts), partnered with Moishe House of Wicker Park, and entered into promotional partnerships with the Chicago's Jewish United Fund (Federation) and ChiTribe (a resource for 20s/30s Chicagoan Jews).
"We lit the menorah together and several small groups gathered to play dreidel," Kirzane recalls. "Dozens of individuals signed up to be informed of future events in their area."
The examples continue: For Rosh HaShanah this year, Blue Line Jews held a Tashlich service at the lagoon in Humboldt Park, and it will likely host another Hanukkah event this winter.
Success Stories and Points of Pride
Rabbi Kirzane is proud of the way Blue Line Jews has provided people a sense of fulfillment and the chance to be seen in ways they may not have before. For example, one young parent, who learned about Blue Line Jews through a friend's mother, is now connected to the congregation's Tot Shabbat program.
Rabbi Kirzane recalls, too, that a young woman whose partner resides in Oak Park connected with the synagogue at its Passover giveaway event. Soon, she expressed interest in attending both Shabbat services and congregational board game night.
"These illustrations demonstrate the potential for our goal of providing a synagogue resource for those who are seeking that kind of commitment but who lack a synagogue in their own neighborhood," Rabbi Kirzane says.
"I've been able to activate the 'Jewish part' of identity for people who are not members of synagogues, who maybe had a b'nei mitzvah but haven't attended in a long time – and there's just something beautiful about it."
The Keys to Programmatic Success
In speaking to the way other congregations can create similar initiatives, Rabbi Kirzane credits three elements to success.
Community reliability: "We hold a dual, outward/inward perspective on the congregation's role in a community; we see ourselves as a resource for our geographic area, and while we don't measure success in terms of synagogue engagement, we hope our work will generate increased long-term congregational involvement.
Rabbinic engagement: "The professional investment of an associate rabbi's time and energy has been critical; relying on lay volunteers simply wouldn't have been sufficient to accomplish this work."
Local partnerships: "Local partners have both generated program ideas resonant with their neighbors and have also been vital in reaching those local residents through personal connections."
For his part, Rabbi Kirzane is looking toward the future of Blue Line Jews: "I'm really hopeful we'll be able to continue on the work that we've been doing."
For more information about Blue Line Jews, email Rabbi Daniel Kirzane. Then, learn more about the other 2019 Belin Award-winning projects and the congregations that developed them.
Posters about each award-winning project will be on display at the URJ Biennial, the largest Jewish gathering in North America, held December 11-15, 2019, in Chicago, IL. Register now to join thousands of Jews from around the world to learn, pray, share ideas, dance and sing, hear from inspiring speakers, reunite with old friends, create new connections, and more.
Related Posts
Image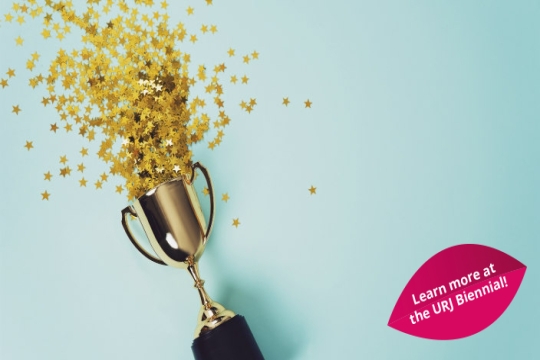 Meet eight award-winning congregations that have developed innovative programs rooted in the concepts of audacious hospitality that also engage and retain members.
Image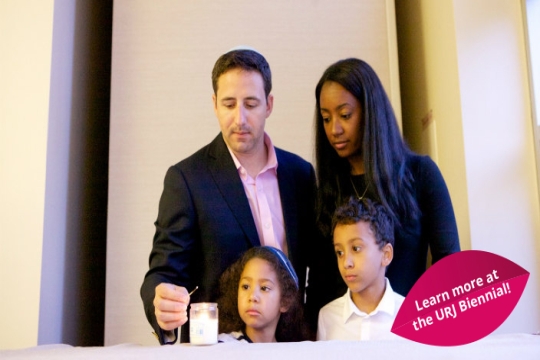 Throughout the course of 12 years, Temple Shalom in Succasunna, N.J., experienced a number of hardships, ranging from financial difficulties to a decline in membership. As it turned out, though, the thing that would inspire this community to thrive once again was, well, the very community itself.
Image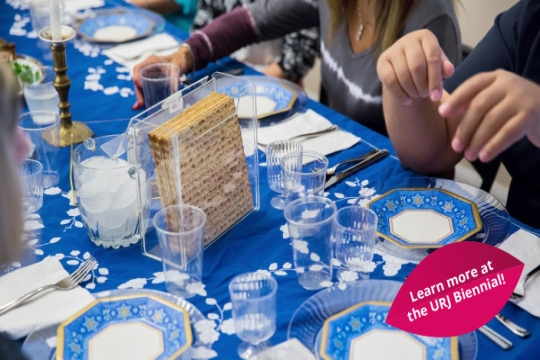 For individuals handling addiction and in recovery, the act of engaging with others as part of Jewish holidays and celebrations can be difficult.