Image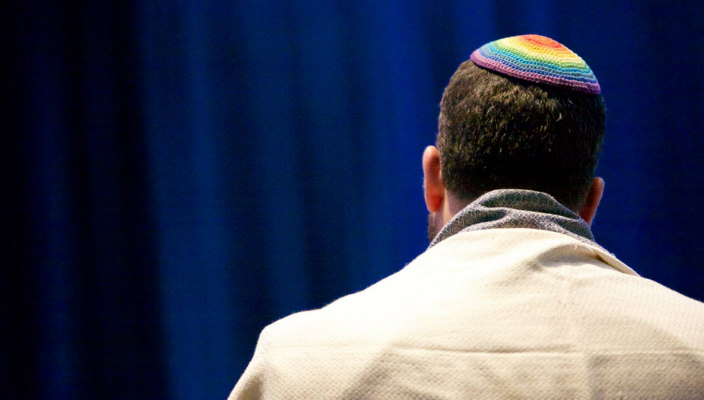 June is Pride Month, a time when we celebrate the LGBTQIA+ community and reiterate our commitment to equality. With each passing year, more and more Reform congregations have shown their commitment to Audacious Hospitality by holding Pride-related events and services, participating in local Pride parades, and more.
This year, though, the COVID-19 pandemic presents a unique challenge when it comes to celebrating Pride. With no large gatherings or festive parades through the streets, how do we celebrate?
It's important to remember that LGBTQIA+ Pride itself is not something that can be cancelled, and there are many ways your congregation can safely celebrate and honor LGBTQIA+ Jews and our families.
Here are a few ideas for keeping Pride alive this summer:
1. Center LGBTQ+ Jewish voices via livestream.
Celebrating Pride means centering, honoring, and normalizing LGBTQ+ Jews' voices and experiences, and your congregation can do this in part by asking them to speak during virtual Shabbat services or via online educational events.
Consider, for example, inviting a queer or trans Jewish speaker or facilitator to speak about LGBTQ+ Jewish experiences at large; the various ways our intersecting identities influence the experiences of queer and trans Jews; and/or the various ways your community can better serve this cohort of individuals and families.
When determining your speaker/facilitator, remember that the LGBTQ+ Jewish community is made up of Jews of Color, Jews with disabilities, single parents, and people with multiple other marginalized identities, and that queer people in straight-presenting relationships are still part of the LGBTQ+ community.
You may also want to ask individuals within your own congregation to speak about their lived experiences as LGBTQ+ Jews. If you choose to go this route, be sure to do so in a way that does not "tokenize" or "other" them.
Remember, too, that not everyone is "out" and even those who are out might not feel comfortable speaking about a potentially sensitive topic. You might post an open invitation on social media or in an email blast for anyone who is interested to share their stories in an open and inclusive forum – or in a dedicated online affinity space solely for LGBTQ+ Jews.
2. Host a queer text study.
In Pirkei Avot, we are told to "Turn the Torah, and turn it again, for everything you want to know is found within it." (Avot 5:25) Torah study helps us see a different side of the Jewish wisdom passed down for generations – as well as a different side of ourselves. Pride Month is the perfect opportunity to seriously examine Torah from a queer and trans-inclusive perspective.
When livestreaming your Shabbat services or Torah study, tailor your divrei Torah to examine Jewish text in a way that honors the LGBTQ+ Jewish community and the inherent queerness of the Divine while also encouraging others to speak their truth in a group chat or in the comments.
If you're not quite sure where to start, visit Keshet, an organization that works for the full inclusion of LGBTQ+ Jews in Jewish life; they offer an abundance of resources to help Jews celebrate Pride Month, including a vast array of queer-centric text studies that can serve as discussion points for your online sessions.
Furthermore, consider holding online book discussions that focus on LGBTQ+ Jewish fiction and nonfiction. For instance, CCAR Press recently released Mishkan Ga'Avah, a collection of LGBTQ+ prayers, poems, liturgy, and rituals that is both a spiritual resource and a celebratory affirmation of Jewish diversity.
3. Take the URJ's Audacious Hospitality assessment.
When we at the URJ formed our Audacious Hospitality Toolkit, we created a congregational self-assessment to help Reform communities gauge their inclusion efforts and achieve their audacious hospitality goals. Inspired through the creation of the JewV'Nation Fellowship's 2019-2020 Diversity, Equity and Inclusion (DEI) cohort, we are creating a new version of the assessment, which will be made widely available soon. Stay tuned for the link, coming very soon.
This Pride Month is a chance for your community's leadership to take the assessment individually and as a group, via Zoom, to see how your community can better serve its LGBTQ+ members and guests. To ensure that your results accurately reflect your community's DEI efforts, make sure the group of people taking the assessment is diverse in regard to race/ethnicity, age, ability status, and, of course, gender and sexual identity.
And don't forget…
When you hold events online, be sure to share your pronouns, either verbally or in your screen name, whenever possible. This may seem like a small detail, but sharing pronouns can even be seen as an act of pikuach nefesh, or saving a life.
Many of us who are trans and nonbinary feel shame and discomfort sharing pronouns out of fear of discrimination. Therefore, when everyone shares their pronouns, it validates the trans/nonbinary Jewish experience and emotionally and mentally benefits those of us on the margins.
How is your congregation observing and celebrating Pride Month from home?
Find URJ resources for congregational leaders by visiting "How Reform Congregations are Coping with COVID-19 (and Tools to Help)" which is being updated regularly as new resources become available. For discussions about community communication, program cancellations, community mitigation strategies, and more, join the Safety and Security group and follow topic tags #COVID19 and #Coronavirus. 
Have something to say about this post? Join the conversation in The Tent, the communications and collaboration platform for congregational leaders of the Reform Movement. You can also tweet us or tell us how you feel on Facebook.
Related Posts
Image
In 2021, many of the URJ's 15 camps engaged in the creation of a URJ-structured Racial Equity, Diversity, Inclusion (REDI) Working Group & Camp Assessment process. One of those camps was Camp George in Ontario, Canada.
Image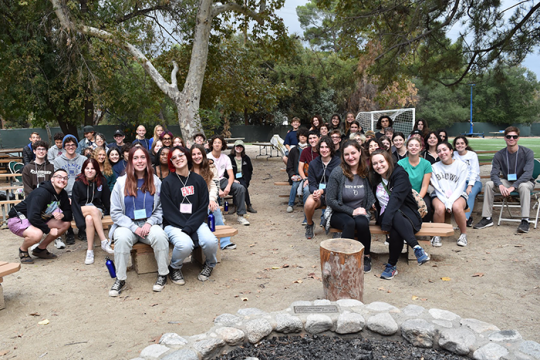 During the COVID pandemic in southern California, we saw our Jewish communities weaken. From our camp spaces disappearing to our teen youth groups (TYG) struggling, many of us stopped programming and decreased in membership, while a few of us thrived the best way we knew how - by joining forces. For us, as youth directors, advisors, and educators, we knew this was the way to keep teens inspired and engaged with one another.
Image
Email and other technologies are a huge factor in why employees feel like they're always on the clock. This "always-on" culture accelerated while synagogues began facing declining membership before the pandemic and has only intensified since. Even if clergy or staff are cut, the work demands don't decrease. As a result, remaining clergy or staff or volunteers are even more overwhelmed and are burning out at alarming rates.