Image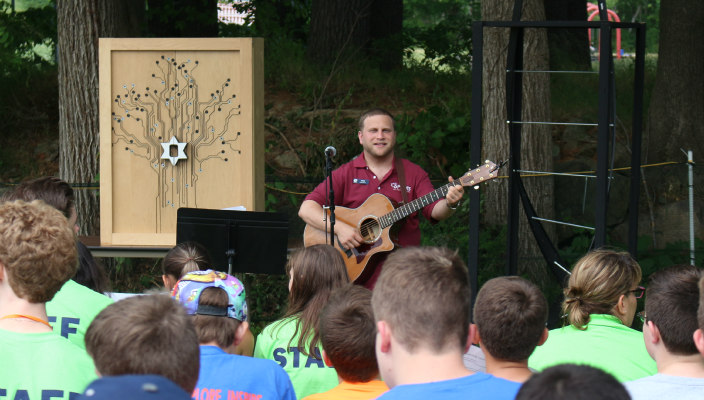 Greg Kellner, director at URJ 6 Points Sci-Tech Academy in Byfield, MA, is the recipient of the 2016 Covenant Foundation Pomegranate Prize, which recognizes rising leaders in the field of Jewish education for their leadership, willingness to take risks, and tremendous promise.
Part of the URJ Camps and NFTY family for more than 20 years, Greg was the senior assistant director of URJ Crane Lake Camp and assistant director of URJ Eisner Camp, and he spent five years as the youth advisor for Temple Sinai in Washington, D.C. Here, he shares his reflections about his work as the founding director of a Jewish science and technology camp and what he hopes to do as a result of the prize.
URJ.org: Some leaders in the field of education talk about "urgent education." How would you interpret the phrase, and what does it have to do with Jewish education?
Greg Kellner: The phrase "urgent education" illustrates the need for Jewish educators to teach children in stimulating, engaging ways to shape a bright Jewish future. Education is a seed that must be planted now in order establish roots and grow into a tree in the future – so as a Jewish educator, it's my job to instill Jewish knowledge, attitude, and practice into every aspect of my camp programs so children see and experience the possibilities of how to live their life and to ultimately build, change, and repair the world.
At camp, we've created a holy place for children to investigate, explore, and create. Through the lens of a telescope, campers see the darkness of space and the light of the stars; in the same lesson, they're challenged to explore the symbols of light and dark in Judaism. When campers build a robot, they're guided to understand the link between robotics and the Jewish idea that "you shall not place a stumbling block before the blind."
By teaching that their work in science and technology is deeply rooted in Jewish values and thought, we can provide the essential nutrients for a tree that will be strong in the future. In Psalm 126, which we add to Birkat Hamazon (the prayer after the meal) on Shabbat, we say, "Those who sow in tears will reap in joy." Urgent education is the tireless work we must do to educate children so they connect to Judaism and find it fulfilling and exciting. Years from now, we will reap in the bright Jewish future we have sowed.
What are your dreams for your work?
When I became camp director, my dream was to create a space for children to find their love for Judaism while experiencing hands-on science and technology. Building on three successful summers, this year we'll launch Sci-Tech Israel, which will explore Israel through the lens of science and technology and will empower teens to tackle critical issues related to renewable energy, water consumption, biotechnology, and more. This is the only teen experience that allows visitors to understand the journey Israeli pioneers took when they came to a land with few natural resources and created a thriving nation through innovation.
Another dream is to create permanent makerspaces – invention workshops – in synagogues and other Jewish institutions. I just read an article about a Cub Scout who used a 3D printer to create a working prosthetic for a young boy to learn to ride a bike. Imagine a child creating this in a Jewish institution, where the printing of a prosthetic hand is accompanied by a blessing for creation and a ceremony to consecrate the hand and present it to the recipient. Such a program will bring Judaism to life in a synagogue setting in a way that's never been done before, allowing children to pursue their interests in a Jewish setting year-round.
What's the next step in your professional journey?
Jewish camp education is my love and passion. As a product of my experience, I see myself working with camps and other Jewish institutions to create programs that challenge assumptions of what Jewish education looks like. Before 6 Points Sci-Tech, there was no expectation that a forensic science elective could be used to teach about rodef tzedek, the pursuit of justice. Now, that's a foregone conclusion in my daily work.
With the support of the Pomegranate Prize, I hope to expand my network beyond the Reform Jewish and camping communities to learn more about the innovative educational approaches others have taken to challenge assumptions and create unique Jewish experiences.
What can synagogues learn from your work? What are some guiding principles for integrating science (or any specialty) and Judaism?
The most important thing that synagogues can learn from 6 Points is how we harness our youth's interests and make the connections to Judaism visible and tangible through topics, ideas, and activities they are already engaged in. When I think about blending science and Judaism, some of the relationship is abstract, and some is more concrete. Science explains the "what and how" of our world but is missing the "why." Judaism offers us the why.
For example, we know it is a Jewish value to stay healthy (shmirat haguf), and we do that by exercising and living a healthy life. In this conversation, we should also explain the why. We want to live long, healthy lives so we might raise a family, engage more in tikkun olam, and be teachers for those around us. If we can engage a child in Judaism through a particular topic they already love, they are more likely to be engaged in all aspects of Jewish life.
Have something to say about this post? Join the conversation in The Tent, the social network for congregational leaders of the Reform Movement. You can also tweet us or tell us how you feel on Facebook.
Related Posts
Image
When adults find out about my job as director of URJ 6 Points Creative Arts Academy, many of them say the same thing: "I wish that had existed when I was a kid!" I know how they feel.
Image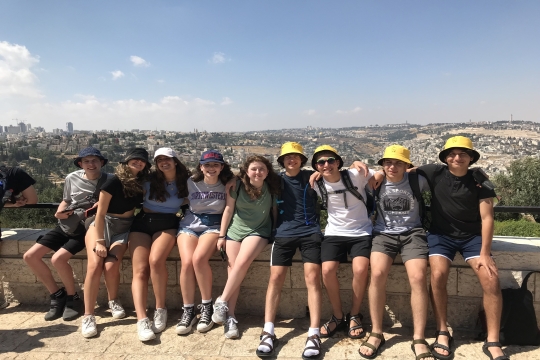 We are excited to announce that, thanks to a generous commitment from RootOne LLC (seeded by The Marcus Foundation and powered by The Jewish Education Project), the certificate will now be worth $3,250!* We hope that this increased amount allows all Reform Jewish teens to travel to Israel as a rite of passage.
Image
Summer 2022 was full of opportunities and growth. We celebrated the joy and beauty of camp and Israel experiences, infused intention and meaning in our planning and programming, and enabled campers, summer immersive participants, and staff to create communities of respect and belonging.