Image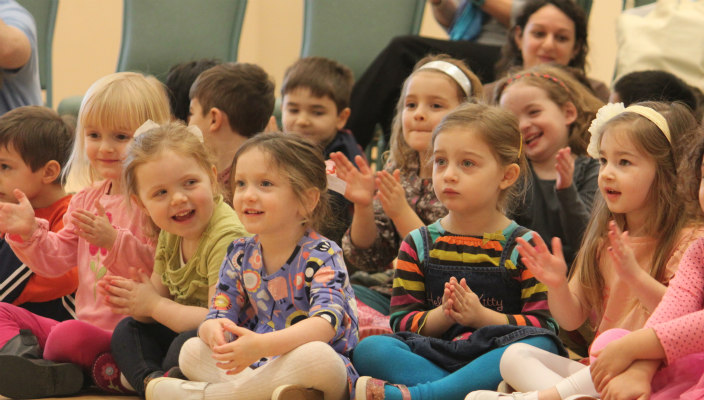 If you will it, it is no dream.
-- Theodor Herzl
As Herzl learned, willing and dreaming were not enough to create the State of Israel. Likewise, it would take more than willing and dreaming to deepen the engagement of families with young children at Chicago Sinai Congregation in Chicago, IL.
Although our preschool operated in its own silo, separate from the congregation and its leaders, the congregation for years had sought ways to connect preschool families with the wider community. Despite our best efforts, only a small number of preschool families joined the congregation each year, and usually only if they had older children enrolled in religious school. One or two families would join before preschool, to ensure priority enrollment, but we did not see these families connect or participate at Sinai in other ways.
Connecting our youngest families more deeply to congregational life remained a dream.
Then, in 2014, we joined the URJ's Chicago Early Engagement Leadership Initiative (CEELI). Supported by the Crown Family Philanthropies and an anonymous funder, this community of practice (CoP) brought together 12 Chicago-based Jewish early childhood centers from legacy organizations, synagogue movements, and independent entities from across all denominations.
CEELI challenged us to "reimagine early childhood engagement" in the congregation, but before we could do any reimagining, we had to examine our reality closely and confront the silos we inhabited. We knew we would have to destroy them to move forward. As we began to pay attention to our reality, we realized that the way preschool parents talked, revealed an "us" and "them" outlook. Parents referred to the preschool as "mine" – "my school," "my teachers" – but to all-other-things-Sinai in more general, non-possessive terms – "the temple," "the rabbi."
We also were aware of these other aspects of our reality:
The congregation wanted to increase its membership, and particularly wanted to deepen the involvement of families with young children in the congregation and in Jewish life
As an urban preschool, approximately 50 percent of our families would move to the suburbs and not remain at Sinai
Most important, we understood that young families are the key to the Jewish future, and not only to the future of one congregation with a remarkable preschool.
Through our work with CEELI we set forth a series of goals. Our overall goal was to ensure that upon graduation, all our preschool families affiliated with a Reform congregation, even if it wasn't ours. Closer to home, we sought to deepen young families' engagement with our own Sinai community and with all facets of Jewish living.
We then got busy building a roadmap by:
Learning how congregations handle preschool family memberships
Building and strengthening the relationships of our own preschool families within the larger Sinai family
Analyzing the costs and revenues we would realize over time
Staging leadership discussions about the benefits of connecting families to Jewish life
Developing a presentation that outlined our research, predictions, and goal
Our roadmap led us to our third goal: to offer all Sinai preschool families free membership at Chicago Sinai Congregation. Eighteen months after our proposal was approved by the board and implemented, our preschool families with young children are participating more fully in Sinai activities, enrolling older children in religious school, and engaging in all facets of Jewish life – at Sinai or in communities to which they have moved.
Beyond religious school enrollments and helping families find the right synagogue home when they move out of the city, what's the greatest sign of our success? The way our preschool families proudly speak about "my rabbi" and "my temple."
The partnership between the preschool and the congregation is not a dream; it is a reality that our will and our actions created.
For information about a series of skill-building boot camps on topics essential to engaging families with young children – outreach, marketing, sharing best principles – to be offered by CEELI in the Chicago area, email Susan Zukrow.
Fern Katz is the early childhood education director of Chicago Sinai Preschool and Rabbi Seth Limmer is the senior rabbi at Chicago Sinai Congregation, in Chicago, IL.
Have something to say about this post? Join the conversation in The Tent, the social network for congregational leaders of the Reform Movement. You can also tweet us or tell us how you feel on Facebook.
Related Posts
Image
Although the pandemic has not altered the overall mission of our sacred work – to engage the next generation of families with young children on their Jewish journey – it has further amplified our sense of urgency and is helping to redefine and clarify our goals and priorities.
Image
A recent visit to Israel by early childhood educators enriched our ability to engage the next generation of Jews with a rich and meaningful dialogue around Israel.
Image
Jacqueline and Kevin Haney of North Caldwell wanted to send their children to a Jewish