Image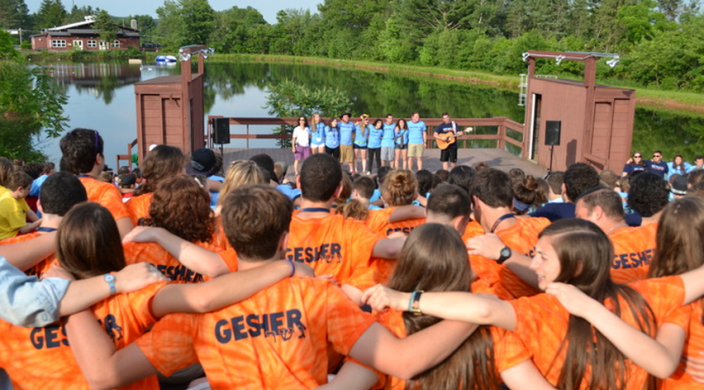 Growing up as a non-Jew, I had no exposure to Judaism in any form, but I loved going to YMCA's camp in Northern Minnesota. Whether hiking in the woods, swimming in the lake, cooking over an open fire, singing together with the other campers under the moonlight, or giggling together after 'lights out,' I loved spending my summers at camp.
My husband loved most of those things too, but he never went to summer camp - Jewish or otherwise. He spent a lot of time doing those exact same things as a child and, even as a kid, understood their value. He grew up Jewish, went to synagogue, became a bar mitzvah when he was 13, and celebrated all the Jewish holidays with his family. While he might not have experienced Jewish summer camp, he certainly knew what it meant to be a Jew.
Fast forward many years and we now have two children and made the decision to raise them with Judaism. That meant that I had a lot of catching up to do if I was going to have a Jewish home, Jewish kids, and a Jewish family. We did many of the usual things: we joined a synagogue where we participated in classes and events, played Jewish music in the car, and more. As my children grew Jewishly, so did I. We learned to sing the Shema together when they were little (they learned it faster than I did!). We were an interfaith family and as immersed in Judaism as I thought any family could possibly be - and then I learned about Jewish summer camp.
As I sat in the sanctuary that day, listening to our rabbi espouse the virtues of Camp Harlam, I was transfixed. He spoke about learning Jewish traditions and values outside of the walls of our synagogue, making life-long friends with similar values and traditions, and perhaps even returning home with a new outlook on life.
After services, I asked a million questions about camp and immediately made the decision that our kids had to go! While I would miss them for those 3.5 weeks, I could only think of all the great experiences they would have while at camp.
Of course, there were the usual camp things that I had experienced as a child. There would also be so many experiences that were hard for me to give my children because I had never experienced them myself: singing the Hebrew prayers before and after meals, celebrating Shabbat outside in nature, learning Jewish traditions and values with peers, playing gaga (an Israel version of dodgeball traditionally played at Jewish summer camp), embedding Jewish vocabulary into everyday events and places... the list could go on and on. They would have the fun of mini camp reunions as they celebrated b'nai mitzvah with their camp friends. They would make Jewish friends who would understand them and their experiences as they grew into Jewish young adults.
And, I'll admit, that I was hoping that some of their newfound Jewish knowledge and joy would rub off on me when they came home from camp at the end of the session.
Fast forward again five years. I am thrilled to report that all the things that I had hoped for came true. My kids love Camp Harlam. They have strong groups of camp friends with whom they have attended b'nai mitzvah, share giggles in the dark, and texts when not at camp. We hear camp stories at random times throughout the year that show us not only their love of camp, but the Jewish knowledge and values that they have learned at camp. They know the Hebrew prayers sung at Shabbat so much better than I ever will and find joy in correcting my pronunciation when I get the Hebrew words wrong. They have broken out into the camp version of prayers while sitting in our own synagogue and made me (and our rabbi) smile. My children have learned so much and have taught me so much about what it means to be a mensch, a good person, from their summers at Camp Harlam.
I always loved camp, and now, my whole family loves camp, too. Camp Harlam has taught us all so much about what it means to be Jewish and how to expand the values and traditions of camp into our daily lives. For that, I believe we are all truly grateful. For our interfaith family, overnight Jewish summer camp was undoubtedly the right choice.
Related Posts
Image
When adults find out about my job as director of URJ 6 Points Creative Arts Academy, many of them say the same thing: "I wish that had existed when I was a kid!" I know how they feel.
Image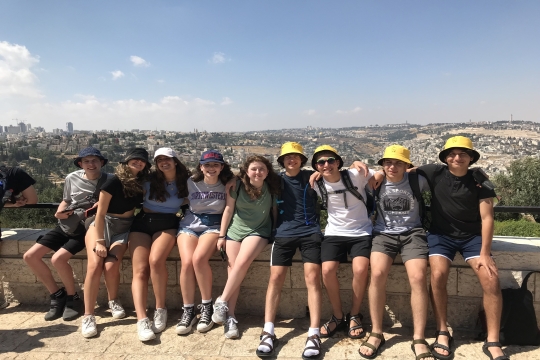 We are excited to announce that, thanks to a generous commitment from RootOne LLC (seeded by The Marcus Foundation and powered by The Jewish Education Project), the certificate will now be worth $3,250!* We hope that this increased amount allows all Reform Jewish teens to travel to Israel as a rite of passage.
Image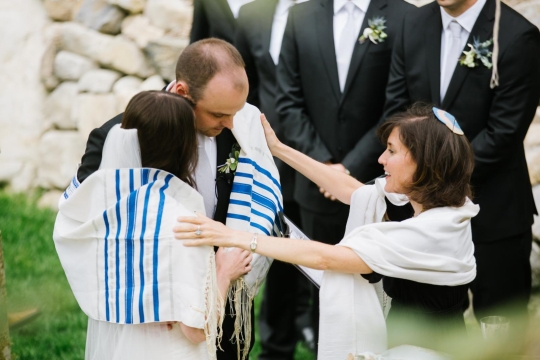 As a part of my work at jHUB, which embraces interfaith couples and families exploring Jewish culture and values in Cleveland, Ohio, I meet with young interfaith couples who are looking for connection, meaning, and guidance. I get to hear their unique stories, which often reflect their desire to deepen their relationship with Judaism and with one another.