Image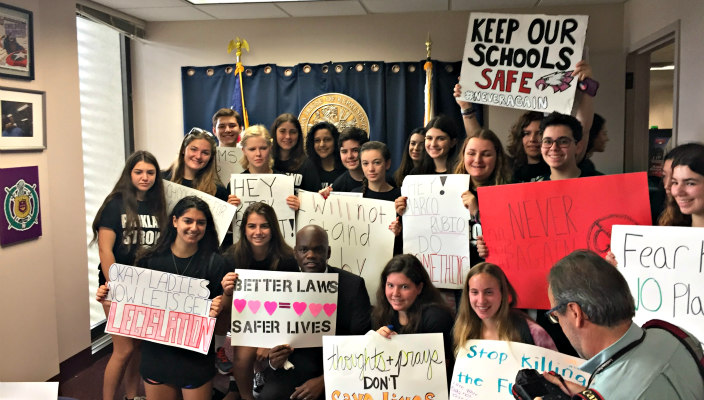 Our names are Zoe Terner and Noah Fineberg, and we are both high school students and members of NFTY Southern Tropical Region. We live in South Florida, near Parkland. As you know, our home community was recently devastated by a senseless act of gun violence, and the lives of our friends and peers at Marjory Stoneman Douglas High School were threatened. For a few hours, we didn't know if the people we loved were alive or dead.
Since then, we have rallied together to fight for a more just world and ensure that never again do we have to fear for our lives in school – a supposed place of safety and refuge. We have lobbied in Tallahassee, our state capitol; organized walkouts at our school; published articles on our experiences; and attended and gathered rallies.
We are just getting started.
We are not the only teens standing up to make a change. In fact, we are just two out of thousands of young people across the United States who are determined and committed to making a difference on the issue of gun violence prevention. This is a revolution, and your teens are leading it.
We know that, historically, the bimah has been a place for social justice. During the civil rights movement, Reform Jews faced their congregations, the ark behind them, and issued a call to action. Together, they marched with Reverend Martin Luther King Jr., opened the doors of the Religious Action Center as a safe place to do this holy work in D.C., and faced social inequity with the passion of a people who know what discrimination feels like.
We are told tzedek, tzedek tirdof: justice, justice, shall you pursue. In this moment, your teens – our friends – are pursuing justice.
For the month of March, the Reform Movement is calling on clergy across America to welcome their teens onto the bimah to share with your congregation the work that they are doing towards gun violence prevention. In hundreds of synagogues, let's have #TeensTaketheBimah to share why this issue matters, and how adults can support them in this work. For more information, ways to get involved, and a list of related actions, please visit NFTY.org/GVP. We hope you'll join us, too, in marching for our lives.
Together, we are a symphony, and we will cry out too loudly to be ignored.
Justice, justice we shall pursue.
Learn more about how NFTY is mobilizing for gun violence prevention, then sign up at NFTY Fights for Gun Violence Prevention to participate in these efforts. You can also visit www.rac.org/gvp for tangible ways to take action to prevent gun violence.
Related Posts
Image
There has been a lot happening in the teen and youth space over these past weeks, and many more opportunities are coming down the pipeline.
Image
A few weeks ago, I had the joy of being at the "NFTY-GER Ball," one of the many NFTY events being run by Reform teen leaders across North America. A room full of teens gathered at Temple Sholom in Scotch Plains, NJ to dance, laugh, get to know one another, and celebrate Jewish life.
Image
Almost exactly six years ago, I ran for NFTY-TOR regional president. I lost. And yet when I look back at my election materials in a bout of nostalgia, I stand by absolutely everything I said, now having seen how much the ideas I mentioned still influence me and the way I think about leadership, both personally and as an organizer working with NFTY and Reform Jewish teen leadership.