Image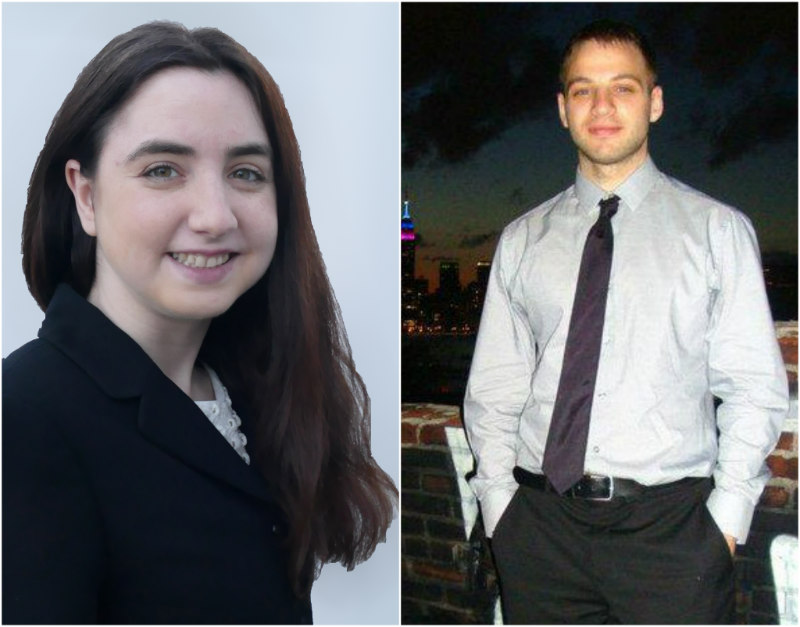 With so many major Jewish institutions clustered in Manhattan itself, it follows that much Jewish social and cultural programming also takes place in the centralized stretch of island.
These days, though, young Jews live all over the five boroughs, not just in Manhattan. Danielle Gold noticed that.
At an event for young Jews in their 20s at 30s event at New York City's Stephen Wise Free Synagogue, Danielle met Jesse Irizarry and a friend of his, realizing for the first time that there were, in fact, "Jews under the age of 65," as she puts it, in her Queens neighborhood of Jackson Heights. Danielle had had difficulty locating Jewish community in Queens, especially for millennials; the local Jewish center didn't even have publicly posted times for Shabbat services.
Craving the close-knit Jewish engagement she had enjoyed growing up in Bellmore, N.Y., Danielle and Jesse created focused young adult Jewish programming on the neighborhood level, calling it the Queens Jewish Project (QJP).
Inspired by their experiences "synagogue-hopping," the programs run a wide gamut. So far, events and programs in the works include a Memorial Day/Shavuot ice cream social, a meetup at a Flushing Meadow Park outdoor movie, a Shabbat service in Queensbridge Park, apple-picking for Rosh HaShanah, a Queens-based corn maze for Sukkot, a Tu B'Av bagel brunch, and a tour of a donut factory around Hanukkah.
The QJP focuses on marketing to progressive, Queens-based Jews who are between college and parenthood. They do this using a variety of techniques, including social media, online listings, and good old-fashioned word-of-mouth. The overarching goal is to give these young adult Jews a sense of a local community, no matter which NYC borough they call home.
Danielle, who works as the marketing manager at Stephen Wise, says her workplace is a significant inspiration in her QJP work. The congregation's emphasis on young adult outreach, family programming, and social action were a large part of what urged her to develop her own programming.
Though Danielle and Jesse are focused on building up their programming slate, they're also eager to see the model they're building replicated in other neighborhoods across the city. By codifying their marketing methods, developing a menu of repeatable programming ideas, and solidifying funding sources, they hope other young Jews can create similar programs.
During their time in the URJ's JewV'Nation Fellowship, the pair has gleaned information about how to structure their own organization as well as how to work with other organizations that share common goals. The fellowship has also helped them to converse and learn from their talented compatriots. From the very first meeting, they said, they were thrilled by the energy that flowed between participants, inspiring them to recreate that excitement and joy in their own programs.
In the future, Danielle and Jesse hope to see the larger Jewish community of Jackson Heights be as welcoming and inclusive to young Jews as other, more established New York City neighborhoods. Further down the line, they hope the organizational outline they're plotting will lead to a slew of programming hubs, both across the outer boroughs and onward to other cities and suburbs on the East Coast.
Their work is a much-needed acknowledgement of the diversity of our Jewish communities, but also that Jews seeking connection can be found everywhere, not just Manhattan.
This profile is part of an ongoing series highlighting projects from the inaugural cohort of the URJ's JewV'Nation Fellowship. For more information about Danielle and Jesse's project and the JewV'Nation Fellowship, please visit urj.org/jewvnation-fellowship.
Have something to say about this post? Join the conversation in The Tent, the social network for congregational leaders of the Reform Movement. You can also tweet us or tell us how you feel on Facebook.
Related Posts
Image
In 2021, many of the URJ's 15 camps engaged in the creation of a URJ-structured Racial Equity, Diversity, Inclusion (REDI) Working Group & Camp Assessment process. One of those camps was Camp George in Ontario, Canada.
Image
After several synagogue shootings, American Jews are grappling with the need to keep our communities safe and to remain open and welcoming to seekers of all backgrounds.
Image
The LAs are at the heart of every aspect of our social justice work, but to date, the fellowship has not fully reflected the diversity of the Movement it represents – and we're committed to changing that.