Image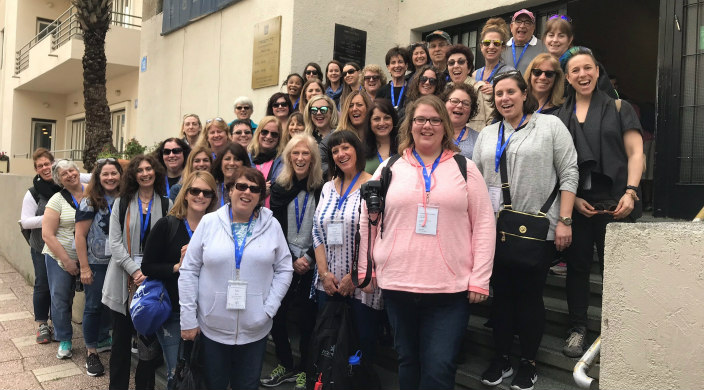 From the earliest days of the Early Childhood Educators of Reform Judaism (ECE-RJ), we have dreamed about holding a conference in Israel. This year, in honor of our 18th year, our team made it happen and I was privileged, as president, to be part of that team.
I was joined by 40 educators (31 directors and nine teachers), from across North America – some of whom were making their first visit to Israel. Like me, my colleagues hoped to gain professional and personal knowledge, be inspired, and connect to each other, as well as to the land and people. The itinerary was carefully crafted to ensure these objectives were met.
As early childhood educators, we are the first connection families make in the synagogue community, serving as ambassadors to Jewish life for them and their young children. Adding Israel to our knowledge base allows us to make connections between these families and Israel. Guiding families as they make choices on their Jewish journey is one of the best parts of the sacred work we do and creating opportunities to help them see Israel as part of the journey is poignant and gratifying.
The next generation always has brought hope to Israel, and wherever we went during our visit, we saw firsthand the role children have played in Israel's past and present – and will continue to play in its future. In schools and cultural institutions throughout the country, we witnessed the value of education, resilience, and creativity. As we travelled from place to place, my own connection to the land, the people, and the history of the country grew exponentially, and the resources I obtained to share with my community grew accordingly. I had many ideas that crystallized into solid plans to create strong educational materials to share amongst my local and North American colleagues. For example, since returning, we've set up an online gathering, so teachers can explore how to create "Israel at 70" lessons that are age-appropriate and effective. We also have created slideshows and "stories" that are stored in a shared drive for use by all. Personally, I have created a plan for my own synagogue to integrate the child-centered nature of Israeli pedagogy into the broader community. One way we've done this is by setting up easels in our art gallery on Sunday mornings, so children can draw and paint, inspired by the great works around them.
By meeting with our colleagues from the Israel Movement for Reform and Progressive Judaism (IMPJ) colleagues, seeing the peace work that is being done by people of all ages, engaging in meaningful discussions about the challenges and successes of early childhood education in Israel, and observing the effect art and music are having on expanding educational experiences, our group was inspired and uplifted. We also visited all types of early childhood centers, including in synagogues, in the public system, on kibbutzim (with junkyard playgrounds), and innovative, experimental schools looking to bring children of diverse backgrounds together.
These experiences expanded our ideas about what can be and served as a springboard for meaningful, big picture conversations about educational philosophy, and Jewish life. They challenged me to look at ways I can integrate into my own work the best principles and practices of our Israeli colleagues, empowered me to share these ideas with colleagues who did not have this firsthand experience, and will enable us to engage the next generation of Jews, offering them a rich and meaningful dialogue around Israel.
Abraham Joshua Heschel said, "What we need is not more textbooks. We need more text people." If the text is Israel education, then this trip helped to create more text people. There is no better way to learn about a country than to have your feet on the ground in the place. Through our stay, I watched my colleagues transform as we unpacked the learning each day. Repeatedly, I heard the word "connections" as it related to participants and the material we were studying. I witnessed a group of strangers come together to create a strong, vibrant learning community that feels like family. The professional bonds that now stretch across North America are the first ripples that will change the tide of early childhood education throughout the Reform Movement. They are being made by teachers and directors who, through their experience, now have great power to share Israel through the early childhood lens.
Have something to say about this post? Join the conversation in The Tent, the social network for congregational leaders of the Reform Movement. You can also tweet us or tell us how you feel on Facebook.
Related Posts
Image
Although the pandemic has not altered the overall mission of our sacred work – to engage the next generation of families with young children on their Jewish journey – it has further amplified our sense of urgency and is helping to redefine and clarify our goals and priorities.
Image
Here's how one Chicago-land congregation successfully deepened its engagement with families with young children.
Image
Jacqueline and Kevin Haney of North Caldwell wanted to send their children to a Jewish preschool, so last summer they took a look at the Early Childhood Center at nearby Congregation Agudath Israel of West Essex in Caldwell.