Image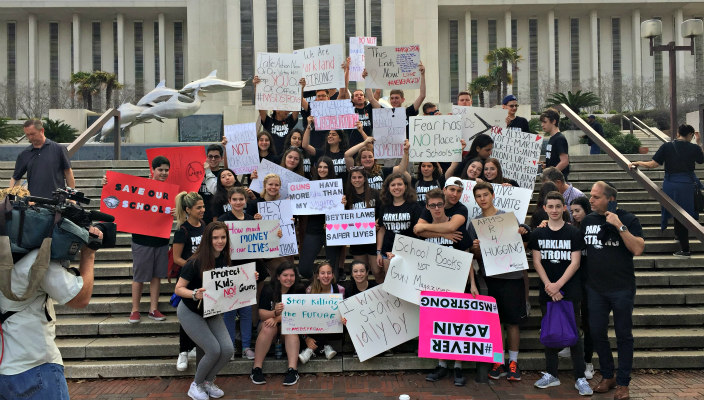 I hope you saw the news stories about buses of students from Marjory Stoneman Douglas High School in Parkland, FL, making their way to Florida's Capitol to plead with their legislators about preventing gun violence. For the past 24 hours, the Parkland Reform Jewish community made me one of their own and welcomed me onto their own bus to Tallahassee.  
I spent eight hours driving from Parkland to the Capitol with a group of my friends who, for a few hours one week ago, I believed might be dead.  
When our bus stopped for dinner at a rest stop on our way to Tallahassee, Rabbi Bradd Boxman, who was leading the trip, leaned into a crackly mic and told us to wait for a staff member to pay for our meals; this was on them. 
I pulled him aside as I got off the bus. "Rabbi," I said, "the congregation doesn't need to pay for me. I can do it. It's really not a big deal." 
The rabbi put his hand on mine and said, "No. You're one of us now." 
When we arrived in Tallahassee, well past 11pm, congregants from Temple Israel in Tallahassee greeted us with a banner and goodie bags full of snacks. "We are with you," they said. "We are so proud of you."  
Last night and all day today, we found that everyone we interacted with has consistently wanted to feed us; a mom who ran into us during a bathroom break in a Walmart bought Girl Scout Thin Mint cookies for our entire bus. Sitting together for dinner at the rest stop, one of our chaperones, a father of two students from Douglas, talked about the outpouring of love they've received, juxtaposed against Tuesday's news that the Florida House overwhelmingly voted not to hear a bill on banning assault rifles.  
"It's simple," he said. "You're either with us, or you have blood on your hands." 
I'm one of them now. 
Learn more about how NFTY is mobilizing for gun violence prevention, then sign up at NFTY Fights for Gun Violence Prevention to participate in these efforts. You can also visit www.rac.org/gvp for tangible ways to take action to prevent gun violence.
Related Posts
Image
A few weeks ago, I had the joy of being at the "NFTY-GER Ball," one of the many NFTY events being run by Reform teen leaders across North America. A room full of teens gathered at Temple Sholom in Scotch Plains, NJ to dance, laugh, get to know one another, and celebrate Jewish life.
Image
Almost exactly six years ago, I ran for NFTY-TOR regional president. I lost. And yet when I look back at my election materials in a bout of nostalgia, I stand by absolutely everything I said, now having seen how much the ideas I mentioned still influence me and the way I think about leadership, both personally and as an organizer working with NFTY and Reform Jewish teen leadership. 
Image
NFTY has been very busy the past few months and will soon install a new North American board.