Image
Shavuot offers us the opportunity to celebrate the Torah and its teachings, and to be inspired by the wisdom Jewish tradition has to offer.
This year, the Reform Movement has come together to create a variety of digital experiences – including discussion, music, prayer, and poetry – designed to resonate with all types of Torah learners and to help you observe Shavuot from home or with your congregation in ways that are thoughtful, meaningful, and spiritually engaging.
1. Come together with the Reform Movement for Tikkun Leil Shavuot.
Join us on Thursday, May 28, for an evening of online learning, music, prayer, and poetry. Together, we will delve into the beauty, complexity, and joy of Torah. Attend one, two, three, or all four hours:
These sessions will be available to watch on-demand at the end of each broadcast.
2. Delve into the Ten Commandments.
Six authors from the new book Inscribed: Encounters with the Ten Commandments, edited by Rabbi Oren J. Hayon and published by CCAR Press, have created short video teachings for online Shavuot learning based on their chapters in the book:
"The Ten Commandments and Shavuot" by Rabbi Oren J. Hayon 
"First Commandment: God's Identity: Perspectives from Jewish Philosophy" by Rabbi Kari Hofmaister Tuling 
"Fourth Commandment: Shabbat, Rest, and Social Justice" by Rabbi Shmuly Yanklowitz 
"Eighth Commandment: 'You Shall Not Steal' – Ethics of Consumption" by Rabbi Rachel Kahn-Troster 
"Ninth Commandment: Don't Be That Person" by Rabbi Michael Marmur 
"Tenth Commandment: Torah's Thought Crime?" by Rabbi Barry H. Block 
A free downloadable study guide is also available as a learning tool for you to share with your community.
3. Join the Nationwide Canadian Reform Tikkun Leil Shavuot.
The Canadian Council for Reform Judaism (CCRJ) and the Reform Rabbis of Canada (RROC) invite you to join with many of Canada's leading Reform Rabbis, Cantors and Educators for a national night of learning, song, movement, meditation and meaning – all online. Join us on the evening of Thursday, May 28, and the early morning of Friday, May 29, from 7:30pm – 2:00am ET. 
Over six hours, a variety of 45-minute sessions will offer inspirational learning, interspersed with 15-minute mini-sessions of music and fun activities, all designed to get you in the spirit of Shavuot – the time of the giving of Torah. Check out the full schedule, and plan to join for a session or even the whole series
4. Focus on social justice.
Join the Religious Action Center of Reform Judaism, The Shalom Center, and Dayenu on May 28 at 8:00pm ET for "From Shavuot to Sukkot: Green and Grow the Vote."
 Be a part of an activist conversation drawing on Torah and our Jewish values as we connect ancient wisdom from Sinai to our own generation's needs for dynamic engagement in the U.S. election process to heal our wounded Earth from the climate crisis. 
5. Listen to our special Shavuot podcast episode.
Tune in to a special holiday episode of our weekly podcast On the Other Hand: Ten Minutes of Torah. In "Reading Ruth: Then and Now," URJ President Rabbi Rick Jacobs talks about various Ruths throughout history, from the biblical Ruth to Supreme Court Justice Ruth Bader Ginsburg. Episodes are available each Monday, so subscribe on Apple Podcasts or wherever you typically listen.
6. Enjoy some music.
Watch: "Celebrating Sinai: Songs of Ruth, Torah and First Fruits," a diverse selection of music from members of the ACC.

​
7. Enjoy a teaching with Rabbi Nancy Flam​

Watch: "Wakefulness & Receptivity: Cultivating a Mind Ready for Revelation", with Rabbi Nancy Flam, Founding Faculty of the Institute for Jewish Spirituality (IJS), presented by the URJ and IJS.
8. Subscribe to weekly Torah commentary.
Sign up to receive the Reform Voices of Torah, part of our Ten Minutes of Torah email series, with original Torah commentary delivered to your inbox every Monday morning. Additionally, you can also request to send this newsletter to your members, cobranded with your congregation's logo.
Have something to say about this post? Join the conversation in The Tent, the communications and collaboration platform for congregational leaders of the Reform Movement. You can also tweet us or tell us how you feel on Facebook.
Related Posts
Image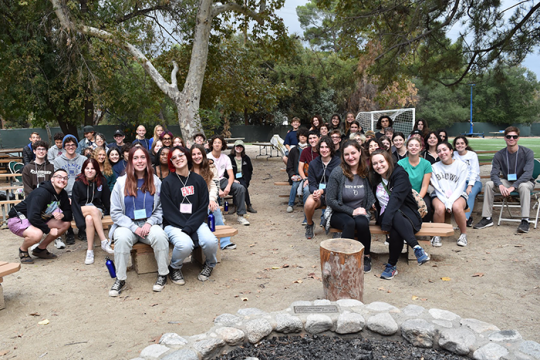 During the COVID pandemic in southern California, we saw our Jewish communities weaken. From our camp spaces disappearing to our teen youth groups (TYG) struggling, many of us stopped programming and decreased in membership, while a few of us thrived the best way we knew how - by joining forces. For us, as youth directors, advisors, and educators, we knew this was the way to keep teens inspired and engaged with one another.
Image
Email and other technologies are a huge factor in why employees feel like they're always on the clock. This "always-on" culture accelerated while synagogues began facing declining membership before the pandemic and has only intensified since. Even if clergy or staff are cut, the work demands don't decrease. As a result, remaining clergy or staff or volunteers are even more overwhelmed and are burning out at alarming rates.
Image
On the Jewish calendar, the start of the month of Elul signifies the beginning of the High Holiday season. As individuals, it is during this time that we begin the process of cheshbon hanefesh (accounting of the soul), reflecting on the past year. So too, it is important for your leadership and community to reflect on the past year and consider how to do better moving forward.