Image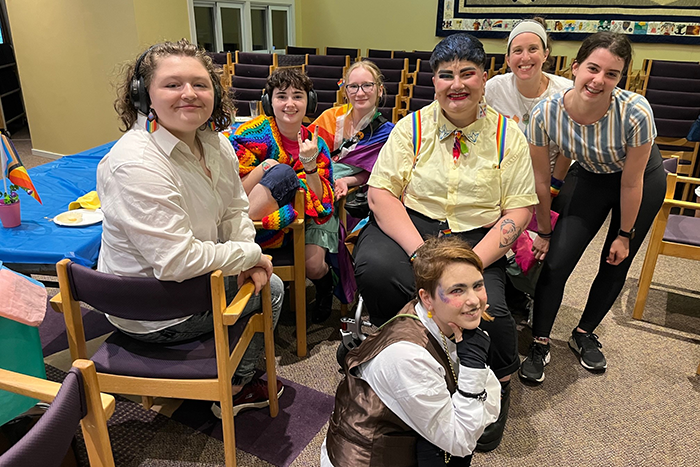 "What if people protest the program and disrupt Shabbat?"
I admit, I heard a loud voice in my head repeating this question as our Pride Shabbat festivities approached last June. Too often such an inner voice holds us back. It can be incredibly powerful to overcome our fears. We can celebrate our perspectives proudly as a Reform Movement. Sometimes, this will elicit a response, even a protest, but that's okay. We can view these as moments of growth, opportunities to shout loud like the shofar in the name of justice.
Even in hindsight, my concern wasn't unwarranted. Earlier in the month, protesters showed up en masse to a drag queen story time event planned in nearby downtown Ottawa. A number of parents from my congregation who brought their kids to listen to the story found themselves needing to explain the chaos. In the days leading up to Temple Israel's Pride Shabbat, those same protesters picketed a local high school, objecting to accommodations for trans and non-binary students such as co-ed bathrooms and the right to choose one's name and affirm their pronouns. If such demonstrations descended on our Temple, the Shabbat mood would be anything but peaceful.
This was not the first time I questioned my choices in programming, advocacy work, or sermon topics. Every day I ask myself: Who is my audience? How will my thoughts be received? How can I use this moment to lead? While my natural impulse might be to please, often I push myself to stir things up. I hope that my recent experiences can prompt us all to recognize the value of being daring in the name of that which is fair and loving. We pride ourselves on being a big tent in the Reform Movement. We champion our diverse views and do our best to collaborate. Our synagogues are intended to be havens, places to celebrate important life cycle events and holidays as an extended family, and spaces to grow as Jews and citizens of the world. This means that part of our role as Reform Jews is to take a stand in the name of our core values, especially our belief that we're all created b'tzelem Elohim - in God's image.
When I anticipate pushback, I look to my mentor, Rabbi Richard Levy of blessed memory. Early in my rabbinic training, I delivered a sermon on economic rights and received vocal negative reviews. I was surprised when his response was to wish me "mazel tov." He taught me that our Movement is prophetic; it's our job to push people out of their slumber, even if that makes them angry. Rabbinic words are best delivered when they address problems of the status quo, to simply leave people pleased is not enough.
Thankfully, there were no protests at Temple Israel's Pride Shabbat that year. We hosted drag queen Tanya King for story time for our toddlers and school-aged kids as parents and children alike soaked in each word. If only I commanded such attention with my sermons! She taught us to be proud of ourselves, to live large, and to recognize both our commonalities and diversity. Tanya thanked me for the opportunity to visit Temple. She had not been to a synagogue before, and she appreciated the allyship of our congregants. Parents and children alike had lots of questions, over challah and grape juice we could explore all that we share, recognizing that it's good to shake things up and explore. As such, the synagogue became a hub of co-existence and a catalyst for building a better tomorrow.
After, our teens took charge of the Kabbalat Shabbat service, featuring Cyndi Lauper's song, "True Colours." Many shared after that the song brought tears to their eyes as we took pride in each other's true colours. At the same time, we understood that there is much more work to do in the task of affirming the place of one and all. As such, this experience became a jumping board to push us demand better.
We concluded the night with rainbow cupcakes, fruit punch, and another drag performance by activist Boy Veh (a play on words with the Yiddish expression "oy vey" that expresses frustration, dismay, or grief. He often shares his connection to his Jewish faith on his tours, reminding audiences that religion and inclusion are compatible if we open ourselves to new possibilities and are considerate. Amen. In the Reform movement we're called to demand that our religious voices be heard too, no one sect or stream of religion can dominate, but we can only do so by sharing publicly our essential voice.
In the weeks that have followed our Pride Shabbat, community members have voiced their appreciation for modeling acceptance and not being afraid to live our values, despite the fear of backlash. My hope is that each of us stand up to our inner voices that often hold us back. May we use such experiences as growth opportunities and remain proud of what we stand for: inclusion and love.
Related Posts
Image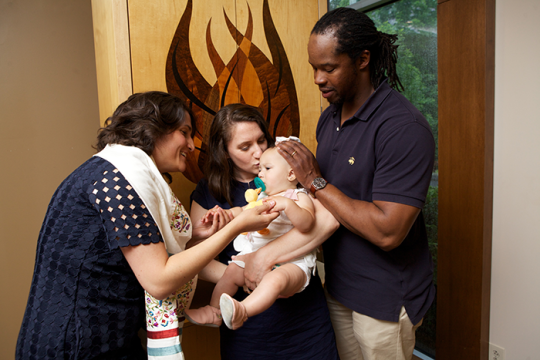 Reform Judaism stands for a Judaism that is inclusive and encourages the participation of all members of interfaith families in our communities. Here are some steps we can take as community leaders to affirm members of interfaith families, ensure they know they are valued and understood as critical members of our Reform communities, and do our best to ensure that everyone has the opportunity to experience a sense of belonging.
Image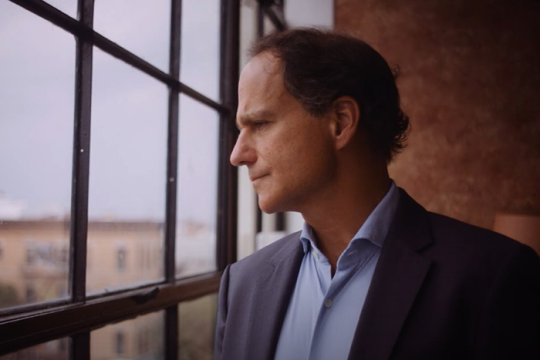 We sat down with Rabbi Jonah Pesner to discuss his work in the Reform Movement, as a SCoRE member, and his experience as the first Jewish person appointed to SCoRE.
Image
In 2021, many of the URJ's 15 camps engaged in the creation of a URJ-structured Racial Equity, Diversity, Inclusion (REDI) Working Group & Camp Assessment process. One of those camps was Camp George in Ontario, Canada.