Image
At long last, the World Zionist Congress (WZC) elections have arrived, and voting has begun!
Participating in the WZC elections – by supporting "Vote Reform: ARZA Representing the Reform Movement and Reconstructing Judaism" – is the only way North American Jews can weigh in democratically about issues in Israel – and ensure a society that truly reflects the Jewish values we hold dear: pluralism, equality, economic justice, and peace. 
It's also quick and easy, so vote now.

Here are four reasons these elections are critically important to the Reform Movement – in North America, in Israel, and around the world.
1. The elections determine the size of the delegations.
The WZC, the Parliament of the Jewish People, includes 500 delegates and meets in Jerusalem every five years. Delegates can exert ideological influence on Israeli society and the global Jewish agenda, as well as allocate financial and other resources to various organizations – including the Reform Movement – in Israel.
2. A large Reform delegation means more financial resources.
Currently, the United States has the largest single delegation outside Israel. Nearly 40 percent of  the U.S. delegates represent the Reform Movement, ensuring that significant funding is directed to the Israeli Reform Movement. With a strong election turnout, financial resources will continue to flow to our Israeli movement – including Reform congregations and institutions.
3. It also means leadership roles in some of Israel's national institutions.
Robust participation in the elections will allow the Reform Movement to fill leadership roles in such institutions as the World Zionist Organization (WZO), the Jewish Agency for Israel, and Keren Kayemeth LeIsrael - Jewish National Fund (KKL-JNF). Reform leaders will then be well positioned to ensure that decisions about government and public spending over the Green Line, including land purchases, reflect the Reform Movement's values and ideology. 
4. Progressive Jewish congregations and organizations worldwide benefit, too.
Because JAFI and the WZO support programs of the World Union for Progressive Judaism (WUPJ), high voter turnout will prove beneficial for WUPJ congregations and for Netzer Olami and Tamar, which offer programming for Progressive Jewish youth and young adults in communities around the world.
Now that you've cast your own vote, here are some ways you can help us encourage others to vote before the March 11, 2020 deadline:
"Make a Minyan" by encouraging your friends, family members, colleagues, and peers to vote and finding one person who will make another minyan.
Donate to ARZA, the Association of Reform Zionists of America.
Follow the Union for Reform Judaism (URJ) and ARZA on social media to keep up with our campaign: URJ: Facebook, Twitter and Instagram; and ARZA: Facebook, Twitter and Instagram.
Use the hashtag #VoteReformWZC to spread the word on your own social media accounts.
Haven't yet voted? Don't forget:

Have something to say about this post? Join the conversation in The Tent, the communications and collaboration platform for congregational leaders of the Reform Movement. You can also tweet us or tell us how you feel on Facebook.
Related Posts
Image
The High Holiday season is an important time of personal and communal reflection, including your congregation's leadership. This can also be a time of reflection for your congregation's leadership.
Image
It's a long-standing custom for Jews to wish one another a "sweet new year" on Rosh Hashanah; to hope that this coming year will be one filled with joy, fulfillment, and an abundance of blessings. However, Judaism isn't a path focused simply on wishing for good things; if our goal is to make each year "sweeter" than the last, we must work to make it happen.
Image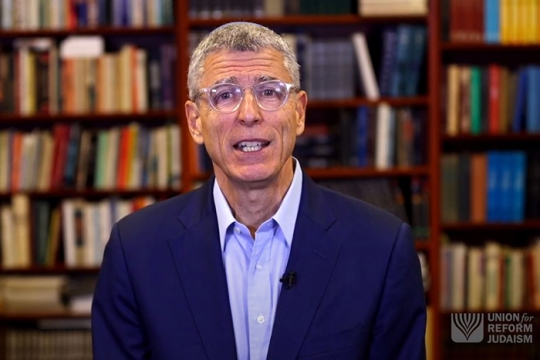 I pray that our observance of Yom Kippur will be probing and transformative, helping us become the best people and the most inspiring Movement that we are meant to be.