Image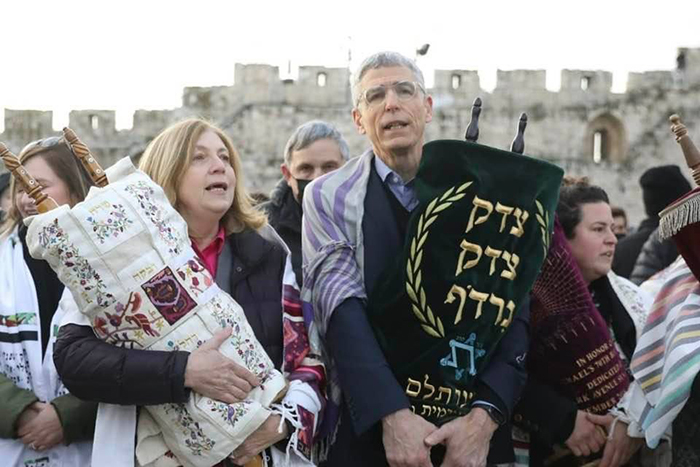 This week's Parashah, P'kudei, ends the Book of Exodus and addresses how one enters sacred space, in this case, the Mishkan, the portable sanctuary where God and the wandering people would encounter one another.

We tried to have that experience today, Rosh Chodesh Adar Bet, the celebration of the new month of Adar II. URJ Heller High students joined Women of the Wall (WoW) for what were supposed to be services celebrated at the Kotel, the Western Wall. Unfortunately, rather than an experience in entry to sacred space, our students experienced what it means to be denied entry to sacred space.

The ultra-Orthodox Haredi (and many mainstream Orthodox) view those who pray differently than them as sinners, desecrators of God's name. Matters are not helped any by their belief that the Kotel is theirs alone, and as has become their practice, ultra-Orthodox rabbis called on yeshiva boys and seminary girls to block WoW from entering the Kotel Plaza or the women's section of the Kotel. Tens of thousands – that's not a typo - of Haredi teenagers answered the call, showing up early this morning to take up strategic positions.

The monthly Rosh Chodesh WoW services are beyond hostile. Young Haredi children and elderly Haredi rabbis scream, shout, berate, throw things, and blow whistles at participants in the WoW services. The police carve out an area so those attending the WoW service can get to the Women's section, but they do nothing to stop the screaming from ultra-Orthodox women, whistle blowing by young children, and the seminary girls who challenge participants with their understanding of Jewish law...which is, of course, the only correct understanding.

I always show up early to make certain it is safe for our students to enter the Kotel Plaza or if it is more prudent to take them to a rooftop overlook to witness what is happening.

Today's service was especially hostile because Reform and Conservative leaders of the US and Israeli movements were going to be there, including Rabbi Rick Jacobs, president of the URJ, and Rabbi Josh Weinberg, vice president for Reform Zionism and Israel, as was Knesset Member Rabbi Gilad Kariv, former head of the Israeli Reform movement, and his successor, Anna Kislanski. They were joined by leaders of the Jewish Agency and the Conservative movement. With all these heavy hitters present, the Haredi rabbis prepared an especially intense protest.

I arrived at 6:20 am and it was already a sea of black. Looking down at the plaza, all I could see were tens of thousands of girls in black skirts and tops and boys and men wearing black suits, black hats, and white shirts. None of them were wearing their tallit or tefillin, meaning they came to the Western Wall not to pray, but to disrupt and to hurt. They were eager to be the bullies everyone fears during recess.

The Women's section of the Kotel was completely full, with no space for WoW to enter. Even the outer plaza was full. The only area with space? The empty men's section. By now, the men had finished their prayers, sticking around to watch or maybe participate in the macabre show that was about to begin.

The police had sectioned off the ramp leading from the security checkpoint to the plaza. This was where the WoW service would have to take place. They also blocked off the area above and next to the ramp to keep the screaming, yelling men and women from throwing things onto the WoW participants or, worse, become violent with them. (Alas, not unusual.) These arrangements enabled WoW service participants to feel safe; they couldn't really even see the shoving and pushing taking place between the Haredim and the police. As a result, I felt comfortable with our students joining the services.

Standing above the group, in the blocked off area, I saw our students right in the middle of the action, standing next to the Torah reading table, singing and dancing, watching intensely, asking questions. I don't know if they felt it, but to me it was clear: this was what human-divine interaction is supposed to be.

Our conversations after the service made it clear this was an important, meaningful, and deeply consequential moment for our students. Many expressed pride in their participation, and that they represented a different kind of Judaism than observed by those screaming and yelling at them. One student told me that everything he saw left him feeling embarrassed by his Jewishness. This is not an uncommon reaction to witnessing fellow Jews act this way. I suggested another feeling he might consider, namely pride in being part of a Jewish tradition that teaches him to ask questions and think critically, to arrive at his own conclusions rather than blindly accept what the rabbi says is right.

We exited the area through the Southern Wall Excavations to avoid the angry mob waiting in the main plaza. Walking past the Southern Wall of the Temple Mount, I recalled the Talmudic passage that teaches the reason the Second Temple was destroyed: baseless hatred between Jews, a lesson many Jews, alas, have yet to learn.

This morning's experience tied in well with this week's Jewish history classes. After the Second Temple was destroyed, sacred space, which had up until then been limited to the Temple, became diffused and dispersed. Our ancestors created the synagogue, the house of study, and other sacred spaces. In fact, as a concept, sacred space was redefined: it could be found wherever ten people prayed together and, in some cases, where three sat together over a meal. Under certain circumstances, just one person, standing alone, could create genuinely sacred space.

That is what happened this morning. Denied access to the holiest spot in Judaism, Women of the Wall and all who came to be with them, including your children, created space as sacred as any in which a Jew can be found. And at that moment, as Parashat P'kudei teaches us, God's presence descended and joined with us.

Finally, and I can't say this more plainly: we can all be proud of our students. It was a difficult, challenging, and unnerving situation, but they conducted themselves thoughtfully, with restraint and maturity. They reflected wonderfully on us, their teachers, and you, their parents.
Related Posts
Image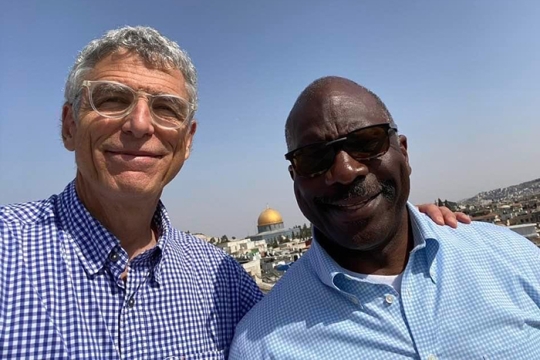 Last week, we traveled together to Israel and the Palestinian territories with a remarkable group of Black civil rights leaders and Reform Jewish leaders, including those who sit at the intersection of being Black and Jewish. We imagined that there would likely be bumps along the way, and there were. However, our group knew one another from our ongoing social justice and racial equity work in the United States, so there was a reservoir of goodwill and commonality that served us well.
Image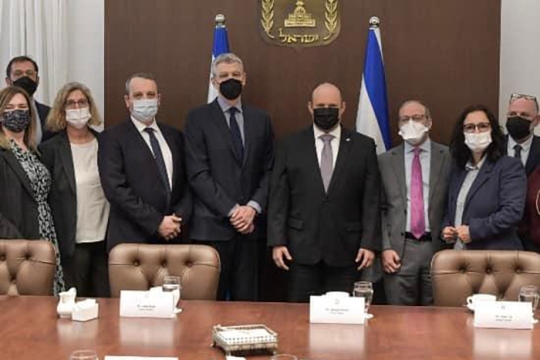 In meetings with the President of Israel, Isaac Herzog, Defense Minister Benny Gantz, Finance Minister Avigdor Lieberman, Transportation Minister Merav Michaeli, and Foreign Minister and Alternate Prime Minister Yair Lapid, we discussed the crisis in Ukraine, the future of the Kotel, ensuring more funding and rights for non-Orthodox Jews, combatting racism, and stopping extremist violence against Palestinians, in addition to other pressing issues.
Image
The URJ is the largest Zionist organization in North America and after two years of COVID-19, a new government, and a growing Israeli Reform Movement, Israel needs us now more than ever. Israel needs our voices, our involvement, and our support. Infusing your congregation with an Israel commitment through an ARZA membership is a meaningful way to directly support the Jewish State.