Image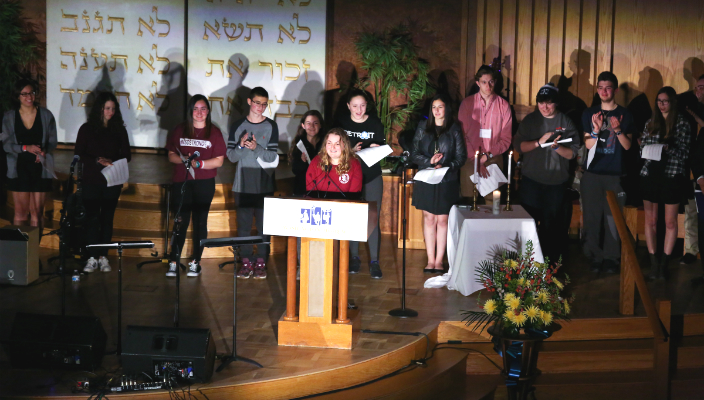 Teens across the country have been leading the way in taking action to prevent gun violence – we've been meeting with legislators, organizing marches and rallies, and mobilizing our peers at school and on our college campuses. Inspired by the initiative of one congregation in a community plagued by gun violence, last month we called on the Reform Movement to invite teens to speak from the bimah. As Zoe Terner, NFTY Social Action Vice President-Elect, said, "We know that, historically, the bimah has been a place for social justice…we are told tzedek, tzedek tirdof: justice, justice shall you pursue. In this moment, your teens – our friends – are pursuing justice." Here's what we've been saying throughout the recent months:
"In the Mishnah we read 'If I am not for myself, who will be for me?' A powerful saying taught by the great sage Hillel. It's time to be there for the people who cannot be for themselves. For the people who don't have a voice. For those who no longer have a voice. For those whose voices are muted by the walls of poverty and racism. For the 17 victims in Parkland and the countless others who face gun violence each day. We must gather together as a community and become helpers for those who need us most."
Megan Kerstine, Temple Emanu-El Dallas, TX
"[S]ome of the religious school teens from Shaarey Zedek had the opportunity to attend the L'Taken Social Justice Seminar in Washington DC, with the Religious Action Center of Reform Judaism, the RAC. I was one of the 500 Jewish teens across the U.S. fortunate enough to attend…Two days after lobbying in Congress for safer gun legislation and background checks, was the Parkland shooting. Even though our legislators listened, nothing was done, as if they were listening but not hearing us, but this made me realize how important it is to be a part of the political process and not give up. I will continue to speak out until my voice is thoroughly heard."
Adele Colson, Congregation Shaarey Zedek – East Lansing, MI; Member of NFTY's National Gun Violence Prevention Board
"[A]ll that is important here, is that people who are affected by a social issue are maintaining power. Men legislate abortions, straight people legislate gay marriage and adoptions, but until now, students couldn't propose solutions for dealing with school safety. Just as we've grown up with mass shootings, we've grown up with excuses for mass shootings. We're too young, we have short attention spans, we don't understand. I was in seventh grade for Sandy Hook, and sure, maybe then I was too young to understand. It honestly wasn't until pretty recently that I recognized how relatively modern these things even are. But as the 'mass shooting generation,' a phrase that I actually saw in my Facebook feed a few weeks ago, we are now stocked up with evidence and ideas, and we are ready to take on this fight."
Julia Feller, Temple Shaaray Tefila – NYC; TaSTY President
"Even though we are young, we have a voice in this community and are able to make changes to better serve people of our generation as well as Judaism as a whole. Right now, in our country, teens of all faiths are coming together to cause change where they see fit. My favorite feature of modern Judaism is its ability to adapt. When you all came to services tonight, there was a certain level of expectancy. You anticipated the prayers we read and the order in which we read them. But there should also have been a level of uncertainty. Every week, we are different than we were the week before. Every week, we learn something new about ourselves and our community. Beliefs we once held may cease to be important, worldviews shift over time. We grow and change, constantly evolving to match our surroundings. Every time we come here together, as a community, it is a new opportunity for learning. It is a new opportunity for friendship. It is a new opportunity to grow. Every day is a new beginning."
Emma Levitt, Temple Emanu-El – Westfield, NJ
Our work is just getting started. Together, we are committed to building inclusive communities, repairing the world, and pursuing justice. Join us in mobilizing Reform Movement teens to lead the way on gun violence prevention. Learn more about why teens are taking the bimah and why you should get involved, then share sermons, speeches and videos from teens in your synagogue with us!
Have something to say about this post? Join the conversation in The Tent, the social network for congregational leaders of the Reform Movement. You can also tweet us or tell us how you feel on Facebook.
Related Posts
Image
2023 marks the 150th anniversary of the founding of the Union for American Hebrew Congregations - now called the Union for Reform Judaism. What should this milestone mean?
Image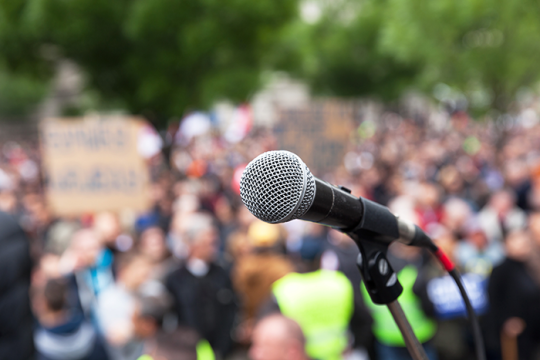 The rise in antisemitism and hate speech on Twitter in recent months has been deeply concerning to us as Jews. Though social media platforms in general must do more to combat hate, Twitter has a particular responsibility to act in this moment.
Image
Here is a list of 11 URJ resources your congregation should take advantage of in the new year.