Image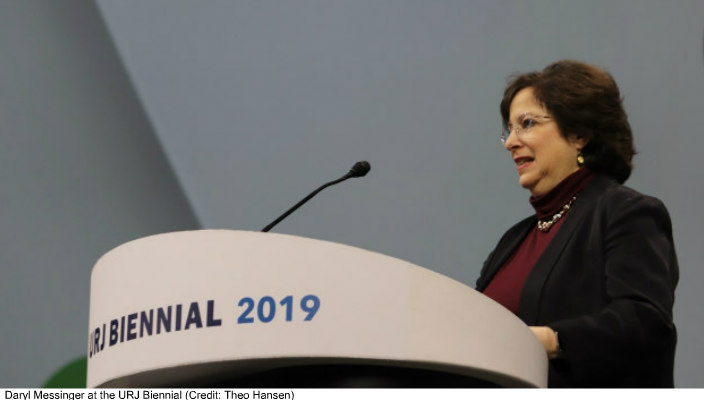 Editor's note: The text that follows was presented before a live audience at the 2019 URJ Biennial on Thursday, Dec. 12.
My friends, I know there is plenty about the world today that may divide us, that we might fear, but what do all of us gathered here have in common? Let me suggest one, deceptively simple answer: We love being Jewish.     
A URJ Camp Newman tradition was for campers to climb to the huge Star of David at the top of a hill at our Porter Creek site and shout, "We love being Jewish!" Miraculously, that Star of David survived the inferno two years ago. And this summer, our campers, once again, were able to climb that Star and yell, "We love being Jewish!"
I've been amazed, impressed, and inspired by all the ways large and small, that we demonstrate our love for being Jewish.   
My friend, organizational coach, outspoken gay-rights leader and last year's URJ Day of Learning expert Joan Garry grew up Catholic, but for the last 30 years she has lived as a Jew, and, with her wife Eilene, raised 3 Jewish kids. This Yom Kippur, she spoke at her congregation about why she decided to, as she says, "come out" as a Jew and formally convert.  Joan explained, "What we as Jews are called to do is how I strive to live my life." Its why she loves being Jewish. 
What are we, as Jewish leaders, called to do?  
Rabbi Aaron Panken of blessed memory, then president of Hebrew Union College-Jewish Institute of Religion, provided a call to action for Jewish leaders in his final address to the graduating class. He said,
"Here's the thing: the Jewish people, and our religious friends of other faiths, have seen this before, and we have lived through it, and thrived and built again and again and again. … We are a people of action and courage, of innovation and fearlessness, of adaptation and endless creativity." 
Every day, I see firsthand the power of our Movement to create innovate, build and rebuild, and thrive. I see how:  
We build and sustain sacred communities so we can adapt to meet challenges.  
We honor a proud history of and an explicit process for speaking out on moral issues – not just as Jews, but as human beings and as citizens of the US and Canada.   
We welcome the stranger, the refugee, and those who often are left on the side-lines of Jewish life.   
We love, believe in, and support a Jewish, democratic, pluralistic Israel. Don't let anyone tell you otherwise.   
Every day I see examples of our Movement's impact that give me inspiration and hope: 
We have impact when our congregations teach young children from diverse backgrounds about Jewish values;  
We have impact when our teens take charge, as they did last year when they compelled the entire Reform Movement to join them in the March for Our Lives. 
We have impact when our members with disabilities are included in all aspects of congregational life as they are at Temple Isaiah in Lexington, MA, and Temple Sinai in Rochester, NY and so many others.
We have impact when more than 200 of us show up in Sacramento, or at the other state capitals where we have statewide RAC advocacy initiatives.   
And I know that leaving Biennial, our impact will grow as we advance our transformative work.
When we work to expand participation of the next generation in our camps, Israel, and youth programs, our impact will be transformational. 
When we participate in the 2020 Civic Engagement Campaign, our impact will be transformational. 
When we commit to being leaders of change in our congregations, our impact will be transformational. 
When we vote in the upcoming World Zionist Congress elections, our impact will be transformational. 
When we address equity, inclusion, and anti-racism within our own congregations, our impact will be transformational. 
Each summer I speak with CITs at URJ Eisner and Crane Lake Camps and ask them, "Why does being Jewish matter to you? Why be involved?" Their answers always move me deeply.  
After one session, though, a camper asked me a question that has stuck with me: "What's the one thing I should remember about today?" I realized there was one important thing I needed to tell them, something I have come to so appreciate these last four years as your chair.
With tears starting to flow [big surprise, I know], I asked them to look around the room. I said, "These people that surround you will show up in good times and bad and hold you up for the rest of your lives. They will be there for you always, and you for them."
I told them, "You have shared a journey, you have found a place, a community, where you belong. And you will give each other strength, courage and hope, even when you thought you had none remaining."
My friends, it has been an honor to serve as your chair.   
Many of you understand the joy, and the challenge, of becoming a "past." There's pride in what has been accomplished and recognition of the work yet to be done.   
In her powerful valedictory High Holy day sermon, my own rabbi, Rabbi Janet Marder, said:   
This is the world we've been given; this is the world where we live. It needs our courage, our strong and steadfast love; our big dreams and our fierce attachment to hope. So let us bring these gifts, in the new year just begun, to neighbors and strangers, and most of all to the ones who are close. 
As I told the campers, we will each be there for one another because we love being Jewish. Because being Jewish means we never give up hope; we are called to care for one another and make a better world – one filled with compassion, justice, and wholeness.
Thank you. 
Looking for more addresses from the URJ Biennial? Check out this roundup.
Related Posts
Image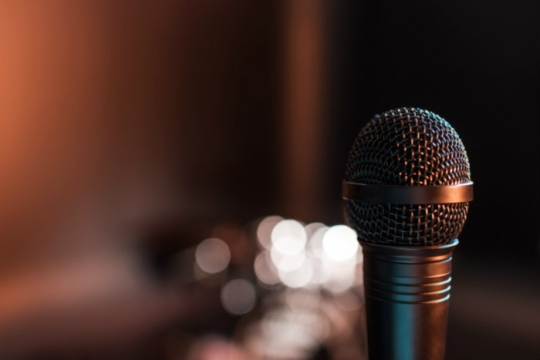 We are two longtime comedians (and even more longtime Jews!) who co-founded The Shalom Collaboration. We create customized, collaborative, virtual, Jewish-inspired improv comedy shows in the middle of a pandemic.
Image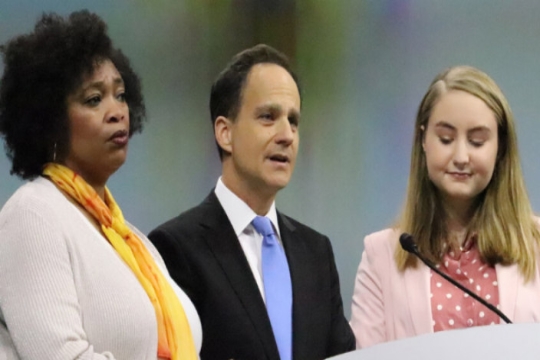 Editor's note: The text that follows was presented before a live audience at the 2019 URJ Biennial.
Image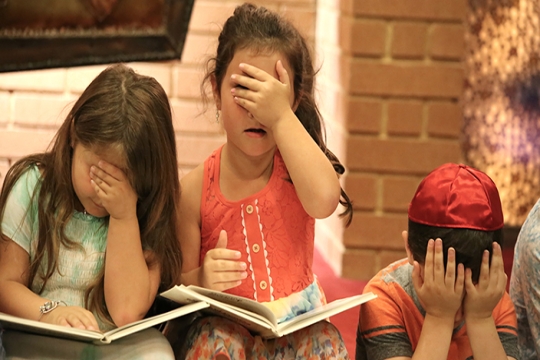 We're thrilled to announce the winners of our 2019 URJ Biennial Photo Contest. We received so many incredible photos depicting the vibrancy and diversity of Reform Jewish congregational life that it was difficult to choose the best.