Image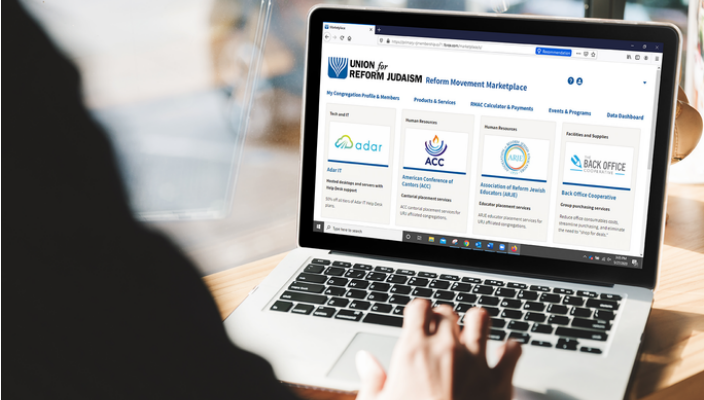 We focus a lot on the intangible aspects of congregational life. We talk about the importance of Jewish community and values. Through the financial support we ask members to give to their congregations, we talk about the important Jewish legacy and tradition that is continued.
The value proposition is not always as evident when we focus on the tangibles. When people pay a lot of money, they naturally want to get something in return they can see and touch. They want a tangible return on their investment. Sometimes, spirituality and tradition can be a hard sell.
For all the effort our congregations put into moving away from the tangible, they deal with tangibles every day. Money is paid for maintenance contracts, technology, staff benefits, and office and building supplies. Membership trends are carefully monitored, and money is collected through membership dues and program fees.
We need to emphasize the intangible, but we can't ignore the tangible.
The Union for Reform Judaism is proud to announce the Reform Movement Marketplace, a groundbreaking new program and technology platform that will help URJ affiliated congregations save money, enhance operations and connect to valuable data insights about their community and their engagement with the URJ.
Every congregation in the Reform Movement is a special organization with a unique history and character, and yet there is so much that connects us. Since launching in 2014, we have seen these connections come alive in The Tent, our online community, where resources, concerns, ideas, and questions are shared by more than 14,000 lay and professional leaders throughout the Movement.
We are smarter together. As we are regularly told by leaders who find great ideas and inspiration in The Tent, "I'm so glad I didn't have to reinvent the wheel."
We have taken that idea one step further in the Marketplace. Beyond sharing concerns and ideas as we do in The Tent, so many of our congregations have the same needs. They have to buy office supplies, and they need to invest in technology. They need to support employees and they need to track their membership. They need to save money and be productive.
By leveraging the buying power of nearly 850 congregations, the URJ has arranged discounts on many key products and services that our congregations may need on a regular basis. From office supplies to software, communication services to human resources, congregations can connect to an ever-growing community of vendors – as well as products and services already offered by the URJ and our partner organizations, such as the CCAR, ACC, and NATA. Through the Marketplace, congregations can also get items they need to reopen, including discounted masks, gloves, hand sanitizers, sanitizer machines, plexiglass desk dividers, and more. 
In addition to connecting with vendors, congregational leaders can log into the Marketplace and update vital information about their congregation, leadership, and membership with the URJ, and they will have access to valuable data dashboard, featuring insights about their congregational community and how they engage with the URJ.
We understand that access to products and services is great, and that potentially sensitive information is included in the Marketplace, so access to the Marketplace is granted at three different permissions levels.
At launch, each congregation's president, executive director/administrator, and rabbi and treasurer (or similar) are invited in at the highest, administrative level, which includes access to all functionality and information. Lower access levels may not have access to certain financial information, or the ability to connect with vendors. However, since the information ultimately belongs to the congregation, synagogue leadership can change and adjust its access levels.
We find ourselves at a moment in time when congregations are evaluating so many aspects of what they do and how they operate. The URJ is eager to help however we can, and we think the products and services offered in the Marketplace will be able to help, regardless of the size or geographical location of your congregation.
To learn more, watch the recording of an informational webinar. If you are a leader at a URJ affiliated congregation, join us in the Marketplace at URJ.org/Marketplace.
Related Posts
Image
New webmasters Lisa Goldstein, RJE, Co-President Karen Freedman, and Treasurer Michelle Foels share what their motivations for choosing RJ Web Builder 3.0 were, what their experiences were like, and what features they most enjoy.
Image
The URJ Pulse Survey and the newly expanded URJ Pulse+ Survey showed that participating congregations were experiencing similar trends. Having the ability to compare your data with that of other URJ congregations will paint a picture that will help you assess where you are and share a more detailed story with your congregants and donors.
Image
Email and other technologies are a huge factor in why employees feel like they're always on the clock. This "always-on" culture accelerated while synagogues began facing declining membership before the pandemic and has only intensified since. Even if clergy or staff are cut, the work demands don't decrease. As a result, remaining clergy or staff or volunteers are even more overwhelmed and are burning out at alarming rates.