Contact:
David Billotti, 646-732-2733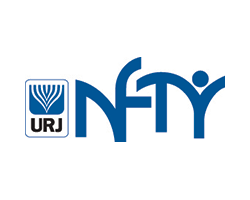 January 25, 2017; New York, NY – Representing the next generation of organizational leaders, NFTY – the North American Reform Jewish Youth Movement - will holds its biennial Convention on February 17 through 20, 2017, in Chicago, IL. They will be joined by nearly 200 adult lay leaders, professionals, clergy, and stakeholders who will attend the concurrent Youth Summit – a professional development conference.
This year, NFTY Convention and the Youth Summit will focus on the theme of "Supporting Teens and Giving them Agency." The convention will feature the launch of a new racial justice campaign, designed by teens and youth leaders to inspire young people to take a leading stance against oppression and to advocate for positive change.
"As Jews, we are taught not to desist from the work, but to address issues that concern us. NFTY Convention will enable our youth, and those who support them, to do just that – in areas including racial justice, economic injustice, LGBTQ and gender equality, the environment, and pluralism in Israel," said URJ Vice President of Youth, Miriam Chilton. "Chicago's cityscape, unique culture, and educational institutions offer the progressive setting we were looking for this year."
Highlights of NFTY Convention will include:
Speakers, musicians, and performers: Chicago-native Pastor Chris Harris; Emmy-nominated filmmaker Tiffany Shlain; singer/songwriter Dan Nichols; and the world-famous Second City comedy troupe
Off-site opportunities in Chicago will include visits to: Northwestern University; DePaul University; DuSable Museum of African American History; Pushing the Envelope Farm; the American Cancer Society; and Or Tzedek, the Jewish Council on Urban Affairs   
Issue-focused breakout sessions that provide strategies to address racial justice; immigration; gender expression (LGBTQ) and equality; economic injustice/poverty; health and wellness; freedom of religion and interfaith relations; environmental issues and stewardship; and pluralism in Israel  
15+ Creative expression labs for teens to express their passion through: songwriting, drama, dance, comedy and improve, photography, video and film, slam poetry, athletics, and more
Election of leaders for the 2017-2018 North American Board of NFTY, the governing body of youth leaders who work to maintain and progress the Reform Youth Movement
"This year, NFTY Convention is embracing the model of specialty programming. We want teens and adults in the youth engagement field to be able to focus on the issues they are most passionate about. Then, we give them the tools and resources they need to act on those issues," said Rabbi Elizabeth Zeller, NFTY Director of Learning and Innovation. "Teens want to change the world. Rather than watching current events unfold, they are ready to take a stand."
The Youth Summit at NFTY Convention is the leading professional conference for adults working specifically with teens in Reform Jewish congregations, giving teens and adult participants opportunities to study, worship, learn, and network together.  
Highlights of the Youth Summit will include:
Revamped peer groups giving youth professional in similar positions a chance to collaborate, reflect, and learn from one another
Uplifting Shabbat dinner, services, and song session with over 1,000 teens and adults
Keynote by Jill Bass of the Mikva Challenge, a leading organization empowering teens to be informed community leaders 
Innovative workshops to explore the power of mentorship and successful models of engagement: led by the iCenter, OneTable, and Hillel International; Emily Messinger of the URJ's Northeast Teen Collective; Rabbi Dena Shafer of the Jewish Community Federation of Baltimore, and more
Other speakers will include: President of the Union for Reform Judaism Rick Jacobs; Assistant Director of Recruitment and Admissions of HUC-JIR Rabbi Andrew Goodman
Evening receptions with Youth Summit participants to network and socialize
"NFTY Convention and Youth Summit is an incredible opportunity to connect with our peers and to learn from experienced leaders," said NFTY President Kathryn Fleisher. "I can't think of a better time to have this event. It will amplify our power and ability as young people to change the world more than ever before. "
###
About NFTY 
For over 75 years, NFTY (the Reform Jewish Youth Movement) has offered thousands of young people the opportunity to explore and live Reform Judaism. Through programs that are offered by nearly 500 Reform congregations, 19 geographic NFTY regions, and on a North American level, teens are encouraged to forge Jewish identities in consonance with the values of Reform Judaism. Participation in NFTY helps teens build confidence, friendships, and leadership skills through experiential youth-led educational programming including social justice projects, worship, and community-building initiatives. NFTY, open to teens in grades 6-12, is part of the network of programs and camps of the Union for Reform Judaism.
About the Union for Reform Judaism 
The Union for Reform Judaism (URJ) builds community at every level—from the way we collaborate with congregations, organizations, and individuals to how we make connections across North America to advance contemporary and inclusive Jewish life. Providing vision and voice to transform the way people connect to Judaism, we help congregations stay relevant and innovative, motivate more young Jews to embrace Jewish living, agitate for a more progressive society, and foster meaningful connections to Israel.
Founded in 1873, URJ has grown into the largest and most powerful force in North American Jewish life, with nearly 900 member congregations and work that inspires, connects, and educates millions of people. Our legacy, reach, leadership, and vision mean that we can unite thousands of years of tradition with a modern, evolving Judaism to strengthen Jewish communities today and for future generations.
Visit us at 
www.URJ.org
 to learn about our social justice initiatives, camps and programs for young Jews, services for congregations and communities, and how you can work with us to create a more just, whole, and compassionate world. Enjoy related content at 
ReformJudaism.org 
and connect with URJ on 
Twitter
 and 
Facebook
.