Contact: Lauren Theodore at 212-650-4154
April 27, 2017, New York, NY –  ReformJudaism.org, the flagship website of the Union for Reform Judaism (URJ), reaching more than two million visitors annually, has launched a new weekly podcast titled Stories We Tell.
Featuring a diverse roster of outstanding storytellers, each week will provide a new story for listeners to reflect on during Shabbat and beyond. Intended for listeners of all ages, each story provides a new lesson and insight based in Jewish tradition.
"Stories reach people like nothing else does," said Rabbi Leora Kaye, Director of Program for the URJ. "Storytelling is one of my favorite ways to engage with Jewish thought, and it's so exciting to bring that tradition into podcast form. It's a unique, lively, and engaging way to make these stories come alive and reach a wider audience." 
Mark J. Pelavin, Chief Program Officer of the URJ, added, "This is the perfect match of form and function. Storytelling is at the core of many of the most popular podcasts, from This American Life to The Moth to S-Town."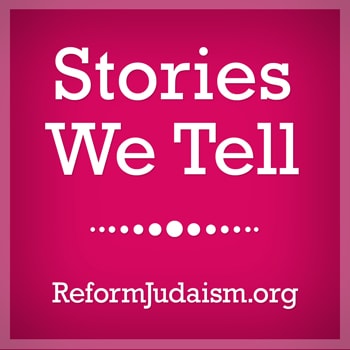 Released on National Tell a Story Day (April 27), the first episode of Stories We Tell features Cantor Ellen Dreskin and is titled "The Rabbi and the Monastery." It's the story of a monastery in the woods that has fallen on hard times. The head monk, or Abbot, seeks the guidance of a neighboring rabbi, who gives a piece of curious advice: "I know how it is, the spirit has gone out of the people… I can only tell you one thing: the messiah is among you." As the story unfolds, this piece of advice has a tremendous impact on the monks, the monastery, and all who visit the woods. And the surprise ending's lesson resonates for all podcast listeners in our day—when everybody treats themselves and each other with the respect they would show the messiah, amazing things can happen. 
ReformJudaism.org's other weekly podcast, On The Other Hand: Ten Minutes of Torah, hosted by Rabbi Rick Jacobs, president of the Union for Reform Judaism, has just passed its one-year anniversary. On The Other Hand, which is consistently among the most popular religion podcasts on iTunes, offers insights into each weekly Torah portion, helping listeners to open up Jewish thought and its contemporary influence on life today.
Since its launch in March 2013, ReformJudaism.org has reached over 7.5 million users, becoming a popular destination for people seeking information about Jewish life, practice, learning, culture, and social justice from a modern Jewish perspective. ReformJudaism.org offers "how-to" videos, holiday guides, recipes, Torah commentaries, blessings, information about Israel, articles on parenting, Jewish practice and rituals, social justice and advocacy, and a lively blog. Visit ReformJudaism.org to find answers to questions, educational information on Jewish practice and holidays, a directory of Reform Jewish congregations, listings of Judaism classes across North America, and more.
###
About the Union for Reform Judaism
The Union for Reform Judaism (URJ) builds community at every level—from the way we collaborate with congregations, organizations, and individuals to how we make connections across North America to advance contemporary and inclusive Jewish life. Providing vision and voice to transform the way people connect to Judaism, we help congregations stay relevant and innovative, motivate more young Jews to embrace Jewish living, agitate for a more progressive society, and foster meaningful connections to Israel.
Founded in 1873, URJ has grown into the largest and most powerful force in North American Jewish life, with nearly 900 member congregations and work that inspires, connects, and educates millions of people. Our legacy, reach, leadership, and vision mean that we can unite thousands of years of tradition with a modern, evolving Judaism to strengthen Jewish communities today and for future generations.
Visit us at www.URJ.org to learn about our social justice initiatives, camps and programs for young Jews, services for congregations and communities, and how you can work with us to create a more just, whole, and compassionate world. Enjoy related content at ReformJudaism.org and connect with URJ on Twitter and Facebook.