September 20, 2018, NY, NY – The Union for Reform Judaism's youth programs create quality, lifelong Jewish outcomes, with benefits that extend to the next generation. New research proves that across different types of experiences, the Reform Movement delivers youth programs that have long-lasting impact on participants' Jewish identity. Alumni choose to actively participate in Jewish community, find meaning in Jewish ritual, do good in the world, and choose Jewish education for their children.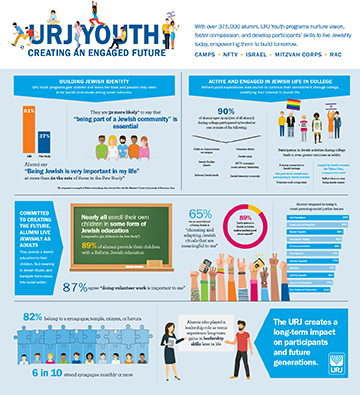 ​
​View infographic
A new study conducted for the Union for Reform Judaism (URJ) by leading impact evaluation firm Rosov Consulting demonstrates lifelong Jewish outcomes for alumni of URJ youth experiences such as NFTY, the Reform Jewish Youth Movement, and URJ Camps.
The survey of more than 3,000 alumni (aged 25+) was compared to the Pew Center's study of American Jewish Life and offers a representative sample of more than 375,000 alumni of URJ youth programs. The detailed findings and methodology of the study are available at www.URJYouth.org/Impact.  
"The data vividly demonstrates that having had Reform Jewish experiences as a teen – in the context of NFTY, URJ Camps, or other congregational teen experiences – is strongly associated with an array of Jewish outcomes later in life, the effects of which are boosted by Jewish engagement during college-age years," Miriam T. Chilton, URJ Vice President of Youth, said of the findings.
"Our research on the URJ's impact reveals a continuum of influence that starts during a person's childhood and youth, continues through their college years, and sees expression in Jewish engagement and identification during adulthood, even many years later," said Alex Pomson, Managing Director, Rosov Consulting.
Among the key findings:   
Alumni care about being Jewish and feel that Jewish community is essential (81%). Alumni say "Being Jewish is very important in my life" at more than 2x the rate of those Reform-identifying Jews in the 2013 Pew Study of American Jews (81% vs. 37% in Pew). Beyond the great importance of identifying as Jewish, alumni care deeply about identifying as Reform Jews. 
Alumni care about finding meaning in Jewish rituals. Alumni care deeply about living Jewish life with meaning and intent. In fact, about two-thirds (65%) of alumni say that "choosing and adapting Jewish rituals that are meaningful to me" is an essential part of what being Jewish means to them. Nine in ten alumni (91%) agree or strongly agree that "participating in Jewish activities makes me feel good about myself." These findings bring into focus a signature outcome of Reform youth experiences – choosing and adapting meaningful Jewish rituals.  
Alumni care about doing good. Alumni agree (87%) that "doing volunteer work is important to me." They also say that Jewish concepts of Tikkun Olam inspire them to make the world a better place. Alumni credit Reform youth experiences with deeply influencing their views and actions on today's most pressing social justice issues, including anti-Semitism, gun violence prevention, LGBTQ equality, and more.  
Alumni provide Jewish education to their children (98%). Jewish education is all but universal among the children of alumni, with the great majority (89%) reporting that they choose some kind of Reform Jewish education for their children.  
Reform Movement teen experiences translate into greater Jewish participation in college, which in turn is a catalyst for greater Jewish engagement later in life. Reform Movement teen experiences are associated with high levels of Jewish participation during young adulthood, including participation in Hillel or other Jewish programs on campus; studying Jewish content; volunteering for Jewish causes; and working for URJ camps or as NFTY counselors in college. Participation in multiple teen experiences seems to have a compound effect on college-age engagement.  
Alumni exhibit similar social and behavioral outcomes to alumni of other Jewish movements. Over the past decades, several studies have been conducted which look at the long-term effects of Jewish youth movements and summer camps on their alumni. While these studies vary somewhat in their methodological approach, they offer several points for comparison to the URJ's study. Overall, alumni of Reform Movement teen experiences share similar levels of Jewish engagement outcomes with alumni of other movements, in categories including Jewish identity, Jewish friendships, and synagogue membership.   
The data supports the importance of young people having immersive Jewish experiences. As the Jewish community faces challenges to retain active participants, the URJ's youth programs prove to be an antidote, offering a future of engaged adults and active global citizens looking to pass along their Jewish values and education to their children.
Methodology: In September 2017, a survey created by Rosov Consulting was fielded to alumni of Reform teen experiences and others connected with the Reform Movement through a variety of distribution channels. The survey received 3,296 responses of which 2,180 were alumni of Reform teen experiences. Post-sample weights were applied to correct known biases in the sample in terms of age and gender. The data collected by the Pew Research Center in its 2013 study of Jewish Americans was used for this purpose, as it is presumed that the Pew data offer a reliable representation of the age and gender among all raised-Reform individuals in the United States. The Rosov Consulting team has undertaken two parallel approaches to analyze and make meaning of the data collected, comparative sample and multiple hierarchical regression analysis.
Learn more: www.URJYouth.org/Impact  
###
About the Union for Reform Judaism
The Union for Reform Judaism (URJ) builds community at every level—from the way we collaborate with congregations, organizations, and individuals to how we make connections across North America to advance contemporary and inclusive Jewish life. Providing vision and voice to transform the way people connect to Judaism, we help congregations stay relevant and innovative, motivate more young Jews to embrace Jewish living, agitate for a more progressive society, and foster meaningful connections to Israel.
Founded in 1873, URJ has grown into the largest and most powerful force in North American Jewish life, with nearly 900 member congregations and work that inspires, connects, and educates millions of people. Our legacy, reach, leadership, and vision mean that we can unite thousands of years of tradition with a modern, evolving Judaism to strengthen Jewish communities today and for future generations.
Visit us at www.URJ.org to learn about our social justice initiatives, camps and programs for young Jews, services for congregations and communities, and how you can work with us to create a more just, whole, and compassionate world. Enjoy related content at ReformJudaism.org and connect with URJ on Twitter and Facebook.