Contact: Lauren Theodore at 212-650-4154
New York, NY; September 13, 2016 – Reflecting recent growth in the quantity and quality of year-round youth engagement, and to ensure that the Union for Reform Judaism (URJ) continues its leadership engaging the next generation in powerful, meaningful, and fun Jewish experiences, URJ Vice President of Youth Miriam Chilton announced today that Michelle Shapiro Abraham, MAJE, RJE has been promoted to Director, Learning and Innovation. The URJ's Youth engagement initiatives incorporate 60 immersive programs reaching more than 23,000 youth, teens, and young adults.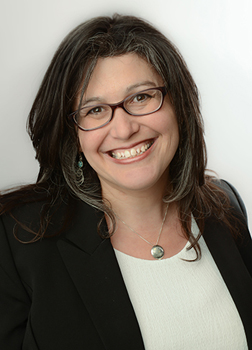 As Director of Program Development for the URJ's Campaign for Youth Engagement since 2014, and before that as a consulting partner, Abraham creates unique programs and experiences that transform the lives of thousands of Reform Jewish youth, teen leaders, camp staff, and congregational educators and youth professionals.

In her new role, Abraham will have responsibility for evaluation, professional development, and curricular and program design. She will oversee the integration of the URJ's comprehensive youth programs internally and with youth professionals across the entire Reform Jewish movement, and will provide extensive leadership development opportunities.

Abraham is a 1996 graduate of HUC-JIR's Rhea Hirsch School of Education (RHSOE) and has worked in the field of Jewish Education for over 20 years.

Known as "an educator's educator," Abraham has authored children's books and siddurim, written widely-used curricula, directed a synagogue school, and created and consulted on an array of summer camping programs. Her multi-faceted professional career – including a dozen years as Director of Education at Temple Sholom in Fanwood, NJ – reflects that Jewish education transcends labels, boundaries, and silos to make lasting impressions and generate short- and long-term rewards.
Last year she was honored with the prestigious Covenant Award for excellence in the field of Jewish Education by the Covenant Foundation. The Foundation stated that "Abraham demonstrates the power of inspired Jewish education to create change and drive impact." Its chairman lauded Abraham for elevating and inspiring the field "with unwavering devotion, strong leadership, sacred obligation to the future, and dynamic approaches that fuel individual community enrichment, cohesion, and growth."

"In her new role, Michelle will help insure that the URJ will continue to increase the number of teens we are reaching and the diversity of our programs, with more year-round engagement opportunities and new initiatives on social action, Israel, and professional development," Chilton said. "With Michelle's gifts as an educator and leader, and her passion for sharing our sacred tradition, the URJ's Youth efforts will continue providing the quality programs our movement deserves and the type of leadership we alone are capable of providing as we work to inspire more young Jews to embrace Jewish life as a path to meaning, purpose, and joy."

"It is a blessing to do this work, where every day we have countless opportunities to design innovative educational and leadership opportunities that deliver strong and lasting impact," Abraham said. "We continue to build on the URJ's youth engagement efforts by connecting, empowering, and partnering with students, program participants, educators, youth professionals, rabbis, cantors, families, and congregational leaders throughout Reform synagogues, classrooms, offices, camps, retreats, conferences, and more. Our bold, collaborative efforts share the same goal: creating meaningful and lasting connections that lead to a strong Jewish future."
###
About the Union for Reform Judaism
The Union for Reform Judaism (URJ) builds community at every level—from the way we collaborate with congregations, organizations, and individuals to how we make connections across North America to advance contemporary and inclusive Jewish life. Providing vision and voice to transform the way people connect to Judaism, we help congregations stay relevant and innovative, motivate more young Jews to embrace Jewish living, agitate for a more progressive society, and foster meaningful connections to Israel.
Founded in 1873, URJ has grown into the largest and most powerful force in North American Jewish life, with nearly 900 member congregations and work that inspires, connects, and educates millions of people. Our legacy, reach, leadership, and vision mean that we can unite thousands of years of tradition with a modern, evolving Judaism to strengthen Jewish communities today and for future generations.
Visit us at www.URJ.org to learn about our social justice initiatives, camps and programs for young Jews, services for congregations and communities, and how you can work with us to create a more just, whole, and compassionate world. Enjoy related content at ReformJudaism.org and connect with URJ on Twitter and Facebook.