Contacts:
Alaina Yoakum, AYoakum@urj.org, 415-991-0364
Lauren Theodore, LTheodore@urj.org, 212-650-4154
Santa Rosa, CA, Nov. 1, 2016 – On November 5, the Union for Reform Judaism's Camp Newman will dedicate the Koret Conference Center at URJ Camp Newman, a sacred new space for the Northern California Jewish community to enjoy immersive year-round Jewish experiences. The Koret Conference Center's completion is a critical phase in the major development project completing the Jewish retreat center at URJ Camp Newman.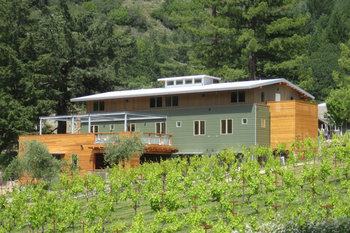 With a $4 million grant from the Koret Foundation, the Koret Conference Center, which will be officially dedicated on November 5, enables URJ Camp Newman to significantly expand its facilities to serve upwards of 13,000 individuals a year, more than tripling its retreat usage. The Koret grant is the largest single gift URJ Camp Newman has ever received and one of the largest in the history of the Reform Movement's camping system.
URJ Camp Newman is raising over $30 million to create a thriving year-round facility and enhance Jewish life for the entire Northern California Jewish community for years to come. Over $20 million has been raised to date, with support from all sectors of the local community, enabling completion of core infrastructure upgrades and construction of 10 new buildings for housing and program space, including the Osher Residence Hall, Albert & Janet Schultz Plaza, and future site of the Jewish Community Federation and Endowment Fund Pavilion. Camp Newman's Advisory Board is now focused on raising the funds needed to build the Campus Center, a vital year-round dining and multi-purpose community facility.
Dedicated on September 24, 2016, the Osher Residence Hall was funded by the Bernard Osher Jewish Philanthropies Foundation, while the Schultz Plaza was funded by the Albert & Janet Schultz Supporting Foundation of the Jewish Community Federation and Endowment Fund, and the Pavilion was funded by the Jewish Community Federation and Endowment Fund.
Participants at the special Shabbat service, dedication and ribbon-cutting ceremony, and welcome celebration will include members of the Koret Foundation Board, URJ North American Board of Trustees, the URJ Camp Newman Advisory Board, and camp community.
"With the Koret Conference Center at Camp Newman, our vision is becoming reality — a premier year-round retreat setting for Northern California Jewish organizations, families, and individuals to connect with each other through immersive Jewish experiences," said Ruben Arquilevich, Camp Newman Executive Director. "Based on the demand we're seeing in new retreats, there is clearly a need for this unique local resource, combining state-of-the-art facilities, over 485 acres of wilderness, sacred spaces, and a thoroughly Jewish environment."
"The extraordinary support from the Koret Foundation, and from all of Camp Newman's donors, has already made a significant direct impact, and it also continues to inspire others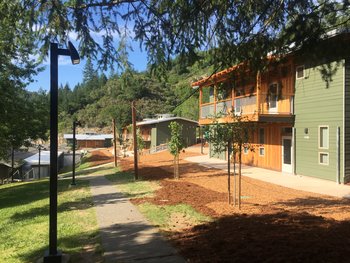 to support the vital and ongoing retreat center expansion," said Jim Heeger, Board Chair for the URJ Camp Newman Advisory Board and lay leader at Congregation Beth Am in Los Altos Hills. "The true thanks to our funders will be the countless ways that the Koret Conference Center will serve our community by making richer Jewish experiences possible."
"There is no way to overestimate the value of having URJ Camp Newman as a hub of Jewish life in Northern California," said Daryl Messinger, Chair of the URJ North American Board of Trustees and lay leader at Congregation Beth Am. "With the exponential growth and expanded reach of the new retreat center, Camp Newman can better help realize the URJ's strategic vision: to strengthen communities that transform the way people connect to Jewish life." 
"The Koret Foundation shares Camp Newman's dedication to strengthening the Jewish community," said Dr. Anita Friedman, Koret Foundation President. "We are honored to help create this important new Bay Area resource that will allow Camp Newman to serve not only young people but also the Bay Area community as a whole."
"The Koret Conference Center at URJ Camp Newman is a gem in form and in function, enabling meaningful opportunities to strengthen Judaism today and for future generations," said URJ President Rabbi Rick Jacobs.
"Because of this exciting new retreat center, URJ Camp Newman will inspire even more young people, and people of all ages, to embrace Jewish life as a path to meaning, purpose, and joy," said URJ Vice President of Youth Miriam Chilton.
###
About URJ Camp Newman
Located in the heart of the Wine Country on the largest tract of Jewish land in Northern California – over 485 acres – URJ Camp Newman inspires a love of Judaism, 365 days a year. We connect children, youth and adults to an expansive menu of fun, immersive Jewish experiences in Santa Rosa and in your community, all year long. During the academic year, over 7,500 people from the greater Jewish community experience the joy of living Judaism 24/7 when they come to Camp Newman for retreats and conferences. Every summer, over 1,500 young Jews begin a journey of lifelong Jewish living and learning at Camp Newman. They join a loving community guided by over 200 Jewish mentors, educators and leaders where friendships thrive and self-esteem flourishes. Camp Newman is supported by the Union for Reform Judaism (URJ), the largest and most diverse movement in North America, and is part of the URJ's North American camping system.
About the Koret Foundation
Since 1979, the San Francisco-based Koret Foundation, a private philanthropic organization, has invested over $500 million to strengthen the Bay Area region, Israel, and Poland. Koret invests in strategic, collaborative solutions to leverage its grantmaking dollars. By funding marketbased solutions to impact social policy issues, Koret is committed to supporting Bay Area anchor institutions, the Jewish community, and educational opportunities.
About the Union for Reform Judaism
The Union for Reform Judaism (URJ) builds community at every level—from the way we collaborate with congregations, organizations, and individuals to how we make connections across North America to advance contemporary and inclusive Jewish life. Providing vision and voice to transform the way people connect to Judaism, we help congregations stay relevant and innovative, motivate more young Jews to embrace Jewish living, agitate for a more progressive society, and foster meaningful connections to Israel.
Founded in 1873, URJ has grown into the largest and most powerful force in North American Jewish life, with nearly 900 member congregations and work that inspires, connects, and educates millions of people. Our legacy, reach, leadership, and vision mean that we can unite thousands of years of tradition with a modern, evolving Judaism to strengthen Jewish communities today and for future generations.
Visit us at www.URJ.org to learn about our social justice initiatives, camps and programs for young Jews, services for congregations and communities, and how you can work with us to create a more just, whole, and compassionate world. Enjoy related content at ReformJudaism.org and connect with URJ on Twitter and Facebook.
For Interviews:
Koret Foundation: Anita Friedman, President Koret Foundation, anitaf@jfcs.org, 415.449.1200
Osher/Schultz/JCF: Ilan Kayatsky, Senior Director of Strategic Communications and Marketing at the Federation, ilank@sfjcf.org, 415.512.6218
URJ Camp Newman:
Ruben Arquilevich, URJ Camp Newman Executive Director, rarquilevich@urj.org, 415.233.1819
Jim Heeger, URJ Camp Newman Advisory Board Chair, jim@heegerassociates.com, 650.996.2252