These days, the calendar seems to rush by faster than ever. The school year is winding down, the temperature is ticking up, and the URJ Youth team is eagerly counting down to summer!
In our collective efforts to engage young people in meaningful Jewish life, your partnership is invaluable. Together, we've achieved incredible successes of which we all can be proud:
These successes have led to this extraordinary moment: This year, 21,000 Reform Jewish youth, teens, and young adults – including more than 13,000 this summer alone – will immerse themselves in vibrant, living Judaism around the world.
In addition, more than 500 congregational leaders will serve as faculty at all 16 (soon to be 18!) URJ summer camps, strengthening the bonds between our camps and congregations and building communities that inspire students and adults throughout the year.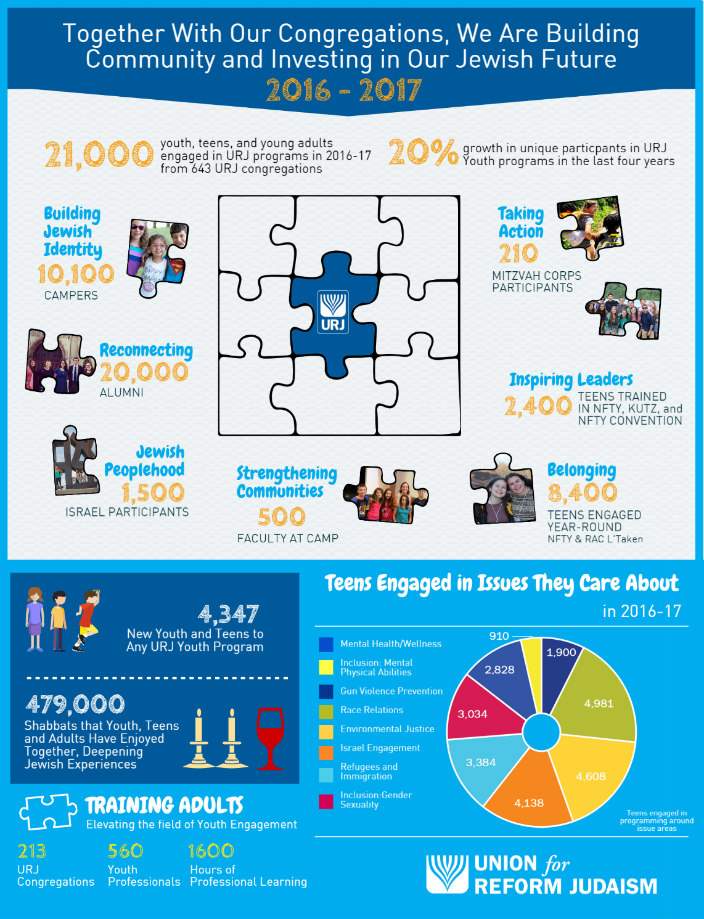 Of course, we're pleased to share these exciting numbers, but what makes the Reform Movement truly unique – and demonstrates our greatest impact – is the depth of our program content and our commitment to creating year-round experiences.
As we count down to what promises to be our best summer yet, I am proud – as a parent, as a Reform Jew, and as a leader of our movement – that we have arrived at this moment with so many successes to share. Join me in hailing the summer and together, let's celebrate our youth, teens, and young adults as they build a more whole, just, and compassionate world.
Check out 11 ways your congregation can support youth and teens away for the summer.
Know a young person who's looking for an exciting summer? Space is still available at many URJ summer programs. Find a program or contact the URJ Youth team.
Know an 18-26-year-old Jewish young adult? Save a spot for them on a free URJ Kesher Birthright Israel trip this winter!
Have something to say about this post? Join the conversation in The Tent, the social network for congregational leaders of the Reform Movement. You can also tweet us or tell us how you feel on Facebook.