Image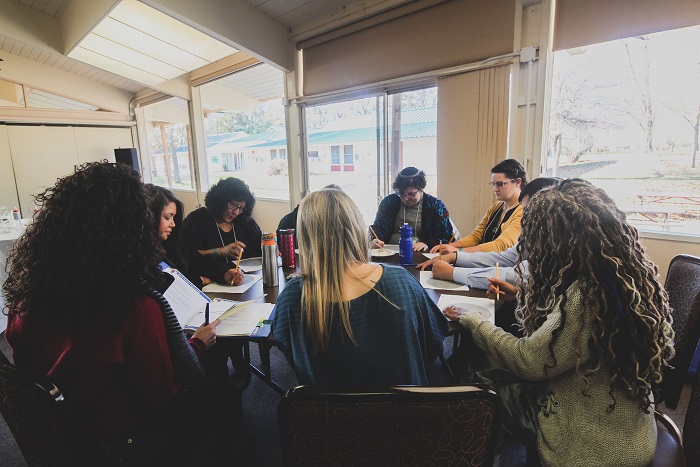 You might be thinking that your community has years of experience assembling committees and taskforces, and you already have a great blueprint for building your DEI Working Group. However, we are asking you to assemble your DEI focused group in a potentially different way than you might have done previously. Visit How to Create a DEI Working Group.
Audacious Hospitality Diversity, Equity, and Inclusion Community Assessment
Fill out this short form to download the Assessment.
The Audacious Hospitality Diversity, Equity, and Inclusion Community Assessment is a starting point for reflection, conversation, and action within your community. It is intended to help your community identify the steps needed to become a community rooted in principles of DEI. This assessment will help you build on your existing measures and aid in initiating new ones. Think of this as an idea checklist: a vision of the type of community that you strive to be. In addition, there is also a version available for your camp community. Please fill out this short form to download the camp DEI Assessment.
As part of the Community Assessment, you will be asked to first create a DEI Working Group. See above for a resource to guide you in creating this group.
Linked below are select documents created by the Audacious Hospitality team designed to assist you in making your community more equitable and inclusive.
Audacious Hospitality Pilot Toolkit
The Audacious Hospitality Pilot Toolkit is an effort to support congregational and Jewish communal leaders - clergy, staff, lay leaders, members of the congregation, and community members at-large throughout North America - as we work to embrace the diversity that is the reality of modern Jewish life. Fill out this short form to download.
Throughout the Toolkit, we provide practical resources to help you create inclusive communities grounded in meaning, understanding, and connection. That said, there is no "one size fits all" resource for any one community. Each congregation, community, and group will have its own set of needs and challenges.
Some topics/resources included in the Toolkit are listed below.
Five Qualities of Effective Greeters
Creating A Welcoming Physical Environment: A Building Assessment
Steps to Creating Inclusive Congregations and Communities
A Welcoming Website Checklist
Implicit Bias: A Self-Assessment

Audacious Hospitality Educational Resource Modules
Fill out this short form to download both the LGBTQ Educational Resource Module and JOC Educational Resource Module.
LGBTQ (Lesbian, Gay, Bisexual, Transgender, Queer) Educational Resource Module
Resources about how to address homophobia and heteronormativity in your community including:
LGBTQ History in the Reform Movement
Gendered Language and the Importance of Pronouns
Aliyot for All Genders: Inclusive Options for Calling People to the Torah
Designing Forms for Sexuality and Gender Diversity and Inclusion
Jews of Color (JOC) Educational Resource Module
Resources about to how to create a more antiracist and inclusive environment including:
Jewish Identity and Jewish Diversity
Reconsidering Being Colorblind
What Are Microaggressions and How Can We Address Them?
Book Lists for Inclusion, Diversity, and Racial Justice for Kids and Adults