Image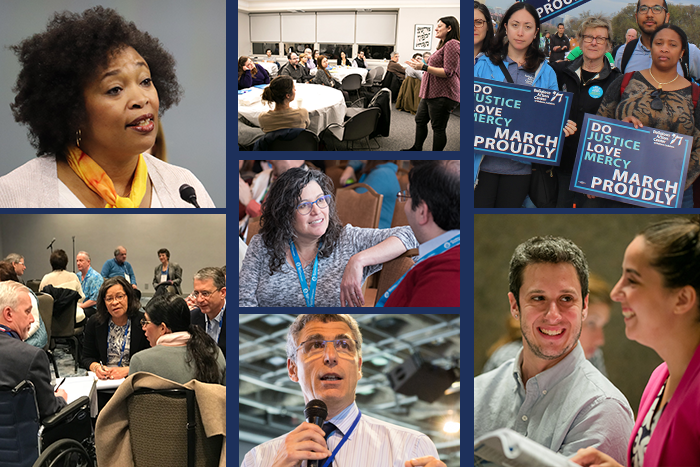 Last fall, the URJ announced that we would not be holding Biennial or Consultation on Conscience in 2021. Now, we are thrilled to share that we have re-imagined those gatherings as one brand-new, compelling Reform Jewish leadership conference.
Leading Change: A URJ Summit will be held May 1-3, 2022, in Washington, D.C., with both in-person and virtual attendance options.
---
Event FAQ: What You Need to Know
This section will be updated as more information becomes available. You may also sign up to receive email updates.
Q: Who should attend this event?
A: If you are a leader in the Reform Movement, the URJ Summit is for you.
If you are an existing leader — whether in social justice or in transformational change through your congregation, camp, or community —who thrives on rolling up your sleeves and making things happen, the URJ Summit is for you.
If you are an emerging leader hungry to learn more about how you can be effective advancing important causes both in your congregation and beyond, the URJ Summit is for you.
The URJ Summit will offer cohort experiences for these three leadership groups:  
Leaders focusing on social justice
Congregational leaders (clergy, professional, and lay) who are tackling critical challenges in their communities
Emerging leaders who hope to lead us into the future
Q: What will programming entail?
A: As an attendee, you will be inspired by distinguished speakers and breakout sessions – and after those sessions, you will have the opportunity to network, build community, and process what you've learned with other leaders in your cohort, across cohorts, and with those with whom you identify more broadly. 
The URJ staff and a team of lay leaders are hard at work creating a program that will allow participants to grow both personally and professionally. Stay tuned for additional information, as it becomes available, about programming.
Q: Will there be an online component?
A: Yes. We are in the process of creating an online experience that will enable congregational groups to convene in synagogue settings to attend selected sessions and process them together afterward.
Q: Is registration open for the URJ Summit?
A: Not yet. To receive updates about the event, including registration timing and information about pre-event opportunities, please fill out this expression of interest form.
Please note that in order to maximize the impact of the URJ Summit, attendance size will be significantly limited compared to past URJ large-scale gatherings.
Q: Is this event a new URJ staple?
A: We are excited to offer an experience that will inspire and empower leaders for change — yet we realize the URJ Summit won't be for everyone. After the event, we will evaluate where we go from here with future gatherings.  
Q: How can I stay updated about this event?
A: As our program comes together, we'll be sharing updates and announcements via email, the URJ blog, and social media, including Facebook and Twitter. You can also sign up to receive email updates as soon as they become available, and you'll be the first to know when registration opens.
For additional questions, please contact LeadingChange@URJ.org.