Through advocacy campaigns, hands-on volunteering opportunities, and training for leaders, the URJ galvanizes people throughout North America to ensure religious freedom, pluralism, acceptance, and justice.
Reform congregations and their leadership are strengthened and emboldened as they enlist the support of their members to repair the world. Acting together with our congregations, other Reform institutions, and with partners of all faiths, we can work to make a difference by leveraging our collective power.
The Religious Action Center of Reform Judaism
For nearly six decades, the Religious Action Center of Reform Judaism (the RAC) has been the hub of Jewish social justice work. As a joint instrumentality of the URJ and the Central Conference of American Rabbis, the RAC represents the values of the largest and most diverse Jewish Movement in North America. The RAC mobilizes around federal, state, and local legislation; supports and develops congregational leaders; and organizes communities to create a world overflowing with justice, compassion, and peace. As part of a 501(c)3 nonprofit organization, their work is completely nonpartisan.​
The Religious Action Center is under the auspices of the Commission on Social Action of Reform Judaism, a joint instrumentality of the Central Conference of American Rabbis and the URJ with its various affiliates: the American Conference of Cantors, Association of Reform Zionists of America, National Association for Temple Administration, The Association of Reform Jewish Educators, Men of Reform Judaism, Women of Reform Judaism, and North American Federation of Temple Youth.
Image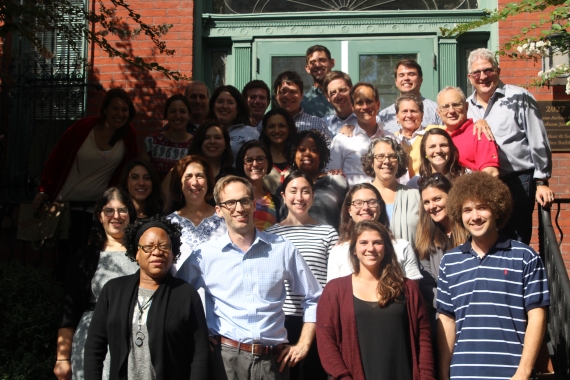 The Reform Pay Equity Initiative
On average, women working full time in the United States are paid just 80 percent of what men in comparable positions are paid. Sadly, the gender pay gap exists also within Jewish institutions at similar rates. The leadership of the Reform Movement recognizes this problem and has created the Reform Pay Equity Initiative to immediately create change on this critical social justice issue. Comprised of 17 organizations coordinated by the Women of Reform Judaism and the Women's Rabbinic Network,  the Reform Pay Equity Initiative will comprehensively assess the salaries of the professionals who serve Reform institutions, develop a plan to address inequities, and evaluate the impact of interventions. Learn more.
Image