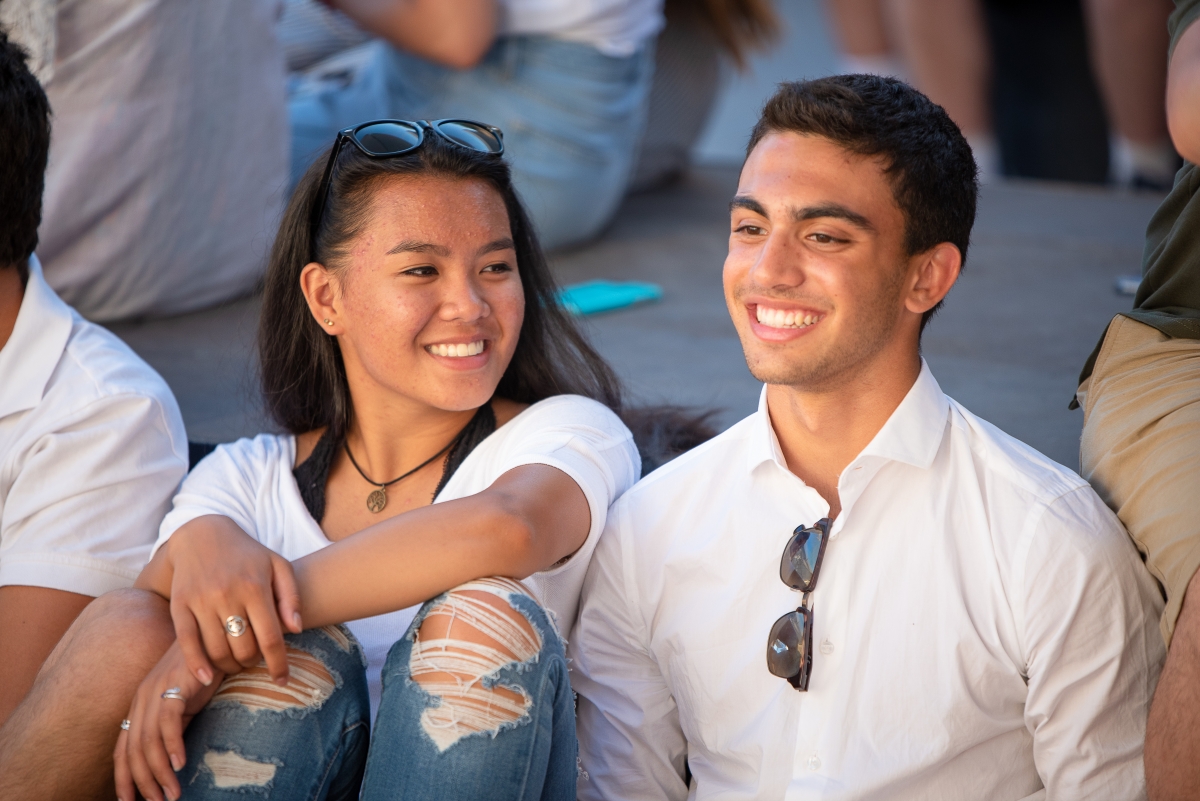 Find your place as a leader in your synagogue, in your community, and in the world. Explore your passions and learn professional skills that will help you stand out and lead, no matter where life takes you. Work with mentors, take action, and make memories that will last a lifetime! 
Fellowships
The skills that will move you forward. The people who can help you reach your goals. The chance to lead your community. Fellowships offer our highest level of leadership training for teens who are ready to take their learning to the next level.
What to expect:
Spend time learning with experts and leaders in the field
Work with peers and mentors in regular online meetings
Get support to implement your own project based on your interests
In Partnership with the American Conference of Cantors
Learn with Jewish music legends and gain concrete skills to lead your community in song and celebration. This prestigious eight-month fellowship is led by Cantor Rosalie Will in partnership with the musical leaders of our movement, including the American Conference of Cantors (ACC).
Applications are due by November 6th, space is limited. Open to 10th-12th graders.
Powered by the Religious Action Center
Connect with social justice leaders from across North America, learn how to organize and take action with experts, and make change in your community and around the world. This fellowship will launch in spring 2021. Open to 9th-12th graders.
Learn more  Let Us Know You're Interested
Leadership Through The Arts Fellowship
Powered by URJ 6 Points Creative Arts Academy
Interested in leading through the lens of artistic expression? Channel your passion for the arts and your hone your leadership skills through the URJ Leadership Through the Arts Fellowship.  Learn with working artists and movement leaders; shape and share your point of view. 
 Register by November 6th, space is limited.  Open to 9th-12th graders.
Navigating Complexity – Israel as a Case Study
Powered by The iCenter
Learn about universal tools and frameworks for navigating complexity thoughtfully and responsibly.  Through music, art, commentary, and the real stories of Israelis, we'll explore democracy, gender equality, religious expression, race and more with the iCenter.. Uncover your own values, deepend your relationship with Israel, and create experiences to teach others what you are learning. 
Register by November 15th, space is limited. Open to 9th-12th graders.
Academies
Work with teachers and peers who share your passions. Learn skills that will help you stand out. Get empowered to lead.
What to expect:
Learn with experts
Meet peers who care about the things you care about
Gain transferable skills
Social Justice Academy
Powered by the Religious Action Center
Meaningful, fun, and actionable Jewish social justice learning and training in a virtual setting, for students in grades nine through 12. At a time when communities need strong, dedicated leaders, we invite high school students to join the RAC Social Justice Academy to expand their skillset to change the world around them to be more whole, just, and compassionate.  
Open to 9th-12th graders.
EdVenture: Certificate in Adaptive Innovation
from NYU
EdVenture is a new initiative for high school students designed for this unique moment in time. The online course was developed by Dr. Nir Tsuk, founder of NYU's Institute for Impact and Intrapreneurship, and is powered by a partnership between the URJ, NYU Bronfman Center and The iCenter. Students who successfully complete the program will earn a Certificate in Adaptive Innovation from the NYU Bronfman Center. In these turbulent times, the study of entrepreneurship and innovation can be a stabilizing force, providing the mindset that will help you understand the new world, navigate it, and change it.
The URJ cohort will launch this winter with space for 30 students. Open to 9th-12th graders.
(Please note: while the program details are the same, the URJ cohort dates are not listed on the EdVenture site.)
Learn more  Let us Know You're Interested
Emerging Jewish Thought Leaders Fall Academy: Jewish Values and American Democracy
Join the scholars of the prestigious Sholom Hartman Institute and peers from across the United States to explore your role in the American democracy and the challenging moment we are in. 
Monday, October 19 - The Limits of Peoplehood: Can American Jews Survive Partisanship, Identity Politics and Antisemitism? A conversation between Fellow in Residence Mijal Bitton and West Coast Director of Education Joshua Ladon
Tuesday, November 10 - Special post- election conversation and Q&A with Slate Senior Editor and Hartman Senior Fellow Dahlia Lithwick, moderated by New York Director Justin Pines
Wednesday, December 9 - Pre-Hanukkah Program: Menorah at the Mall? Judaism in the Public Square with Director of Teaching and Learning 
Open to 9th-12th graders.
Madrichim Academy
in partnership with Hebrew College-Jewish Institute of Religion (HUC-JIR) and the Association of Reform Jewish Educators (ARJE)
Participate in this pilot program, gain new skills, and help create a future Madrichim Fellowship. Learn, reflect, and experiment with how to be a student leader in formal, informal, and virtual environments, such as religious school, zoom, youth group, and camp. Collaborate with teens from across North America and educators from your Jewish community to ensure learning is meaningful and relevant.
This five-session academy will take place January through March. Open to 8th-12th graders.
Task Forces
Guide NFTY and synagogues on topics important to you and our Movement.
What to expect:
Partner with NFTY North American Board members and teens from across North America
Create legislation, strategies, and resources for Reform Jewish teens
Strategize with peers and mentors in monthly online meetings
Registration for Task Forces is on a rolling basis.  Once you register you will receive an email with information, as well as an invitation to the next Task Force meeting. Open to 9th-12th graders.
Environmental Justice Task Force
The Environmental Justice Task Force will take action around environmental issues that are impacting individuals globally. In this task force, members will receive education on the ways they can make a difference in their own Jewish communities and in the world by combating climate change through tangible measures. We hope to explore environmental topics in depth such as sustainable living, political policies relating to the environment, and the relation of racial injustice and environmental issues.  Please email Eve Capin with any questions or join the task force now and come to our next meeting! Open to 9th-12th graders.
Israel Education Task Force
Collaborate with teens across North America while learning, educating, mobilizing, and connecting around Israel! Through the Israel Engagement Task Force, you will create resources, learn from educators and professionals, grow your own relationship with Israel, engage in meaningful social justice work, and so much more.
We look forward to fostering a variety of dialogues and voices with your help. Please reach out to Madison Rosenfield, NFTY Religious and Cultural VP, with any questions or join the Taskforce now and come to our next meeting! Open to 9th-12th graders.
Inclusion Task Force
The Inclusion Task Force is a great place for… everybody! Together we will learn about best practices from our peers and experts and provide you with the tools to incorporate inclusion into every step of planning, organizing, and implementing programs. We will also learn to assess different aspects culture in our movement and develop impactful means of changing exclusive aspects of culture. We will come up with projects that will help make our Movement and our communities for inclusive. Feel free to reach out to Liana Friedman, NFTY Social Action VP or Cat Orange, NFTY Membership VP, with any questions or join the Taskforce now and come to our next meeting! Open to 9th-12th graders.

Racial Justice Task Force
In support of the Black Lives Matter Movement and the urgency of this moment, this year we are launching the Racial Justice Task Force. We will have the opportunity to spearhead NFTY's Racial Justice Initiative. We will learn about different aspects of racial justice from peers and experts. We will also examine our personal and community roles in the fight for racial justice. Together, we'll work to make our community more racially diverse, equitable, and inclusive, through projects focusing on racial justice. Please reach out to Liana Friedman, NFTY Social Action VP, with any questions at or join the Taskforce now and come to our next meeting! Open to 9th-12th graders.
NFTY programming
The Reform Jewish Youth Movement builds strong, welcoming, inspired communities through teen-powered engagement. Discover weekend trips/virtual programs, social action projects, personal growth, friends, fun, and more in this global movement for Reform Jewish teens. Open to 9th-12th graders.
Meet your NFTY Region NFTYx Experiences Now
NFTY Leadership Opportunities
NFTY includes multiple leadership opportunities including regional and North American boards, cabinets and program committees.  Teens also have the opportunity to create virtual experiences for their peers in our new NFTYx platform.   Reach out to your NFTY Regional Leadership and let them know you are interested in leading. Open to 9th-12th graders.
An unforgettable summer of fun, friendship, adventure, and a chance to live the Reform Jewish values learned at home and in your congregation.
Travel with old and new friends, exploring a land you've only imagined until now. Choose from 7 specialty trips including a visit to Eastern Europe, a high school semester, and trips focused on social justice, sports, science and technology, and Hebrew immersion.