For more than 75 years, the Union for Reform Judaism has provided young people with immersive Jewish experiences that transform and enrich lives. Based in Reform Jewish values, these programs provide nurturing, educational, and fun experiences that promote community, enhance spiritual growth, cultivate Jewish identity, and foster lifelong friendships.
Image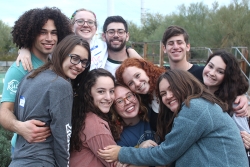 NFTY is open to teens in grades 6 to 12, helping Jewish teens build confidence, friendships and leadership skills through experiential youth-led educational programming including social justice projects, worship, and community-building initiatives .Programs are offered by nearly 500 Reform congregations and on a regional and North American level.
Image
ReformJudaism.org is launching a platform to host interactive, meaningful and fun experiences that are easily accessible on the go or at home. RJ on the Go invites you to own your Jewish journey by choosing experiences that speak to you, on a schedule that works for your life. 
Explore