Image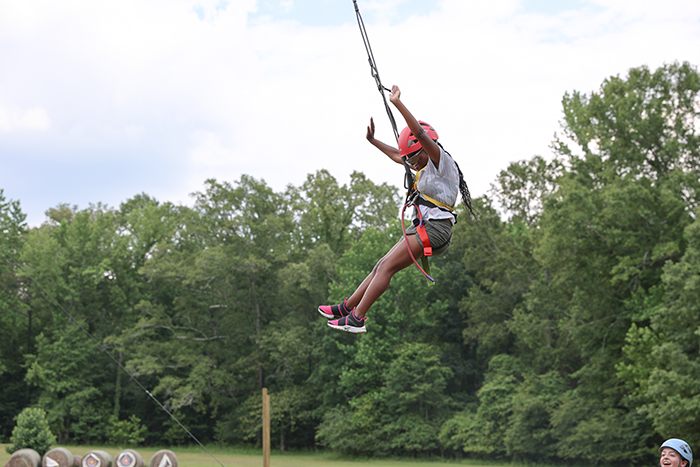 Ideally, summer camp is a place where kids can be themselves. That's the idea behind Camp Dream Street, a five-day overnight camp for kids with physical disabilities held at URJ Henry S. Jacobs Camp in Utica, Mississippi.
NFTY, the Reform Jewish youth movement, founded Dream Street in 1975 with the belief that all kids should have the chance to have fun, make friends, and try new experiences. Each summer, Dream Street accepts about 60 campers who have disabilities and/or mobility impairments like cerebral palsy, spina bifida, limb differences, and spinal cord injuries. Campers are 8-14 years old and are primarily from Mississippi, Louisiana, Arkansas, and Tennessee. Most of them are not Jewish.
"Some of these kids come from environments where people don't always see them as being able to participate in typical activities," said camp volunteer Tiffany Goodman Bilbe. "When they're here, though, the entire camp is adapted for them, and nothing is impossible - swimming, riding horses, using the pottery wheel."
Camp Dream Street is led entirely by volunteers. Highly trained teenage counselors, college-aged program staff, and doctors, nurses, and other medical personnel make sure camp runs smoothly and meets each camper's needs.
"For my husband and me, it has been an opportunity for us to experience full acceptance in a way that is never really available to us," said camp parent Katy, whose son is nonverbal and uses a wheelchair. "Every concern we had was met with enthusiasm and reassurance. It was overwhelmingly beautiful." 
Before camp, the staff undergoes intensive training and orientation on everything from camp basics (hello, homesickness and sunburn!) to the specifics of campers' individual health and mobility needs. Though the teen counselors are typically new to caretaking, they receive an in-depth, professional-level training that prepares them for their important roles.
"The professional staff spends a lot of time teaching our counselors about the many different presentations they may see, including all of the caveats of caring for campers who have a variety of different requirements for their day-to-day routines," explained Dr. Seth Kaplan, a physical therapist who serves on Dream Street's professional staff.
Each counselor is paired with either one or two campers for the length of the program, accompanying them to all activities and acting as both a role model and a caretaker. Counselors are responsible for all the ins and outs of their campers' health needs, including meals, showers, and wheelchair-to-bed transfers, but professional staff steps in to provide extra help as needed.
"Some kids have feeding tubes or use computerized devices for communication," Bilbe explained, so staff is trained to use those assistive technologies.
Both Bilbe and Kaplan are longtime volunteers. Kaplan first volunteered with Dream Street in 1980, and the experience was so impactful that it drove him to pursue a career in physical therapy. He's been involved ever since, both as staff and as a member of the camp's board of advisors.
Bilbe became a counselor in 1990 and now comes back each summer as the camp's music therapist. "At first, it was a chance to do some community service in a really unique way alongside my best friends," she said, "but it only took one experience to realize how incredibly impactful and powerful it was."
Campers, too, return year after year. When they've aged out of regular programming, teens ages 16-18 can participate in Great Expectations, which provides opportunities to build confidence and independence through activities like driving adaptive vehicles and preparing meals. These older campers serve as role models and mentors for younger campers and sometimes also come back later in volunteer roles, like alumna Queena Patton.
"I've been a part of Dream Street since the early 90s and have loved it ever since! I started out as a camper and was able to go back as a volunteer, and nothing has been as fulfilling," Patton wrote. "[It's] definitely a great place full of great people and lots of love."
Recently, Bilbe met up with one former camper who is now in her 30s and working as a vocational training coach. She relies on caretakers for physical assistance but is otherwise independent. "She told me that she attributes her Dream Street experience to her ability to feel empowered and worthy," Bilbe recounted.
Both Bilbe and Kaplan agree that the best thing about Camp Dream Street is seeing kids just be...well… kids. Thanks to Jacobs Camp's accessible facilities and the availability of adaptive sports equipment, art supplies, and musical instruments, Dream Street campers take part in all the same activities that Jacobs' campers do, and with the same joy and enthusiasm.
"At home, many of these kids are the only ones with a disability,'" Kaplan said. "But camp is a place where there are wheelchairs and crutches and braces all over the place; it's just part of our normal, day-to-day routine. When they're here, they just get to be around other kids like them - and they're challenged to do things they've never gotten to do."

A parent named Gayle summed up the Dream Street experience: "The first words out of my son's mouth were, 'Can I come back next year? I had the time of my life!'"
Related Posts
Image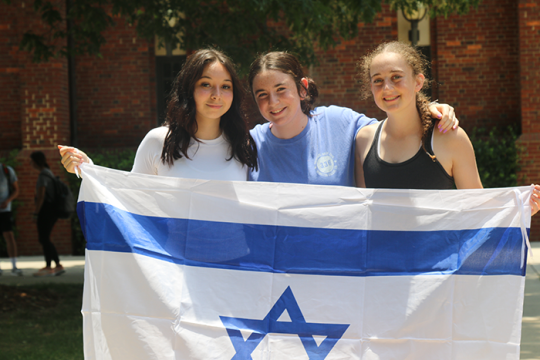 The URJ has been bringing Israeli counselors to camp for many years. Their presence offers several valuable benefits to the camp program.
Image
When adults find out about my job as director of URJ 6 Points Creative Arts Academy, many of them say the same thing: "I wish that had existed when I was a kid!" I know how they feel.
Image
There has been a lot happening in the teen and youth space over these past weeks, and many more opportunities are coming down the pipeline.