Image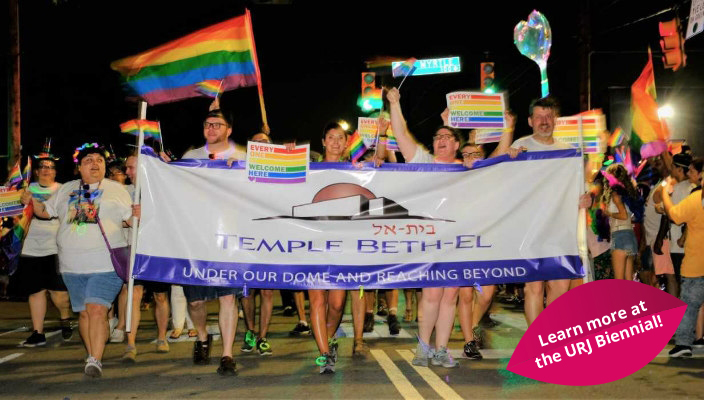 In Hebrew, nefesh is one of many words that means "soul." More accurately, it means "breath" and reflects the force that sustains us, empowers us, and drives us not only to survive, but also to thrive.
Belin Award-winning Temple Beth-El in San Antonio, TX, applied this idea of breath and soul to their NEFESH (Neighbors Elevating Faith, Education, Service, and Hope) program, an initiative that offers themed learning opportunities each month. "The idea for NEFESH came from a desire to expose members of Beth-El and the greater San Antonio community to different social justice topics; and to educate and engage them about related issues through a Jewish lens," says Ross Halfant, Temple Beth-El's social justice fellow and creator of NEFESH.
"Topics are generally selected based on a particular secular or Jewish holiday, or on topical events – Black History Month in February, Women's History Month in March, Sukkot in October, for example. We set out to infuse those months with varying learning styles so that each person has a way to participate."
Halfant's volunteer and professional experiences date back to high school and range from teaching English and working with adults with disabilities in Israel to volunteering at San Antonio's Thrive Youth Center, one of only two LGBTQ+ youth shelters in the South. He sees NEFESH as a way to continue his service and engage with the Jewish community, teaching congregants and others about important local and national issues.
"We highlight the idea of b'tzelem Elohim, that we all are created in God's image, as a fundamental tool in the realm of social justice," Halfant says. "so, we should be treating each other with dignity, respect, and loving-kindness. Sometimes, we have a hard time recognizing and seeing the perspective of 'the other,' which can lead to miscommunication and alienation. As a Jewish people, we have an obligation to resist oppression, advocate for social justice, and ensure that all people are treated equally."
When planning each month's itinerary, Halfant first identifies a theme and develops an "electronic toolkit" of resources. This offers ways individuals can learn about the issue: by hearing (podcasts, music), seeing (documentaries/films, ELI Talks/TED Talks, books), and doing (volunteer opportunities, prayer, and other ways to get involved in the issue). "I ask myself, 'What makes it a Jewish problem or why should Jews care?'" Halfant explains. "Depending on the theme, I also include information about what the problem looks like locally, at the state level, or nationally. Lastly, I plan one unique, hands-on event related to the issue. It might be a tour, a presentation, a donation drive, or other opportunity for our community to explore the issue personally and in-depth."
Rabbi Marina Yergin, the congregation's assistant rabbi, could not be more thrilled or proud of Halfant and the community's response to NEFESH. "We've had a huge amount of participation and some of our events and programs have brought in non-Beth-El members and other congregations in San Antonio," she noted. "Ross has developed incredible relationships with San Antonio's Office of Sustainability, and we've had a lot of elected officials attend services at our congregation, during which our state senator and a state representative have spoken about various pieces of legislation. "When we volunteer and learn about different organizations, it's not just about them getting to know us, but us getting the Temple Beth-El name out there and being able to build these relationships. Ross has done an incredible job with that."
Halfant and Rabbi Yergin aim to hold NEFESH events each month for the foreseeable future. November's theme will be pikuach nefesh (saving a life), focused largely on organ, blood, and tissue donation. This theme came about through the Rabbi Yergin's strong relationship with the Texas Organ Sharing Alliance, which held a National Organ Donor Shabbat at Temple Beth-El on November 1."Two of our congregants presented: one who is a recipient of a kidney and one who is a donor of a kidney," Rabbi Yergin said. "And throughout November, people will have opportunities to donate blood, do bone marrow swabs, and register as organ donors."
One of the best parts of NEFESH, Halfant says, is that it is easily replicable by other congregations. His advice to community leaders is to tailor Beth-El's monthly format based on their own needs, interests, and goals. "If congregational leaders understand their members and their interests, it'll be easily replicable and extremely valuable," he says.
To learn more about NEFESH and how you can replicate the program in your congregation, contact Ross Halfant. Don't forget to check out the other 2019 Belin Award-winning projects and the congregations that developed them.
Have something to say about this post? Join the conversation in The Tent, the communications and collaboration platform for congregational leaders of the Reform Movement. You can also tweet us or tell us how you feel on Facebook.
Related Posts
Image
In 2021, many of the URJ's 15 camps engaged in the creation of a URJ-structured Racial Equity, Diversity, Inclusion (REDI) Working Group & Camp Assessment process. One of those camps was Camp George in Ontario, Canada.
Image
After several synagogue shootings, American Jews are grappling with the need to keep our communities safe and to remain open and welcoming to seekers of all backgrounds.
Image
The LAs are at the heart of every aspect of our social justice work, but to date, the fellowship has not fully reflected the diversity of the Movement it represents – and we're committed to changing that.