Image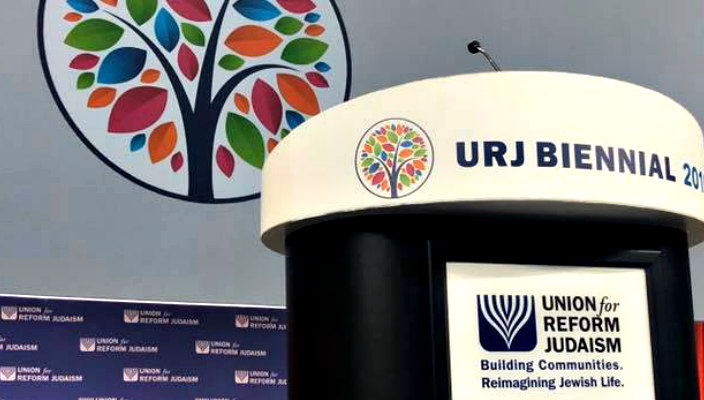 At the URJ Biennial in Chicago last week, the Reform Movement voted to approve a resolution supporting the study of proposals for U.S. slavery reparations. The resolution is part of the Religious Action Center and the Reform Movement's work for racial justice and comes after years of study and consultation.
Before the Biennial vote was held, RAC Director Rabbi Jonah Pesner wrote in the Chicago Tribune:
Some in our community may not think this is our responsibility. A tiny number of American Jews owned slaves, with most white American Jews immigrating long after slavery was abolished. We are proud that decades later, many Jews were allies to African American organizers during the Civil Rights Movement of the 1960s.

Our Jewish community is tremendously diverse, including Jews of Color, some of whom are descendants of enslaved African people, but many of us have white Jewish grandparents who arrived in the United States in the early 1900s with very little. They overcame anti-Semitism, poverty and displacement to achieve stability and, in many cases, success. And without diminishing their sacrifices or the challenges they faced, we can now understand that they and many of us also benefited from, and continue to benefit from, the same white privilege that allows for the continued discrimination against black Americans. From how we gained entry into this country to the places we were allowed to live and work, to access to education and financial capital, white Jews have reaped the rewards of racism."
The resolution does not define what form reparations ought to take. Instead, just like congressional legislation calling for a committee to study and develop proposals for reparations, which the resolution endorses, we consider it our moral duty to "seek an end to ignorance." Knowledge must then transform into action against the racism still lingering in our congregations and communities, and a clearer sense of what true reparations might look like.
You can read the full text of the resolution and view media coverage below. You can also watch the livestream of the Friday morning plenary session where the resolution was discussed on the URJ Biennial website.