Image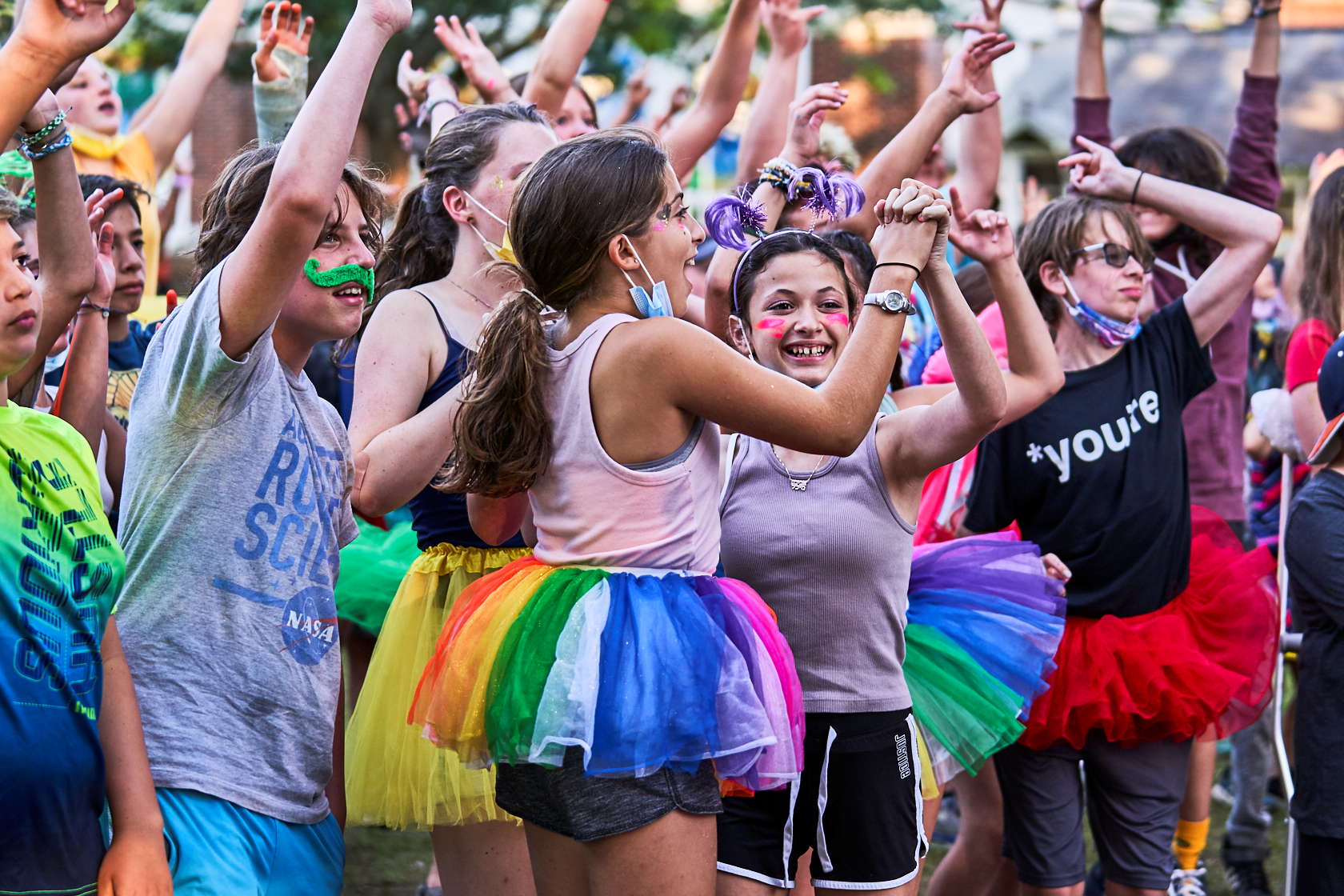 "By the breath of children God sustains the world" (Bavli, Shabbat 119b).
This past summer, our 15 URJ camps across North America and Israel programs provided the space where more than 11,000 children, teens and young adults could breathe free. As camps/immersives lay leader Shelley Groff commented:
"Camp felt different this year. There was a collective deep cleansing breath -- the kind that fills your lungs with fresh air, feels really good, and reminds you that life is a blessing."
Similar observations flooded into my in-box from campers' parents:
"Our daughter's smile has returned. Camp Newman brought back her glow, her joy, her lightness."
"Camp George gave me back my daughter in a way that a mother can only wish for. She is back to her healthy teenager self! Laughing, smiling, and hugging everyone with no fear! I thank you from the bottom of my heart as I wipe away tears of joy. She is already counting down to summer 2022!"
"Jacobs Camp exceeded my wildest imagination for the impact it had on my son. His laughter is back, his personality, wit, motivation, and enthusiasm."
"My child had the best time ever at Six Points West Specialty Camps. The first thing he said to me when he came home was 'Mom - I really needed this! Thanks for basically giving me a social life.'"
"As a communications professional for a large hospital, I was extremely impressed with Greene Family Camp's Covid protocols and communications at every turn. I knew my daughter was having a blast and was safe."
Summer 2021 was clearly a summer of healing at our camps, as children returned to immersive in-person living, learning, laughing, crying, hugging where they can share their fears and dreams in a loving and accepting environment.
Children, teens, young and older adults returned from their URJ camps and Israel with deepened friendships and stronger sense of community and Jewish identity, enhanced resiliency, life skills, and joyful memories.
We owe much of our success to the inspired mentors, role model, and heroes who serve as the professional staff and faculty of our camps - clergy, educators, scholars, artists, and others - all led by our team of stellar camp directors. They model the vision we seek for humanity - to create a world of compassion, justice, wholeness for all. These values are the beating heart of what we do, the hallmark of our collective Jewish journey.
"Through your actions at Crane Lake Camp, you have demonstrated to our impressionable children, who look up to you, that you do indeed live by Jewish principles.You are repairing the world. You are the embodiment of Rabbi Hillel. You are heroes."
"Thank you for all of your hard work, organization, blood, sweat and tears. We are very grateful for the loving Jewish community you created, and our son cannot wait to return to his Camp Coleman home."
It is easy to see why so many children, teens, young adults - and parents -- are counting down the days to summer 2022. Indeed, we have already enrolled thousands of campers.
"My son has a sense of pride in being Jewish because of Camp Kalsman. He does not have Jewish friends at school but feels connected to the Jewish community and talks about Judaism with pride after being at camp."
NFTY in Israel
The teens who participated in last summer's NFTY in Israel programs had a similar life-changing experience. A NFTY in Israel supporter recalls witnessing the return of participants this summer:
"Every teen who got off that plane this morning had a smile from ear to ear on their face. Every parent couldn't wait to hold their child and hear a recount every minute of this once-in-a-lifetime, life-changing experience. NFTY in Israel, you really knocked this one out of the park."
Our partner, RootOne, offers $3,000 vouchers on a first-come-first-serve basis for synagogue teens to go on NFTY in Israel Summer 2022. Registration is now open. Want more information? (Vouchers sold out quickly last year.)
A New Brit
Much of our success can be attributed to the brit, the covenantal partnership - with congregational clergy, educators, other professionals and lay leaders, and donors who actively encourage parents and youth to participate in camp/Israel provide scholarship support.
In this partnership, we are raising up the current and next generation of youth and adults to model menschlichkeit - kindness, justice, and wholeness through our treasured Jewish values.
And the letters of appreciation keep rolling in:
"Outside of our home observance of Shabbat and holidays in Ghana, West Africa, Camp Eisner is our children's only connection with Judaism and the Jewish people. Please accept our heartfelt gratitude for providing them with a safe, accepting, fun, and loving environment to nurture their Jewish identities."
"We cannot express the continued happiness our household derives from Victoria's time at Six Points Sci-Tech. It is truly the epitome of what campers hope for and desire [and] everything a parent could wish for their child to experience when sending them away for a summer camp."
"The art mentors at Six Points Creative Arts did a wonderful job encouraging the kids to grow in their art while still having fun. The counselors were nurturing while also fostering a sense of independence."
"I am so glad that Matthew found a Jewish place that embraces his love of sports. He hasn't stopped talking about camp and get this - he is talking about the Jewish part of Six Points Sports just as much as he is talking about the sports. An Amazing experience!"
"My camper loved, really loved camp. We are now singing prayers before meals and bedtime, as well as camp songs. She has brought home some of the magic of GUCI."
"When I talked to camper care about how one of my daughters was doing at Camp Harlam, it was clear that her section head had treated her just as I would have treated her...hearing her concerns, giving her a pep talk, and then sending her right back out to have an amazing summer."
"We are truly grateful for a meaningful experience of camp, Judaism, fun and community at OSRUI -- from the first waving counselor pointing us in the right direction and the well-organized drop off process... to the last staff member thanking our camper for coming and saying, 'See you next year!'"
Thank you for being our wonderful partners in our shared sacred work. Learn more about our URJ Camps, Israel journeys, and to secure space for summer 2022.
If you are seeking an information session with a camp and or group of camps, please email me at Rarquilevich@urj.org and you will be connected with a camp leader.
Related Posts
Image
When adults find out about my job as director of URJ 6 Points Creative Arts Academy, many of them say the same thing: "I wish that had existed when I was a kid!" I know how they feel.
Image
There has been a lot happening in the teen and youth space over these past weeks, and many more opportunities are coming down the pipeline.
Image
A few weeks ago, I had the joy of being at the "NFTY-GER Ball," one of the many NFTY events being run by Reform teen leaders across North America. A room full of teens gathered at Temple Sholom in Scotch Plains, NJ to dance, laugh, get to know one another, and celebrate Jewish life.